Our epic trip has come to an end. What an adventure.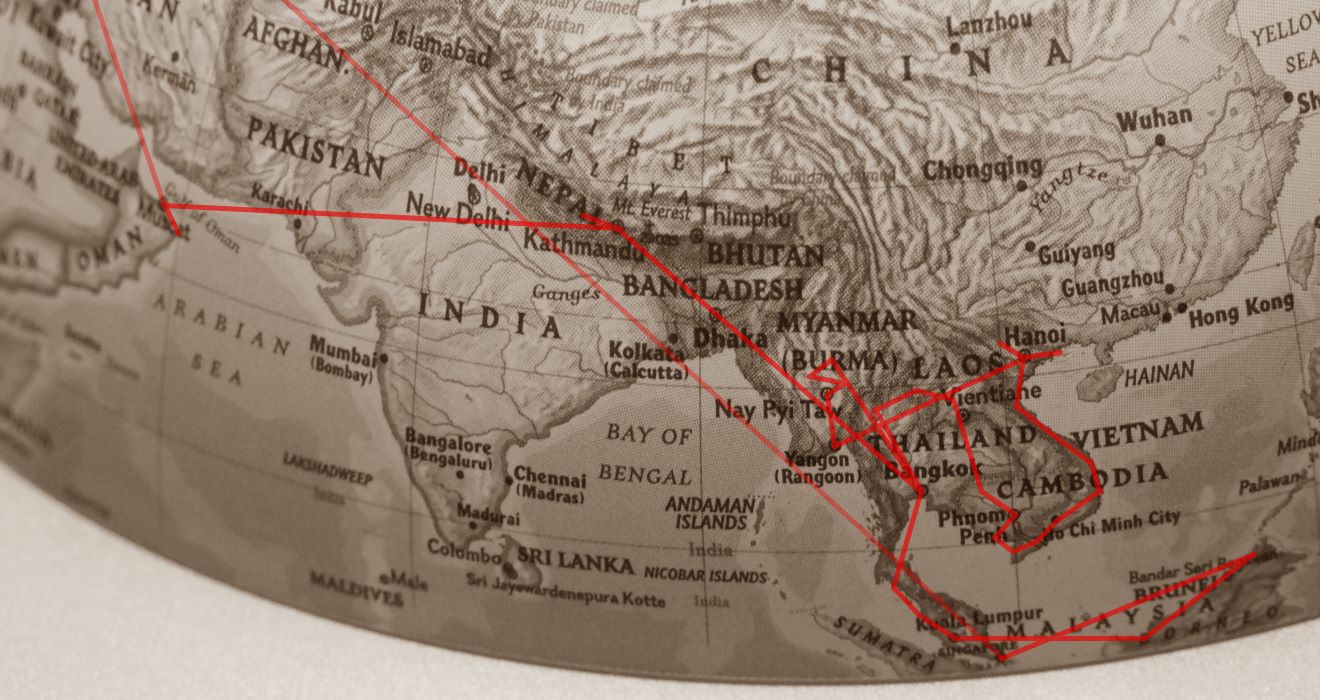 101 days and 90 blog posts later, it's all over, and we're back home in the cold. A few of those posts are still yet to be published, so stay tuned.
It feels like such a long time ago when we used our one-way ticket to the furthest place you can reach by road or rail from the UK. We had no return tickets and worked our way back across the world, travelling slowly overland (when we had the time). It wasn't a race so we took a pretty indirect route.
Observations
There were so many different cultures, languages and traditions that we experienced. However, if you take the time to talk to people you quickly discover that we all have more in common than that which divides us.
Two universal things we discovered are sport and food. It's crazy how popular European football is in Asia and everyone needs to eat. We've imported many tasty dishes from around the world and our meals would look very different without produce from this region.
It was interesting to discover the places where a lot of things we buy at home are made. For example, clothing in Cambodia, electronics in Malaysia and exotic foods from Thailand/Cambodia/Vietnam. There are also many migrant workers from the region that travel abroad to find jobs.
We also export a lot of Western culture, brands and waste. Unfortunately we sometimes assume a similar infrastructure to back home and this can cause problems. For example, a developed waste disposal and recycling system is required to deal with our style of (predominately plastic) packaging. When this doesn't exist then disposable packaging producers cause externalised harm to our environment.
There are problems in developing countries that you don't even think about at home or just take for granted. For example, ubiquitous availability of drinking water on tap, sanitation and a reliable power supply. Despite the dodgy electrics, LEDs are very popular in South East Asia. Everything is lit up, from buildings to boats and even buddhas. It's not a place to go stargazing, or at least nowhere populous is.
Another thing that we often undervalue back home is political freedom. In many of the countries we visited you would get in a lot of bother by criticising the ruling regime. Don't take your freedoms for granted or one day you might lose them.
We didn't visit China on this trip but we got a good impression of Chinese culture, values and attitudes from the coachloads of tourists everywhere. This part of the world is the most densely populated and about half of the people on the planet live within 2000 miles of Bangkok. This includes everywhere that we visited apart from Oman (but that has the highest population growth in the world). Clearly much of this is down to China and India, where we didn't go (although from what I've been told India is similar in some ways to Nepal).
Asia is big, populous and has a growing influence. I fear that if there is no adjustment in attitudes then the natural environment that we all depend on is doomed. There is a lot of waste in the region (much of it exported or outsourced from the West) and it looks likely that Asia will also be disproportionately affected by the negative consequences of our irresponsible global stewardship. There are some progressive parties and action being taken to reduce waste but this needs to be adopted more widely to be effective.
Highlights
Here are a few highlights of the trip. It's impossible to list everything but here is what comes to mind.
Good Tidings We Bring to You and Your Kinabalu
The Christmas trek and carol concert up Mt. Kinabalu were a great experience. However, we both got very sick due to the altitude. We were destroyed by the descent too and ached for days after.
New Year in KL
Watching the fireworks from our high-rise hostel was a fun evening. The rooftop infinity pool was also a pleasant place to chill out.
Caves and Climbing in Vietnam
Some very impressive limestone in Northern Vietnam lent itself to some caving and climbing. It would be rude not to.
Ballooning in Bagan, Burma
An amazing way to travel and a perfect location with its plethora of pagodas. It's so peaceful and quiet, when the burner isn't on at least.
Trekking and Paragliding in Nepal
We topped and tailed our trip with treks. Nepal was kinder to us than Kinabalu and offered amazing scenery.
Turtles and Swimming in Oman
Watching green turtles lay their eggs at night and seeing the hatchlings head to the sea was a humbling highlight. Swimming in odd locations was also interesting.
Food and Beer
Eating, cooking and drinking was a major theme of the trip. The food was excellent, including the many cooking classes that we took. The craft beer scene is also excellent and there is a big post on this to come.
Lowlights
It's not all fun and there were many low points. A lot of time was spent on long bus and train journeys, which aren't very comfortable.
Bouts and Bites
On a trip like this, getting ill is inevitable. We didn't fare too badly and only had a couple of bouts of food poisoning. This wasn't even as bad as we'd previously had at home.
An uninvited bite from a cat in Thailand meant some Rabies shots but these were more annoying than anything else. However, the biggest annoyance are the biting insects. Mosquitoes are everywhere and often carry disease, which is why they are the most dangerous animal on the planet.
Heat and Humidity
It's nice to have a bit more sun and warmth than at home but it can easily get too much if you're not careful. Sunburn is a big risk and it's a chore to cream-up and stay covered. The heat and humidity can make it difficult to do anything active in the height of the day.
We got used to this but it's a bit of a shock when you first arrive. You have to adjust your behaviour and it's important to stay hydrated, which can be challenging.
There is a lot of energy in the atmosphere, particularly at these latitudes. Nature is hard to predict and a tropical storm stopped us from seeing as much of Thailand as we were planning to.
Bookings What Con
One thing you will get sick of are travel booking websites. These are a pain and are full of poorly implemented dark pattern designs. They will pop up an "encouraging" modal overlay as you are literally typing in your payment card details or deliberately mislead you regarding availability. We have switched suppliers in some cases and paid more just so that we didn't have to put up with the frustrating interface any longer. A small upside is that you can earn quite a lot of cash back if you go through the appropriate websites.
The real-world equivalent of these spamming sites are hawkers, and I'm not describing delicious street-food centres. Throughout parts of the region you will be constantly accosted to buy something you don't want. This is pretty tiresome but, like the climate, you get used to it.
Favourite Country
It's a clichéd question but then it's so easy to ask. However, the answer to "what was your favourite country?" is challenging. There were so many amazing places, but if I think about where I would go back to, then on balance I'd say Malaysia and in particular Borneo.
Sabah and especially Sarawak in Malaysian Borneo were so welcoming. I'd like to go back and also visit Indonesia (although I'd boycott the tiny and backwards Brunei due to its repressive regime). We didn't see any orangutans this time and that's still on the bucket list, at least while they're still alive in the wild.
Vietnam and Cambodia were also enjoyable for many reasons, including the range of great beer available. All in all an amazing journey and there weren't any countries where we didn't have fun, learn something new or see interesting sights.