The first stop on our epic journey is Singapore. We arrived at 5pm local time having taken off an hour late from Heathrow. Despite this, the flight wasn't too bad and we did manage to sit together which was nice!

Two meals, some broken sleep and two films later (Tangled and Despicable Me, or Isle of Dogs and Ready Player One - guess who watched what!) we disembarked into Singapore's Changi airport. It's easy to see why this airport has been voted the world's best - it's really easy to navigate, there were barely any queues at passport control and our bags didn't take too long to arrive (it also has a cinema, swimming pool and butterfly garden!). We then jumped on the MRT (Singapore's metro) and made our way to our apartment, which is between Chinatown and Downtown. One thing I like about Singapore is how well signposted everything is. It just makes everything a lot simpler.
After dropping our bags at the apartment, w​e decided to head towards the Marina by the Bay to see the lights. This was really pretty as all the trees and walkways were lit up. It was also somewhat surreal as we wandered round listening to Christmas music in 28 degree heat! "Baby it's cold outside" just doesn't have quite the same impact in Singapore as it does at home!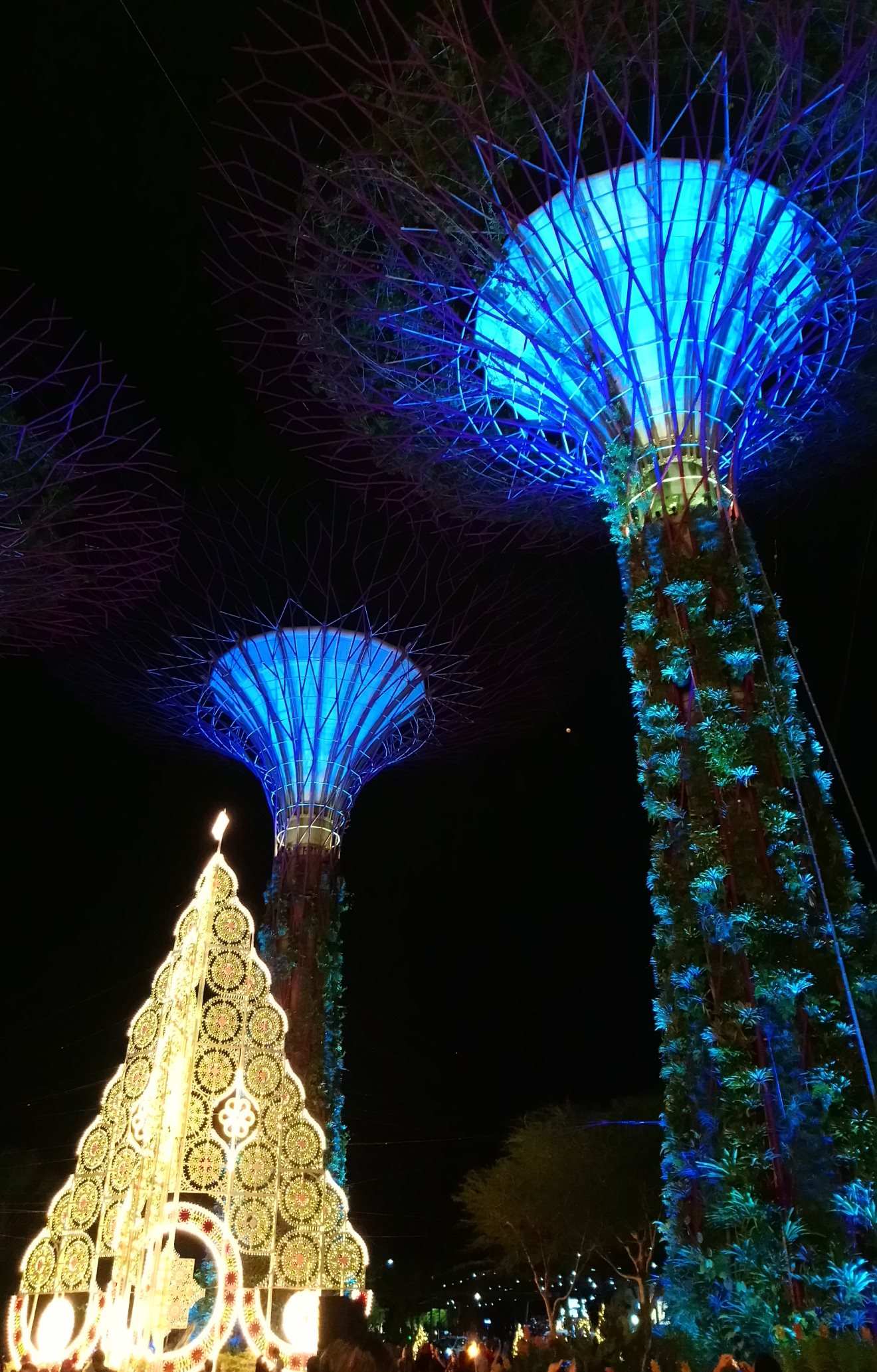 We had some dinner (dedicated food blog post to follow) then wandered over to the Marina Barage to get a lovely view back over the reservoir of the Singapore skyline, including the famous Marina Bay Sands Hotel and Singapore Flyer (Singapore's equivalent of the London Eye). By this time we were both starting to feel the effects of the long journey so headed back to the apartment to bed.
The next morning we headed out for breakfast to a local cafe. I was excited to see they served peanut butter on toast, however I hadn't appreciated that it was actually peanut butter mixed with kaya, a substance a bit like jam or honey, and was served with a side of soft boiled eggs and soy sauce that you had to dip the toast into. Not quite what I had expected!
Following many recommendations, we headed out north west to the Botanical Gardens, a UNESCO World Heritage Site. The gardens are huge and broken up into many different zones. Unsurprisingly, James was quite excited by the ginger garden, where we saw lots of ginger plants as well as some bananas as ginger and bananas are actually in the same plant order - who knew? I preferred the Evolution garden, although we didn't realise until half way through that we were going back in time rather than forwards! Our final stop was at the orchid garden, which contains over 1000 species and 2000 hybrid orchids. It was very colourful with some spectacular displays.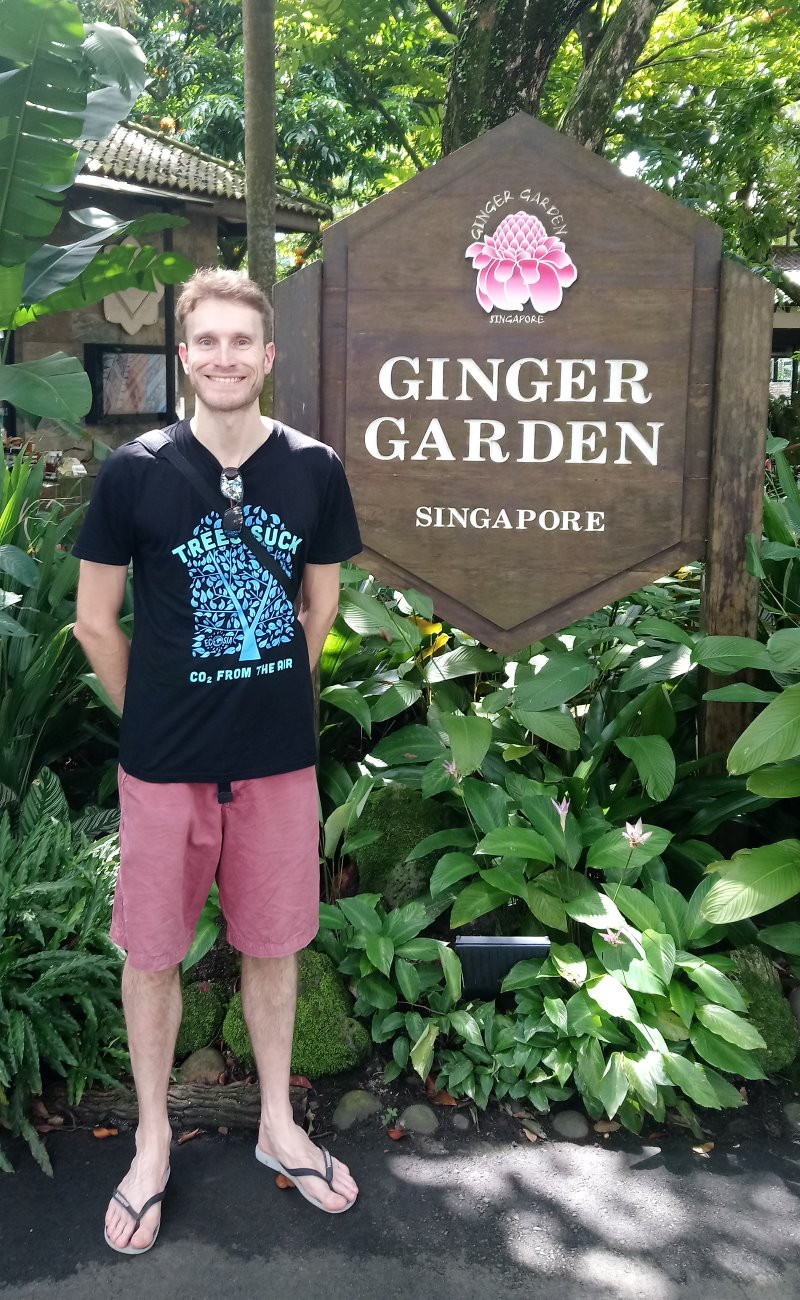 ​​After leaving the gardens we headed to Raffles hotel for the infamous Singapore Sling experience. Unfortunately when we arrived the whole place was closed for renovation! So instead we crossed the river to Merlion Park, with its half-lion, half-fish water fountain designed to welcome all to Singapore. From there we took a boat trip around the harbour and up through Boat Quay to Clarke Quay and back, which was a nice way to see the city and learn a bit about its landmarks.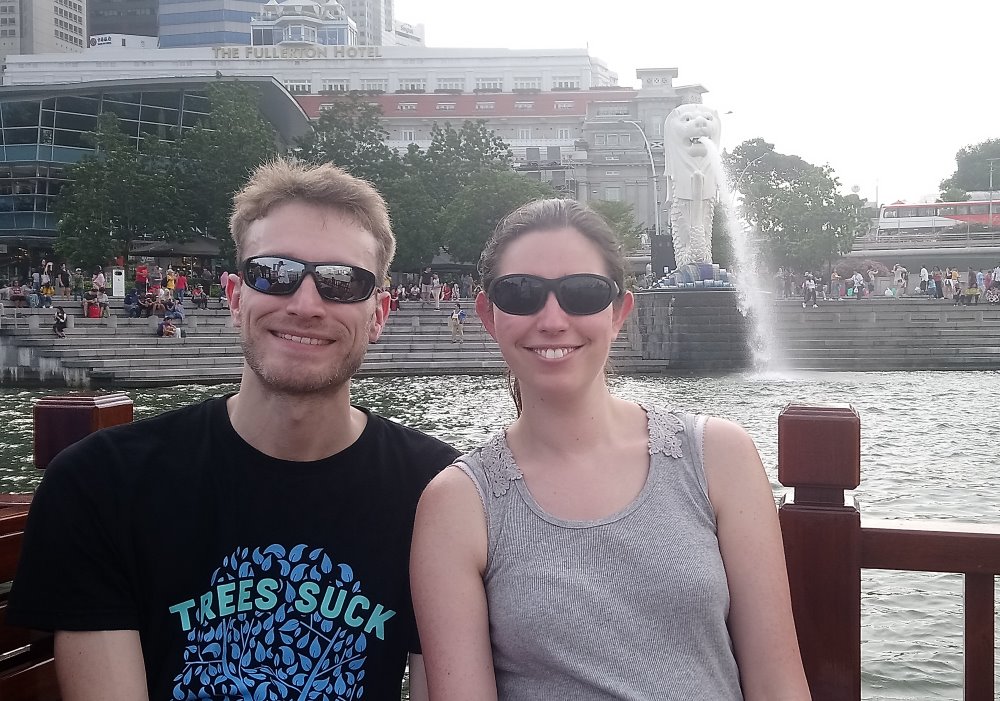 In the evening, we met some friends of friends who very kindly took us out for dinner and showed us the local delicacies. Again, more of that on the dedicated food blog to come.
​​Overall our first impressions of Singapore have been very positive. It's clean, safe, not too crowded and very easy to navigate. A good place to help us acclimatise to South East Asia.