We broke our journey home in Oman for a few days and it was definitely a change of scene.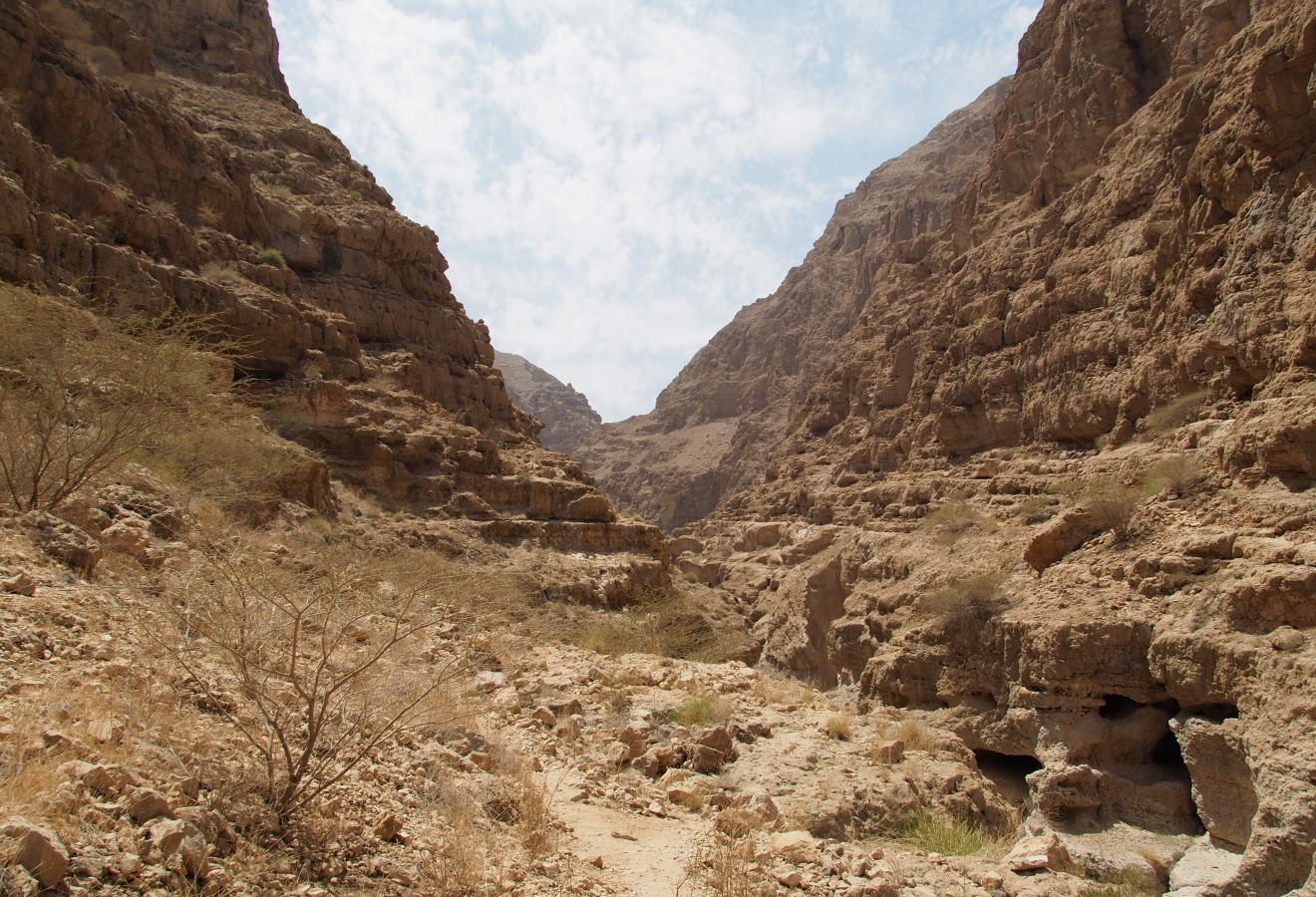 You can't fly direct between Nepal and the UK. There are only a few options for changes and we chose Muscat. So we found ourselves on a delayed and rather worse-for-wear Oman Air 737 with no provided entertainment and a seat that wouldn't stay upright. Perhaps this is due to the grounding of the Boeing 737 MAX fleet following the crashes. Still it looked better than the Delhi flight that had a security check at the bottom of the steps.
The flight was mainly full of guys from Nepal and I got chatting to the man next to me. He was heading to Kuwait to work as a chef in an Italian restaurant. The Middle East relies on a huge amount of migrant workers from South Asia and you often hear stories of exploitation.
We arrived at about 19:30 into Muscat International Airport and it was deserted. We'd expected a desert but not like this.
The airport is only a year old and has been over specified. It reminded us of the Burmese capital Nay Pyi Taw. Despite being almost brand new there were lots of glitches if you looked closely at the details of the airport. We should have taken this as a bad sign for when we left. Muscat Airport is nowhere near as good as Singapore's Changi Airport, where we started our trip. That even has an indoor waterfall opening this month!
Our first meal in Oman was excellent, especially considering it was just the closest place we found. The cuisine in much meatier than in Asia, which is to be expected in a desert country where you don't see much growing. The things that are growing are usually being munched on by goats.
The Tropic of Cancer passes through Oman just south of Muscat (although the position changes) and we crossed it a couple of times on the road, where it is signed. We spent all of our time in South East Asia in the tropics between the Tropic of Cancer and the Equator. Nepal is North of the tropics and had a different climate but then so did Northern Vietnam.
Something Fishy in the Oman
Oman is hot and dry so we did a fair bit of freshwater swimming, first at a sink hole and later in a wadi. You need to be a little careful of the wildlife, as the fish like having a nibble of your feet.
To enter Wadi Shab you need to take a very short boat ride for a couple of quid. We were told that there was once a footbridge but it was mysteriously destroyed. There also used to be an official sign showing lower boat fares, that conveniently disappeared.
We saw other wildlife, such as a camel. However, it was dead at the side of the road after apparently being hit by a car. It's a large animal so perhaps all the speed humps are there for a reason.
We also saw a tiger, but this was actually a painted rock. There was a warning sign telling you to beware of people stopped taking photos.
We did however see real live turtles, which was a highlight. What they don't tend to show on nature programs are the baby turtles that have been got at by foxes, seagulls and other predators. Only a handful out of every thousand make it to the sea and adulthood.
Long Weight
When we got back to the new airport there were signs of things to come. There were glitching public information signs and crashed point of sale terminals at the cafés.
"Boarding" was called over an hour before the flight was scheduled to leave. This was a lie, they were not actually boarding. It was a second surprise security screening. It clearly came as a surprise to the brand new airport too, as it had been retrofitted in to an unsuitable area.
If you had been to the shops then this unannounced and unwelcome double-screening at the gate would be pretty annoying. You have to dispose of all your drinks yet again and end up in a small area with a single toilet and no drinking water. This was to be our home for the next few hours as the departure time came and then disappeared into the distant past.
Problems happen but it's how you deal with them that counts. We were given no information and nobody appeared to know anything. There was no proactive action such as bringing in refreshments or just making customers feel cared about. In the end we had to change planes and move to a different gate, which was already occupied by another regional flight and its passengers.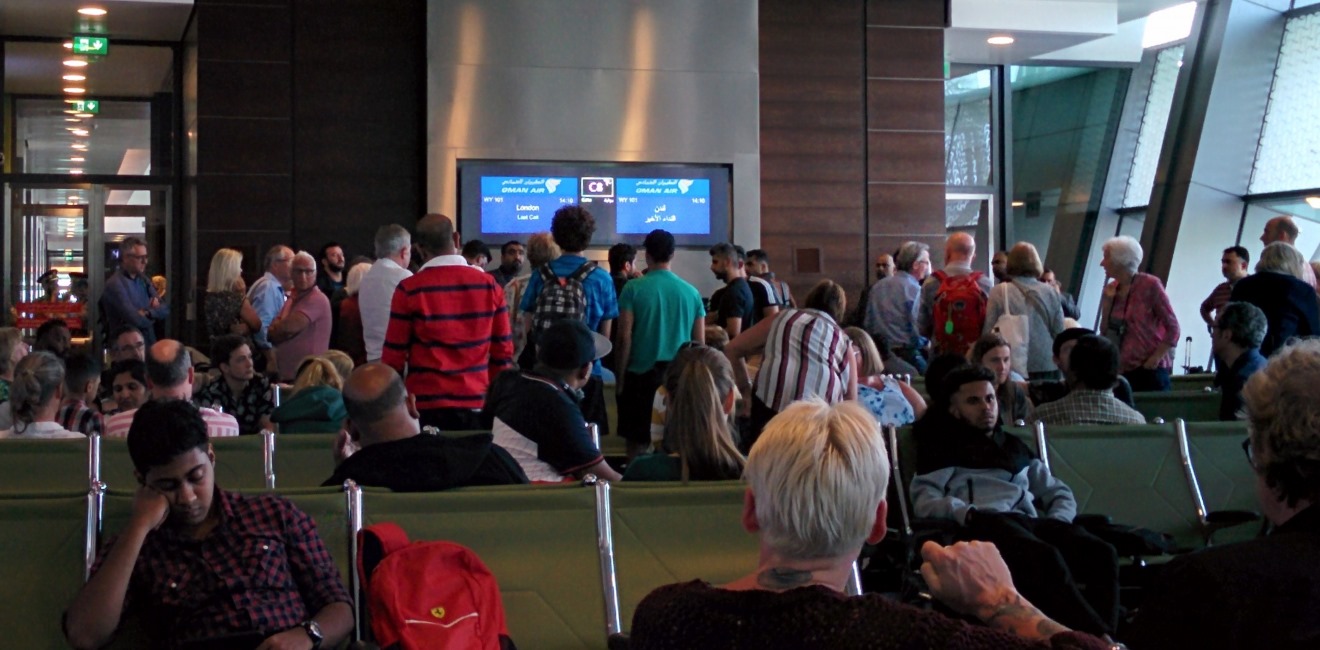 Once eventually on the aircraft, we were told by the flight deck that we had switched from one Boeing 787 to another due to "weight issues". Perhaps they over-fuelled it, its software was updating or something else stupid. However, there have been serious issues (e.g. battery fires) with the 787 "Dreamliner" and there still appear to be. Fortunately they aren't as serious as the fateful problems with the Boeing 737 MAX.
All three of our flights home were delayed. This put a bit of a downer on getting home, which is never as fun as leaving for a trip anyway. At least we missed rush hour when we eventually got back to London but we'll probably avoid Boeing, Oman Air and Middle East connections in the future.