Here are some tips about what to pack for a trip like ours, what has come in useful and what hasn't.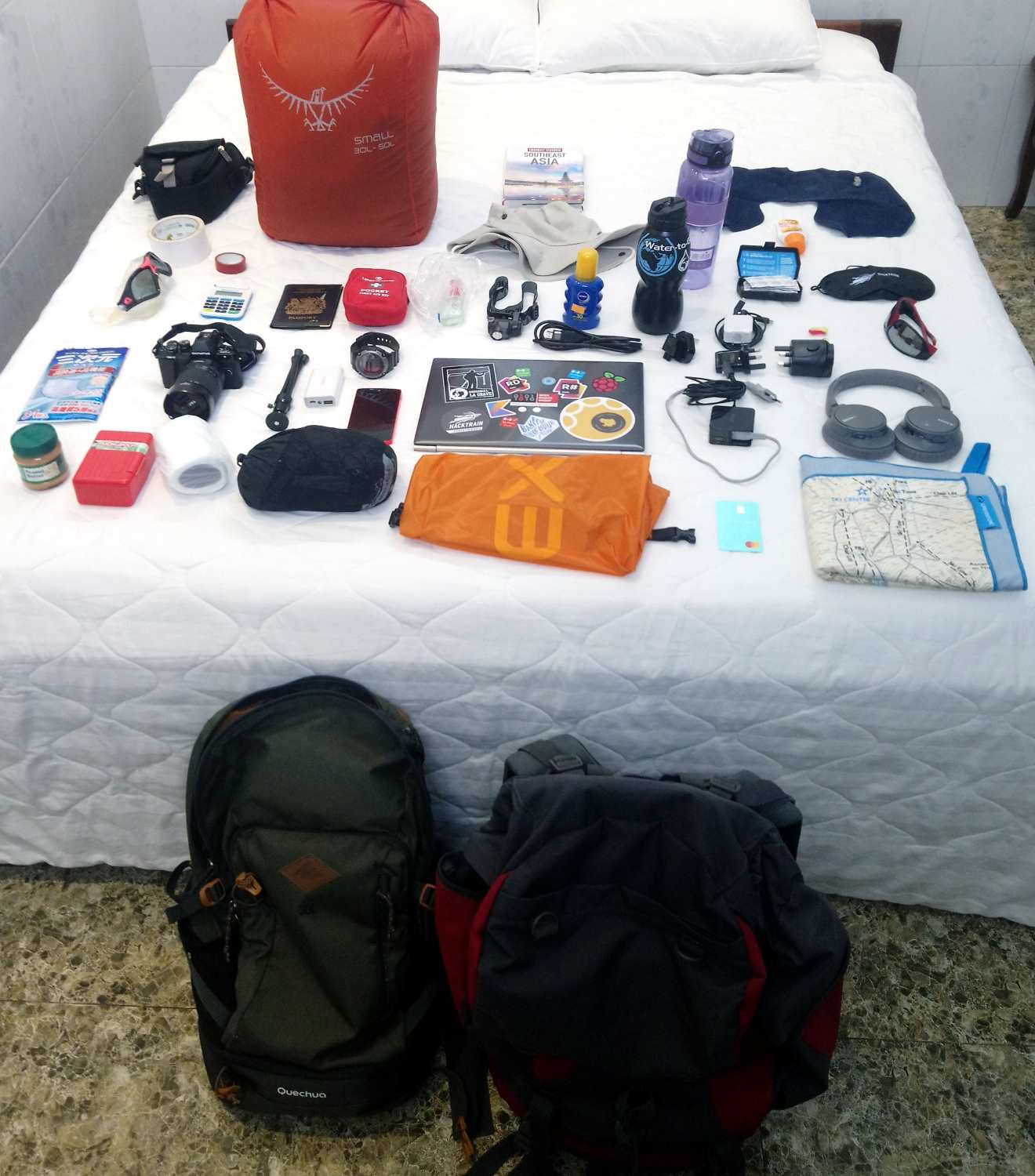 Now that we are through our trip we can reflect on what kit we needed and what we didn't. Here are some ideas for what to pack, in no particular order (some items are called-out after in more detail):
Smartphone (see below)

SIM removal tool (if required)

Old laptop (see below)
Chargers
Cables
USB power pack
Universal power adaptors
Camera

Padded carry case
Spare batteries
Lens cap keeper
Cleaning cloth
UV filter
Mini tripod

Noise cancelling headphones
Waterproof wristwatch
Money

Debit card with no fees
Backup credit card with no fees
Bank card reader
Cash

Guidebook
Sunglasses
Sun cream
Insect repellent
Mosquito nets
Water bottles

Drinking-grade water filter bottle
Or sterilising tablets with 1l bottle

Dry bags

Can also be inflated as cushions

Ear plugs

Always carry (e.g. in wallet)

Eye mask
Neck pillow
Head-torch (also useful on bikes)
Medication

Painkillers
Bite and sting cream
Diarrhoea relief / rehydration sachets
Antacid

First aid kit
Hand sanitiser
Swimming kit
Footwear

Trail shoes
Flip-flops
Water shoes

Backpacks

Big main pack
Small day pack

Passport photos for passes and visas
Sticky tape / string
Multi-tool / scissors / small knife
Bottle opener
Zip-lock bags
Loo roll
Needle and thread
Food (e.g. peanut butter / biscuits)
Face masks for dust and pollution
Card games
Wash kit and soap
Quick drying towel
Packable hat
Lightweight waterproofs
Clothing (see below)
Might be needed:
Walking sticks (can be hired or acquired)
Washing powder (easier to just send laundry off)
Travel hanging scales (for flights / laundry)
Clear safety glasses (for night scooting)
Portable fan (for keeping cool)
Thermos (not glass, for keeping drinks cold)
Multimeter (for checking voltage before plugging in)
What not to bring:
Tech
It's very useful to have at least a smartphone and possibly a tablet or laptop too. Not only are these good for organising your trip but you can also have electronic backups of your important documents on them.
The one hassle with tech is keeping it charged. Make sure you have chargers, cables, adaptors and extra battery packs. Don't use dodgy cheap chargers, as you'll need ones with good electrical insulation that also accept a wide voltage range. Otherwise you might get some shocks, or worse.
It's worth setting up a VPN if you don't already have one (you should). This will protect you on insecure WiFi, stop you getting blocked by your bank and allow access to home entertainment.
Smartphone
Last time I went travelling was pre-smartphone and I didn't even take a basic phone. However, these days the world assumes that you have a smartphone and it's easier if you do.
You probably don't want to take anything too shiny, so an old phone is better. Mine is over five years old and still going. Make sure it is backed up and encrypted in case it goes missing.
It should be carrier unlocked so that you can buy local SIMs and use them in it. You may want to take an additional phone for your home SIM (if your phone isn't dual SIM) to receive security codes over SMS. Take a small zip-lock bag to store your new collection of SIMs and removal tool in.
It's a good idea to wear a waterproof wristwatch so you are not solely relying on your phone for the time and alarms. Smart watches can be cheap but require charging. My digital watch has a 10 year battery and handles multiple time zones.
Apps
Here are some ideas for apps (you don't need to worry too much about these before you leave though):
VPN
Translation

Google Translate (Microsoft doesn't support Thai)

Transport

Grab
Neuron
Cycle hire apps

Maps

Google Maps
OpenStreetMap
Maps.me

Entertainment

Spotify
Netflix (can drain battery and lock camera)
BBC iPlayer (requires home VPN)
It's important to download language packs / maps / music / videos for offline use in case you have no / slow data.
Laptop
An old but light laptop can also be useful for writing, copying photos or watching videos on a bigger screen. Again, make sure it is backed up / encrypted and set up a VPN on it too. An HDMI cable is handy if you find yourself staying somewhere with a big TV.
Clothing
It's best to take many layers and stay flexible. Research the destination conditions and be prepared for the heat or cold.
Long sleeves / trousers are useful even in hot conditions. They can protect you from the sun / biting insects and are required for some attractions. Trousers that can zip off into shorts come in handy. If you need a belt then a webbing one is less bulky than leather. We didn't take jeans as they are bulky, hot and don't dry easily.
It's important to find a balance between utility and portability. Try to minimise weight and remember you can always get things washed if you have the time to dry them.
Other Prep
The main piece of prep required is vaccinations. You should think about this roughly six months before you leave and get medical advice. Take sensible precautions when travelling (e.g. insect repellent). Disease is not the biggest risk and can easily be managed. Road travel is probably the largest danger.
Visas can be sorted before you leave but can also be done as you go along. Some can't even be arranged too far in advance as they expire. Passport photos are required for these as well as for some passes. Take some physical photos and electronic copies too.
Do make sure that you have comprehensive travel insurance cover. Take the policy details and contact information with you.
Don't worry too much if you forget something. Most things can be bought and are probably made in Asia anyway.