The craft beer scene in South East Asia is pretty new but there is still a lot of great beer and cider to discover.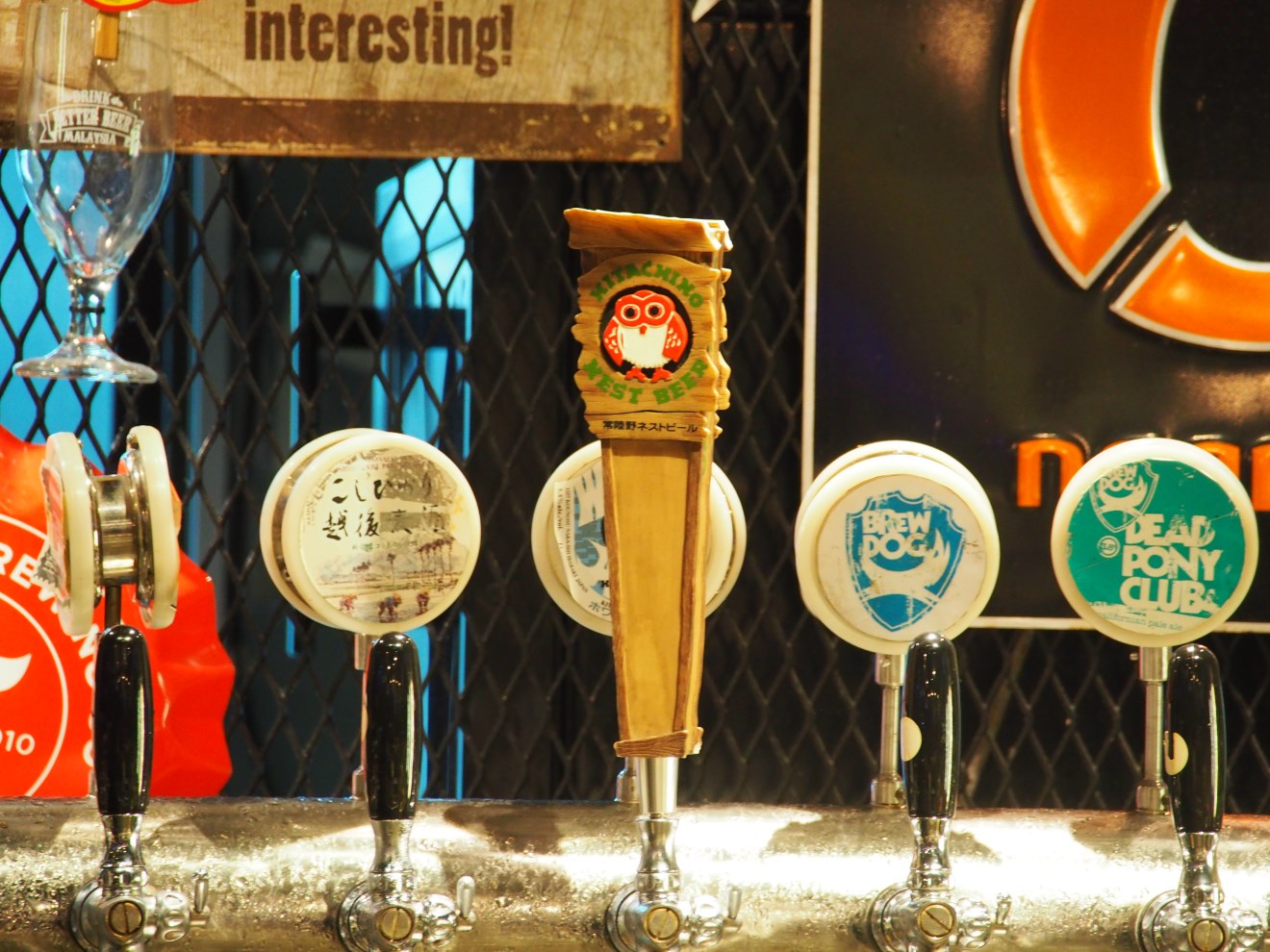 Singapore
Singapore is small and expensive. It's very Western for an Eastern city and you can find plenty to drink. If the classic cocktail doesn't take your fancy then there is lots of beer to sample.
Brewerkz is a brew pub South of the river opposite Clarke Quay. It has a great selection of predominantly their own range and a covered outdoor seating area with a view of the water.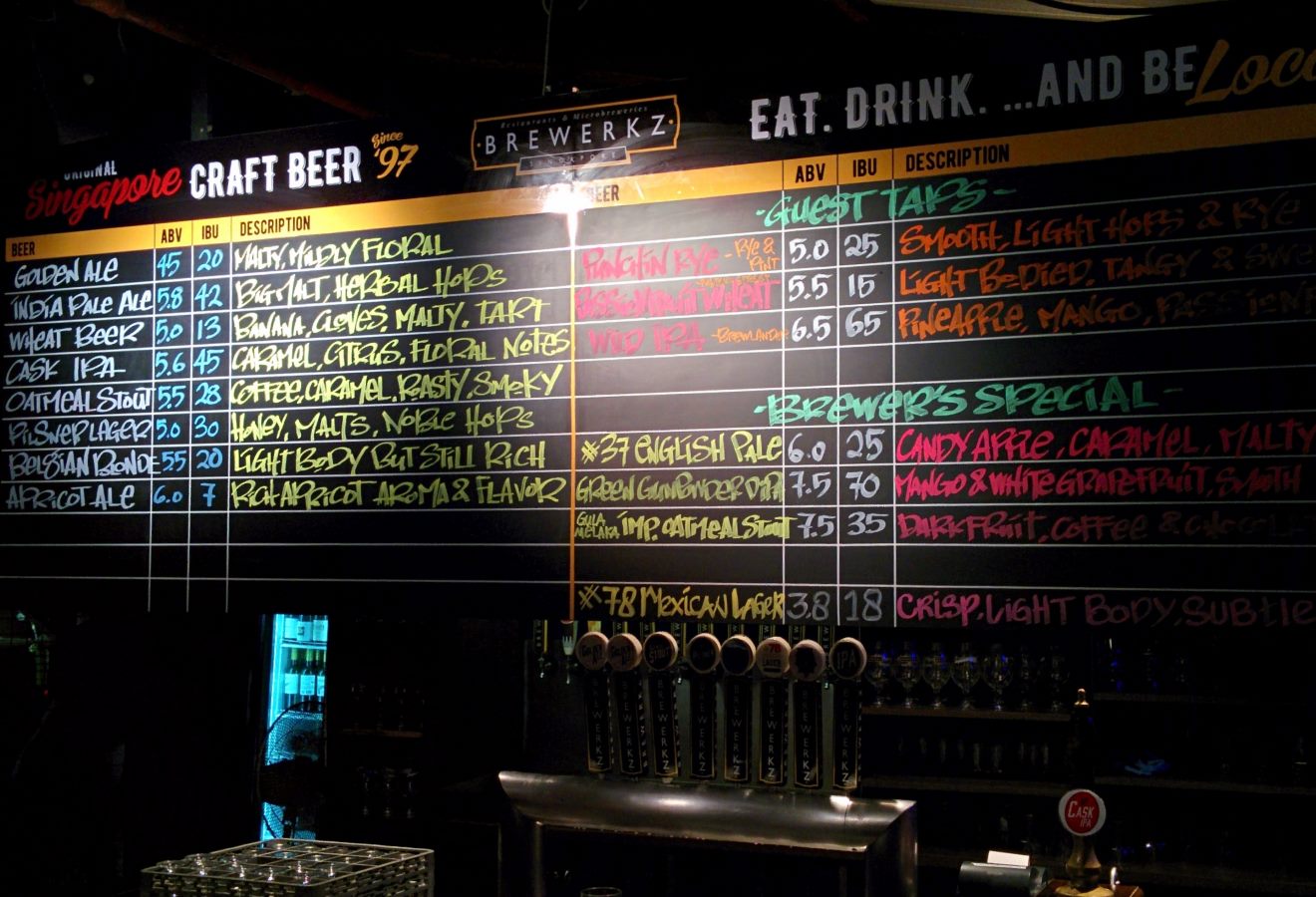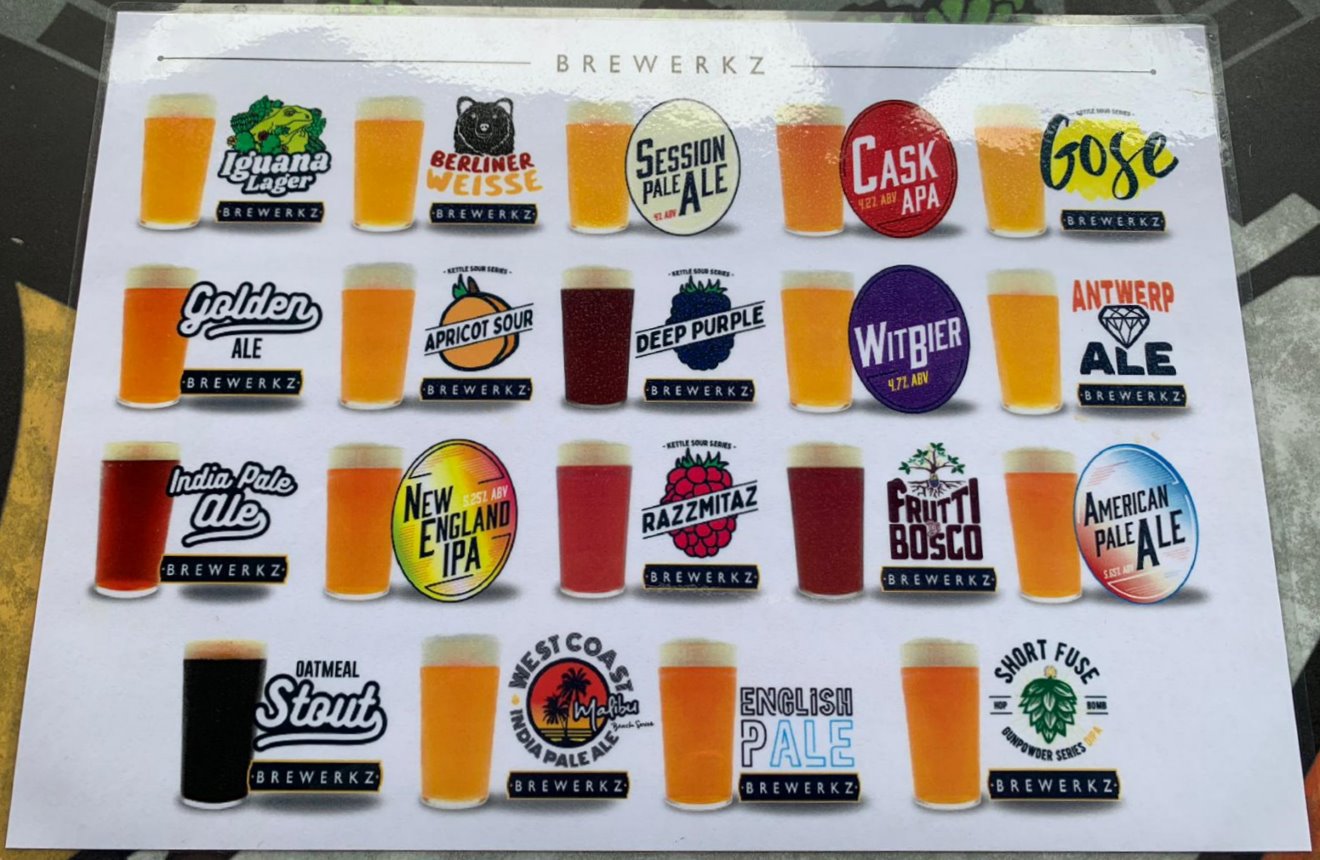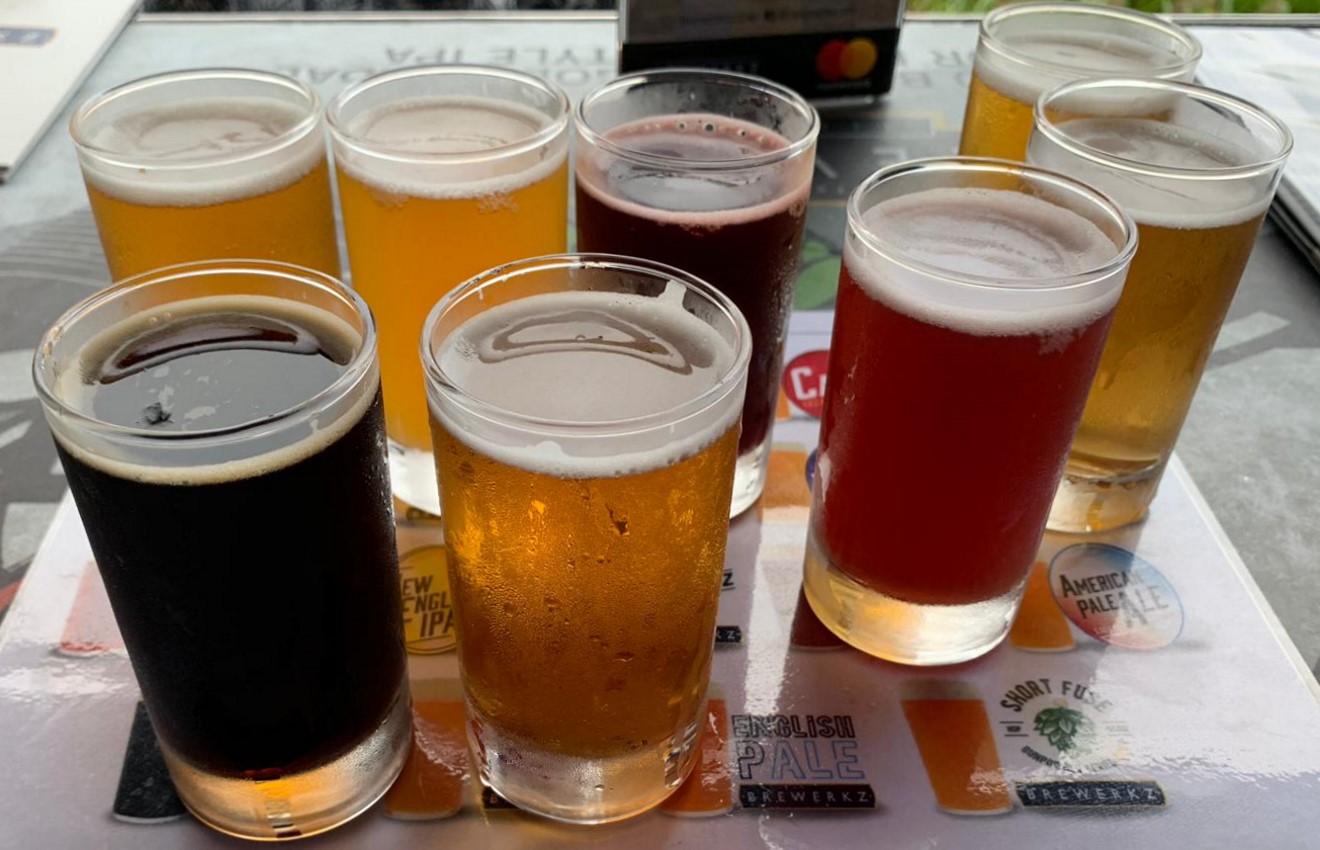 Malaysia
Malaysia is an Islamic country and although alcohol is permitted (and popular) it is taxed heavily. This means it is expensive to drink here but food is cheap (unlike Singapore and Bangkok, where everything is expensive).
KL
Taps is the best place we found to drink in Kuala Lumpur. It's far from cheap but they also do takeaway, which is handy if you have a new year party in your hostel.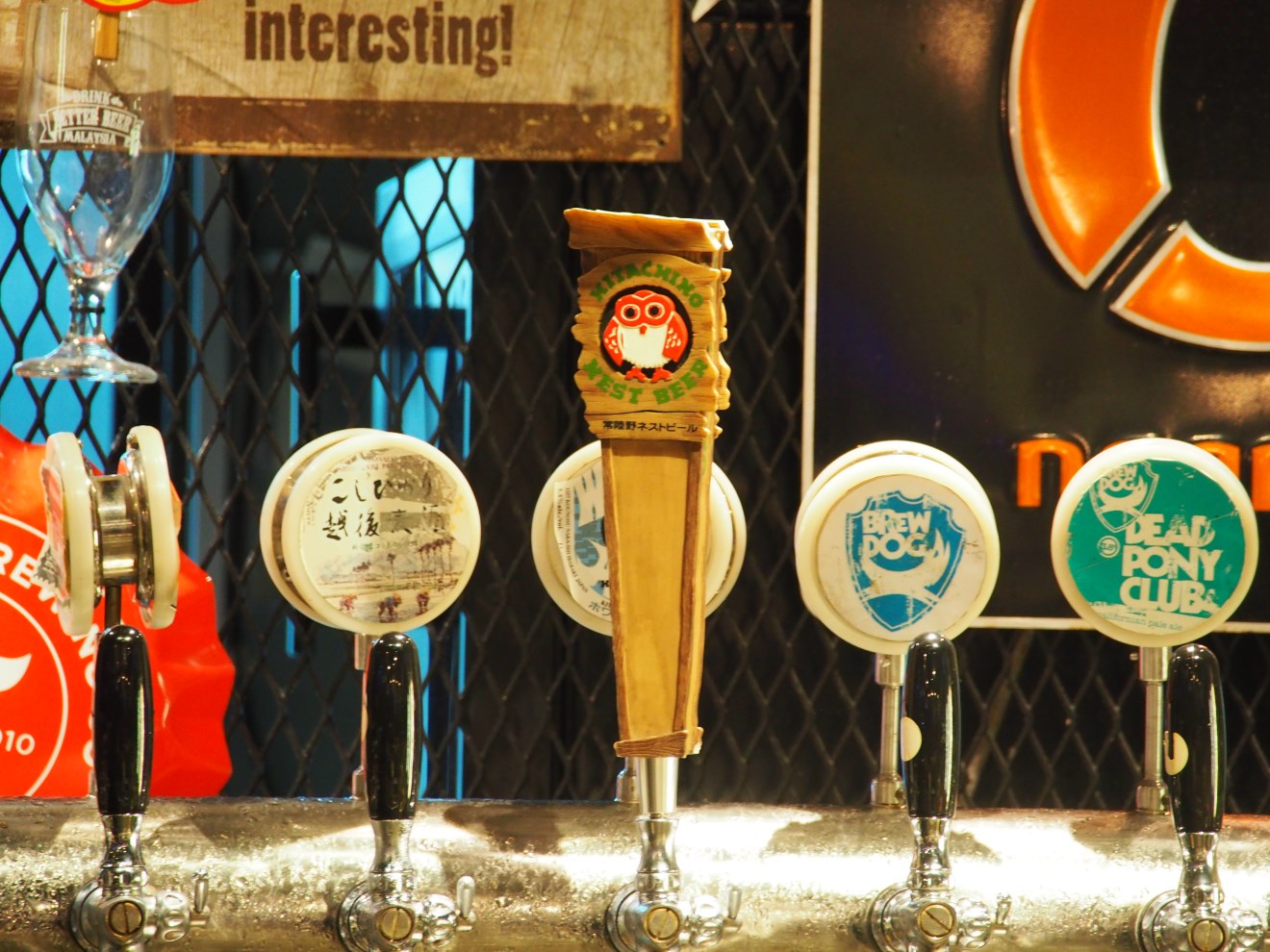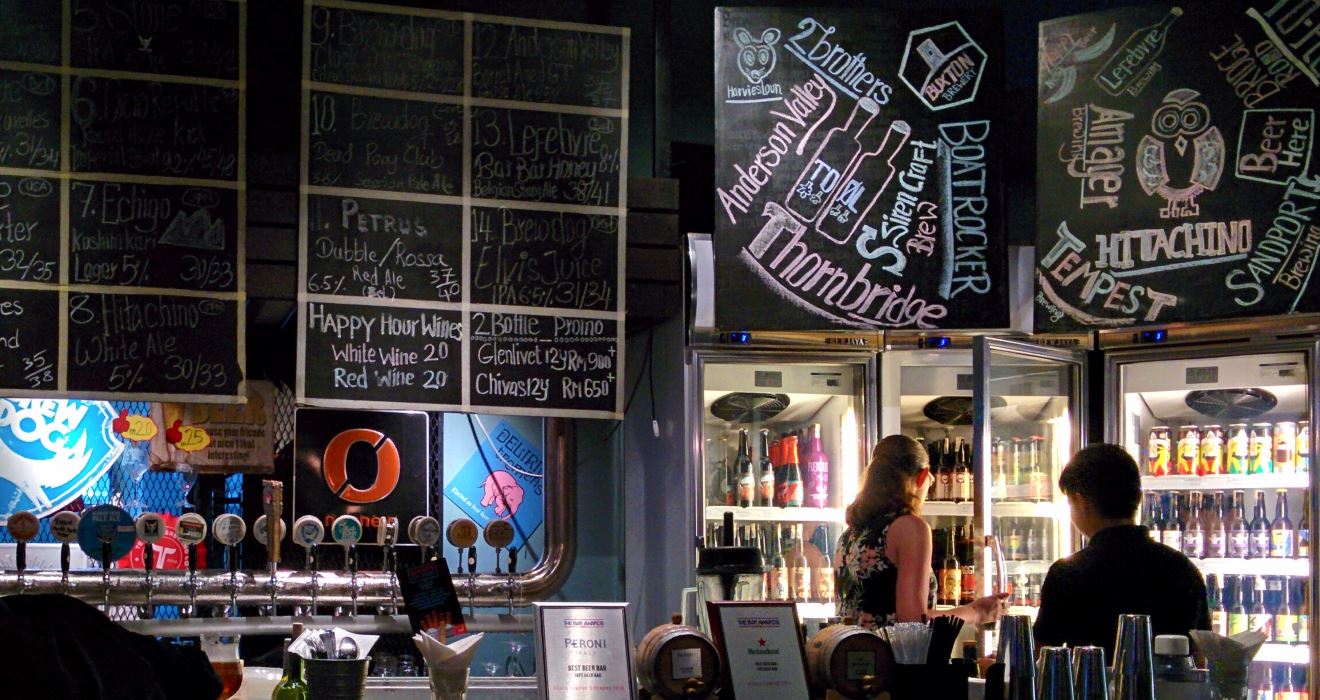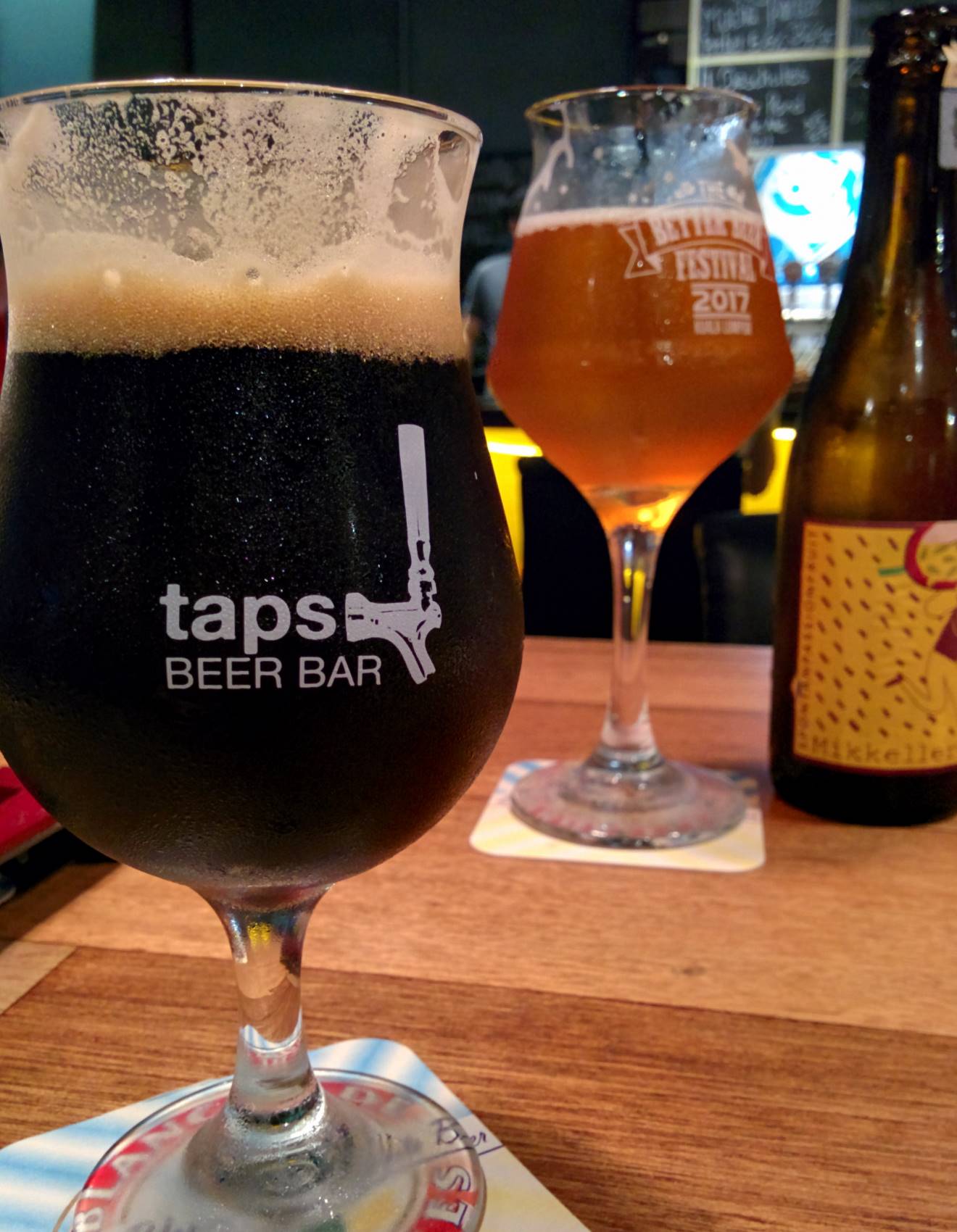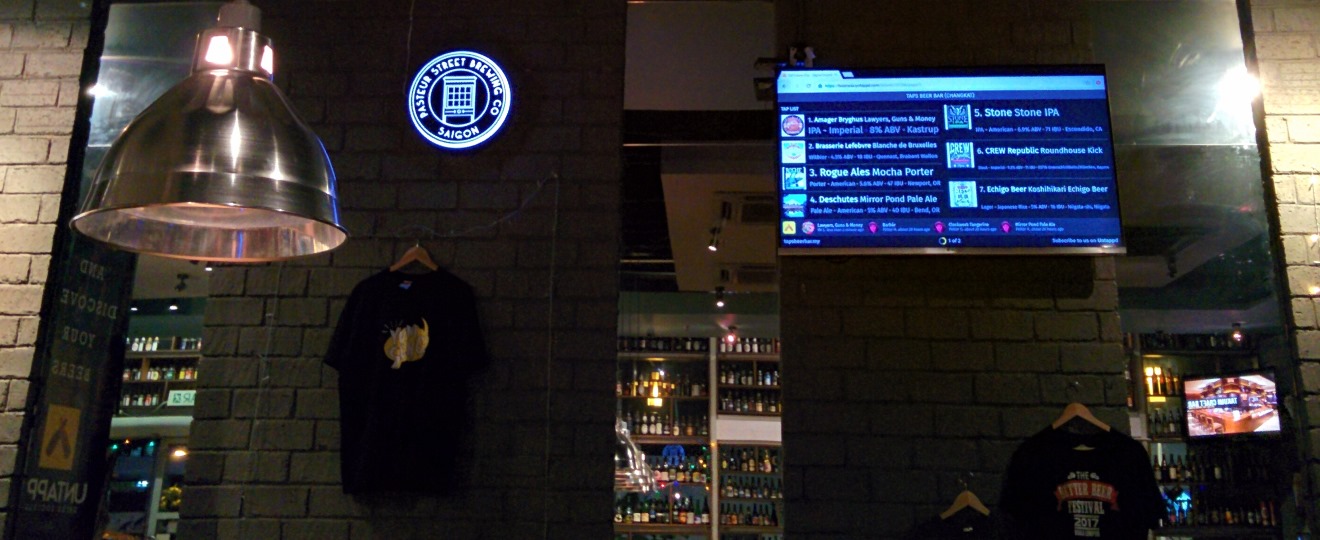 Thailand
Thailand is generally cheaper for beer than Malaysia and Singapore, unless you are in Bangkok. Keep in mind that you are not allowed to drink on trains (like in Scotland) and the "panalty" is quite severe. Alcohol is also banned during elections.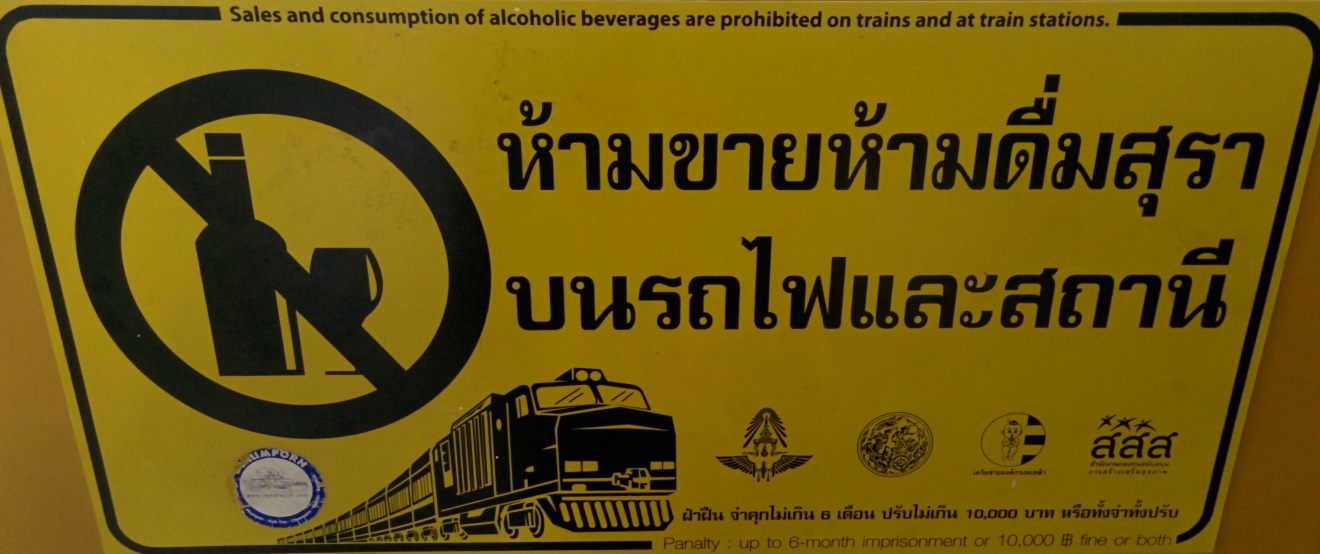 Bangkok
Bangkok is expensive! You're going to pay a lot of ฿ for your beer here, even though Thailand is generally quite cheap for drinking. You're looking at KL or Singapore prices although there are plenty of options. Lots of imported international beers and ciders are available but I stuck to the Thai tipple, which was of a high standard.
We went to CRAFT and HOBS (House of Beers), which both had a good selection but there are lots of other options in the city. We also found a bottle shop at BKK airport just as you exit the train station. This came in handy when we had to queue for over an hour just to check in.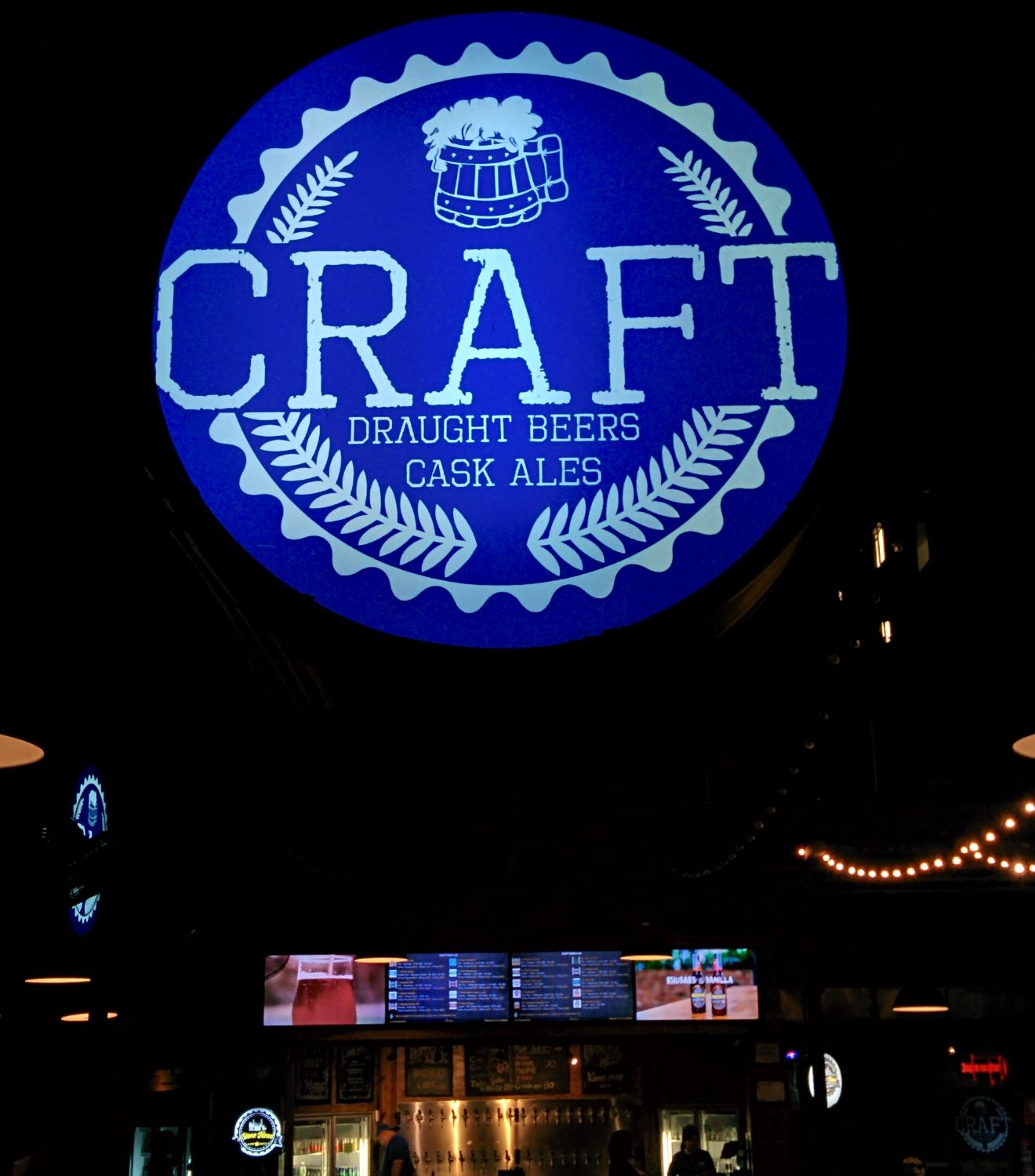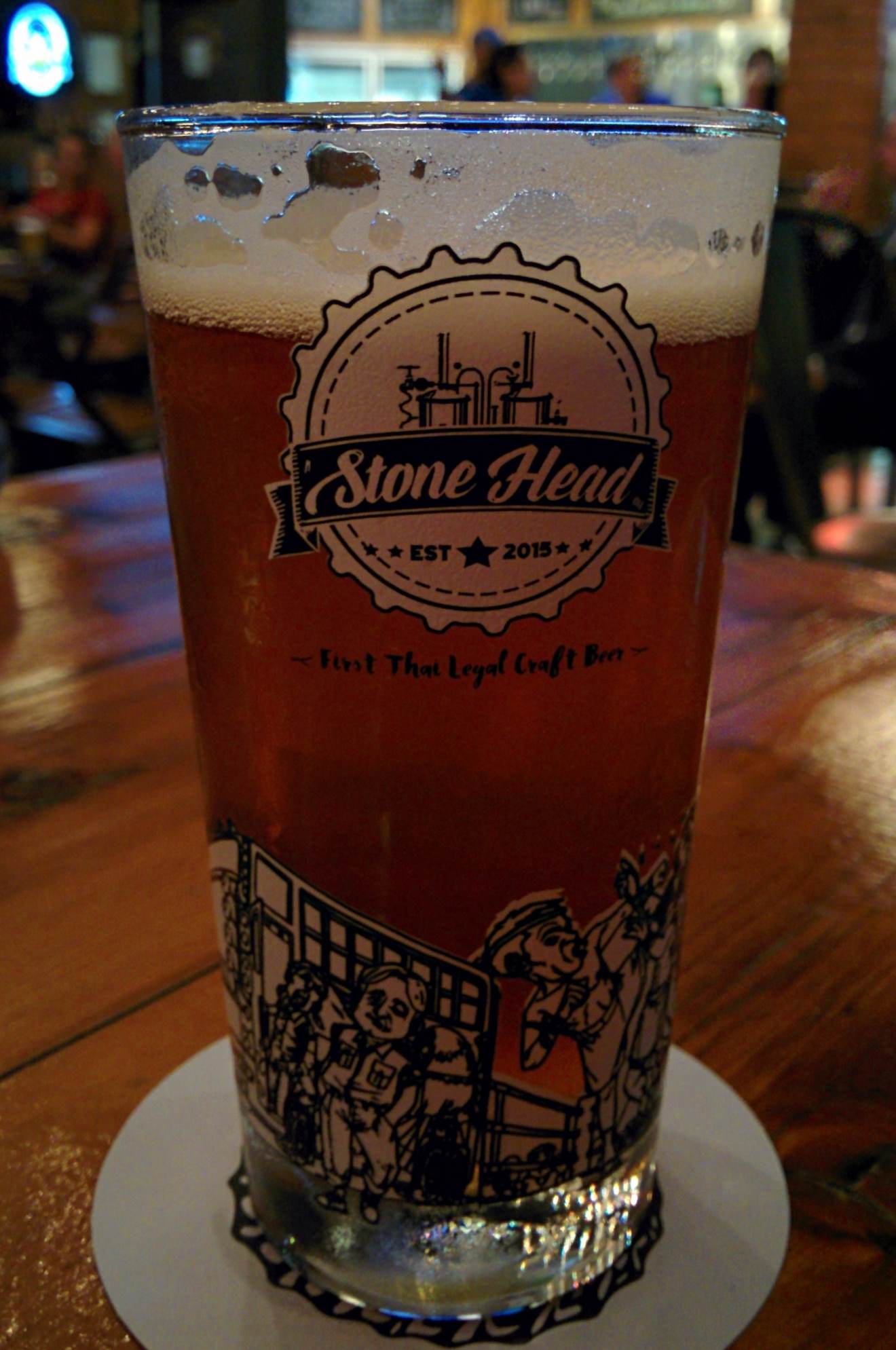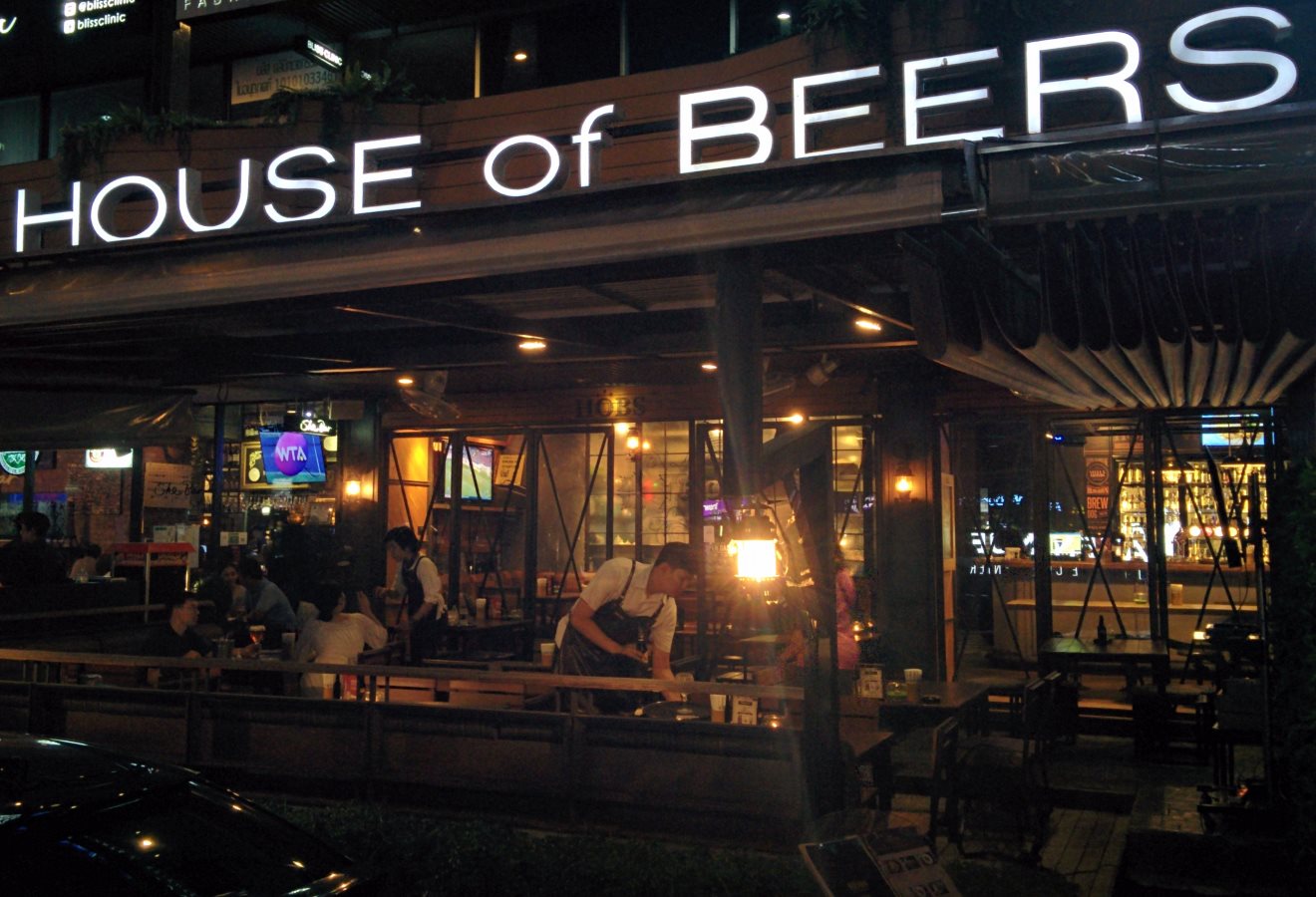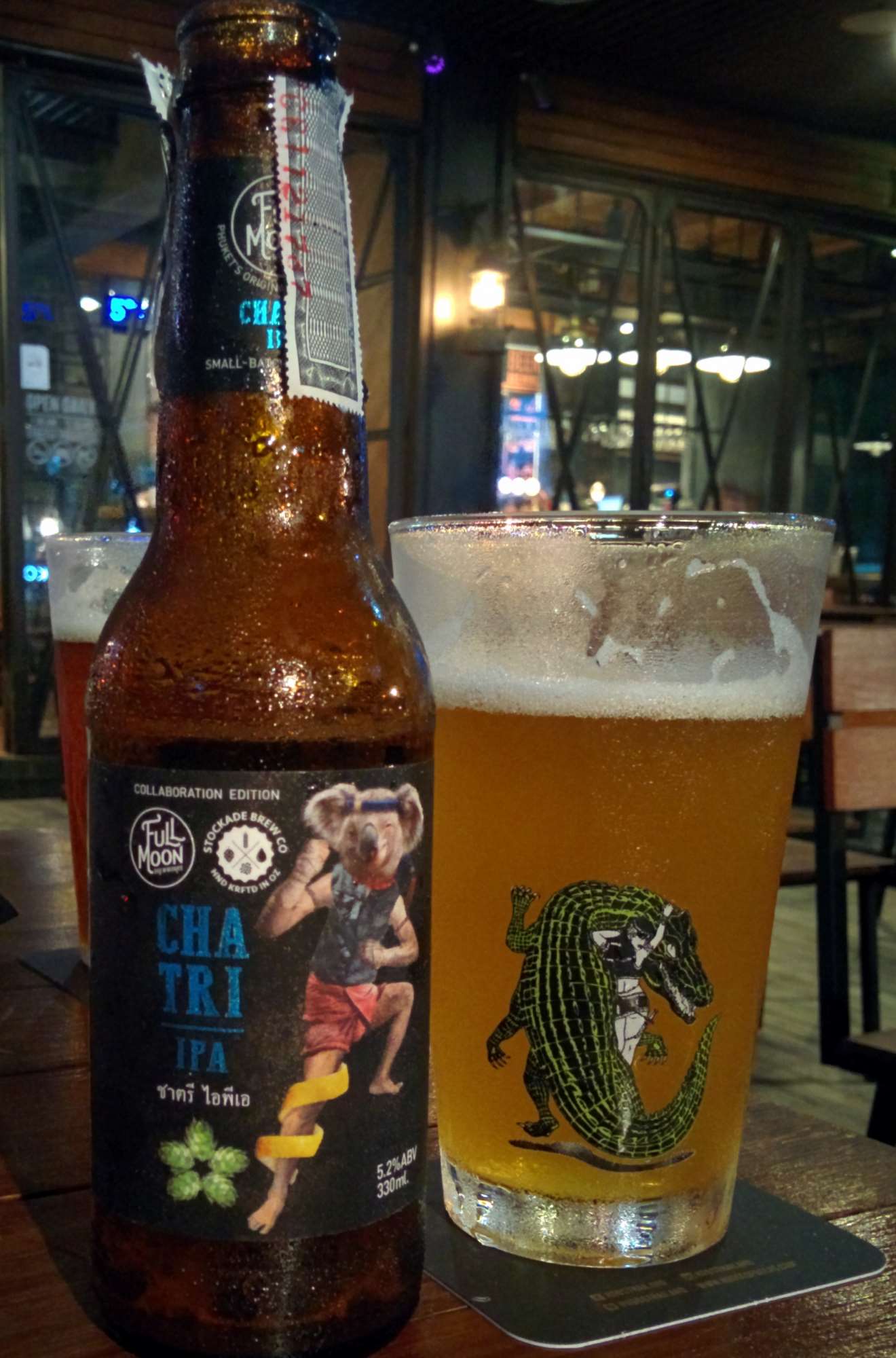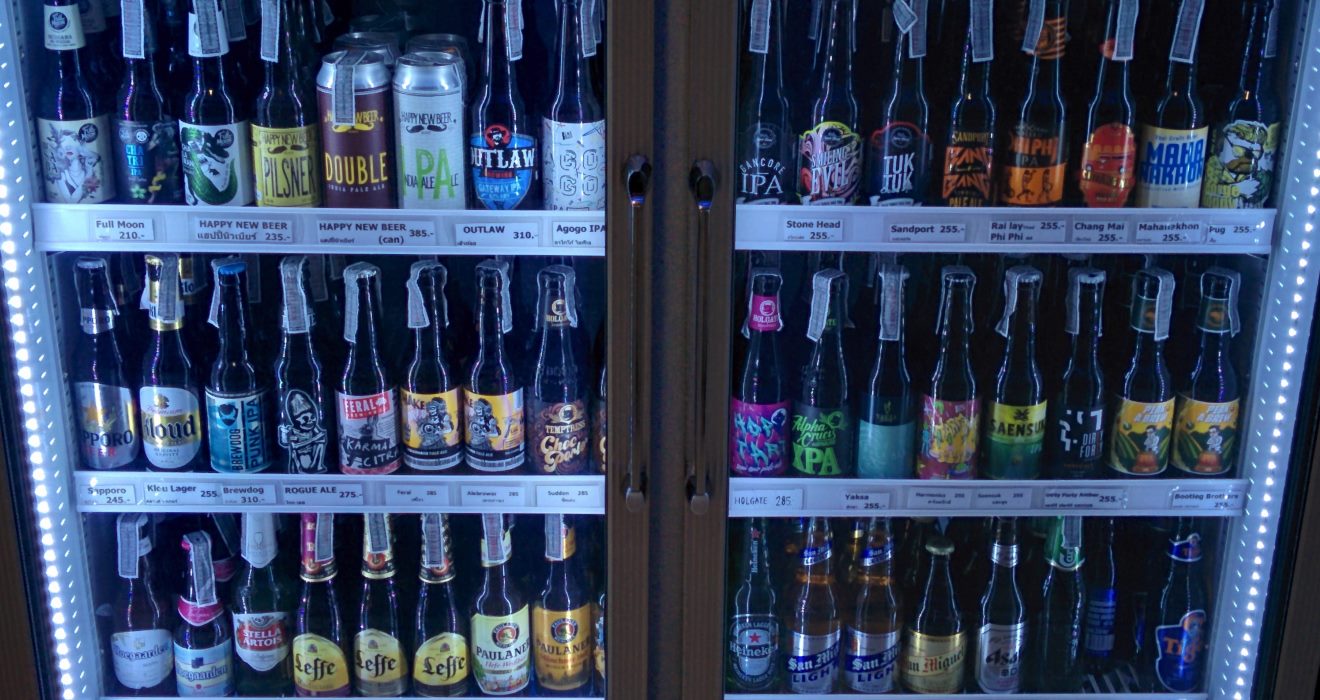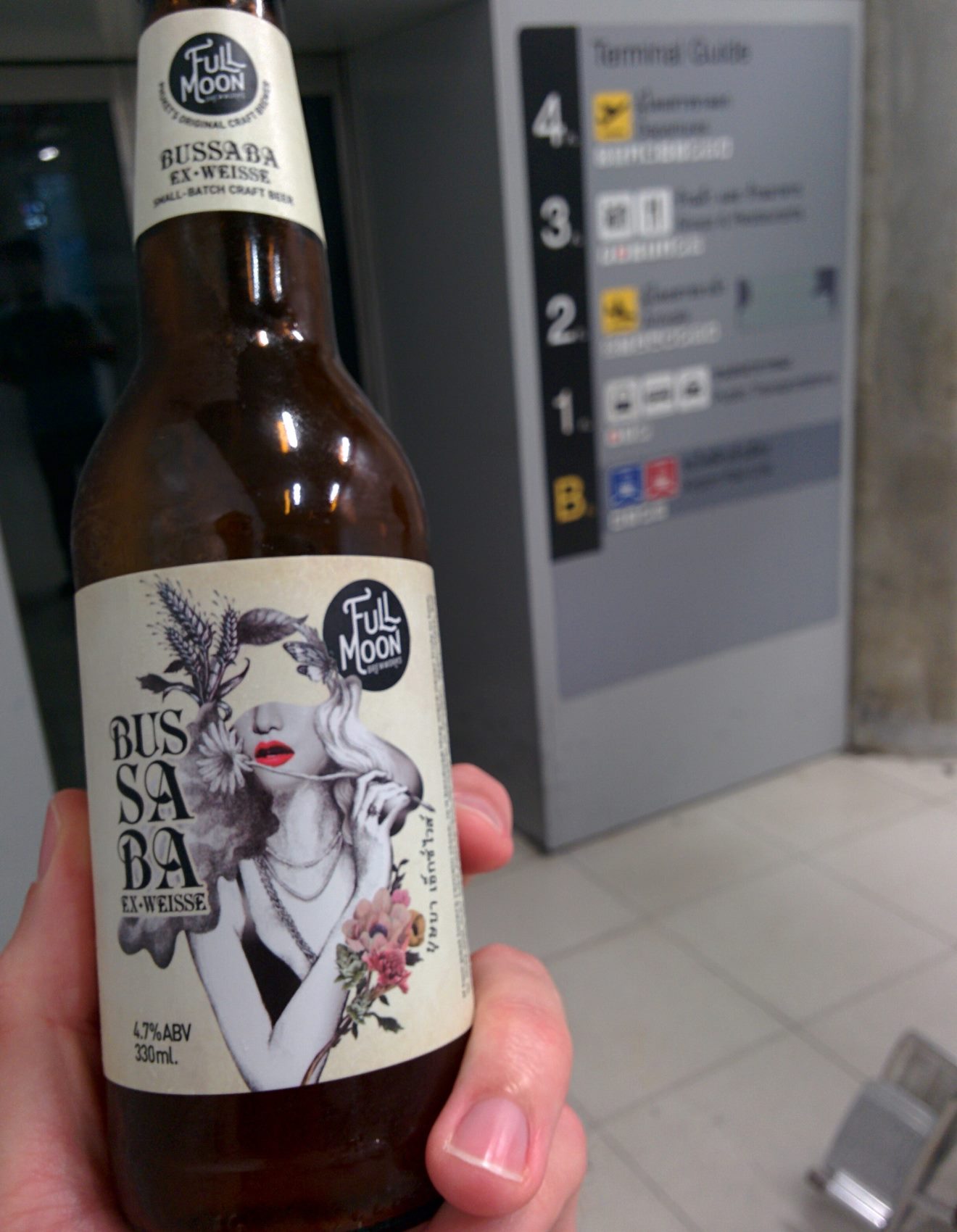 Chiang Mai
We found a pair of linked places in Chiang Mai that were fantastic. Ugo / Renegade is on the East central side of the old city, just inside the walls. One is a cafe on the road and the other is a sports bar around the back. It has pool, table football and a kick-boxing gym next door. They both have a great range of beer but it's best to head to the bar for the kegs.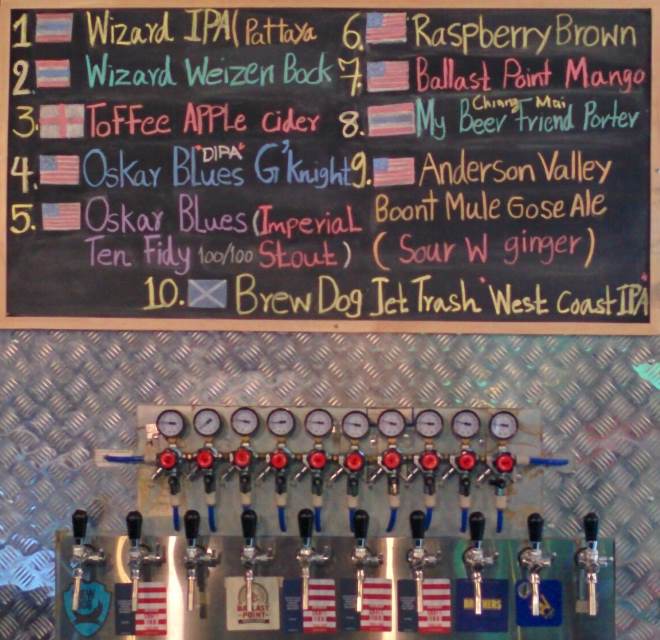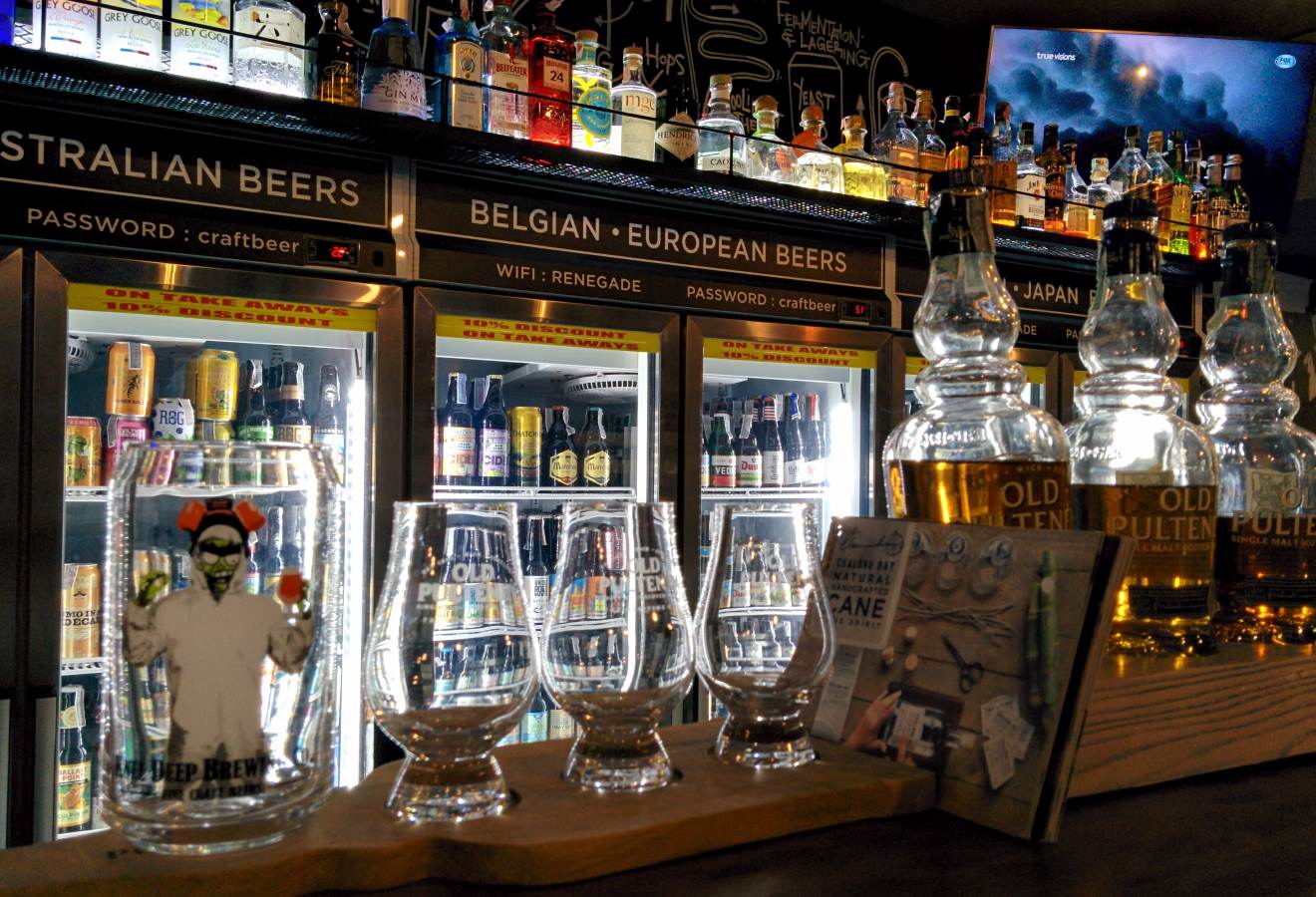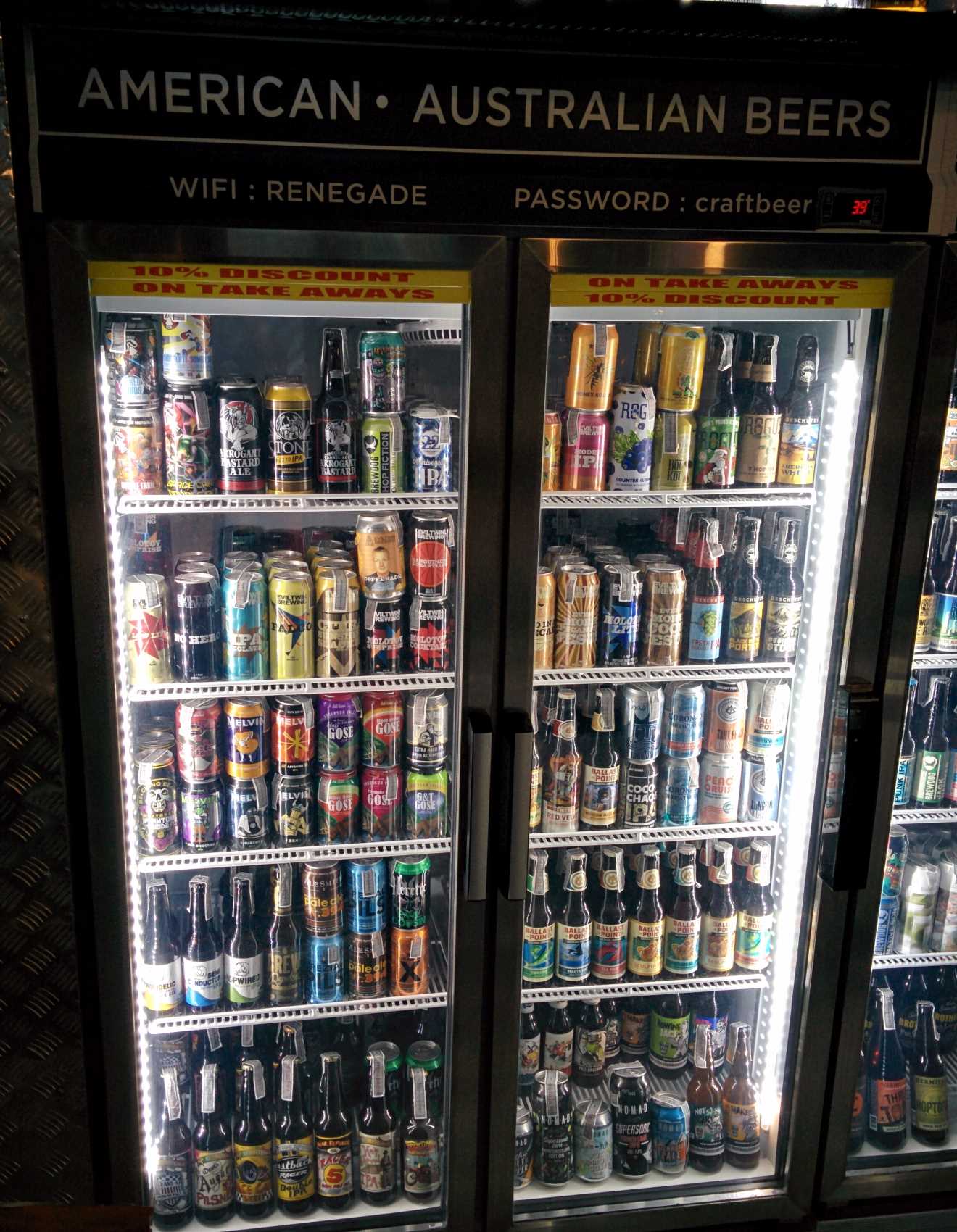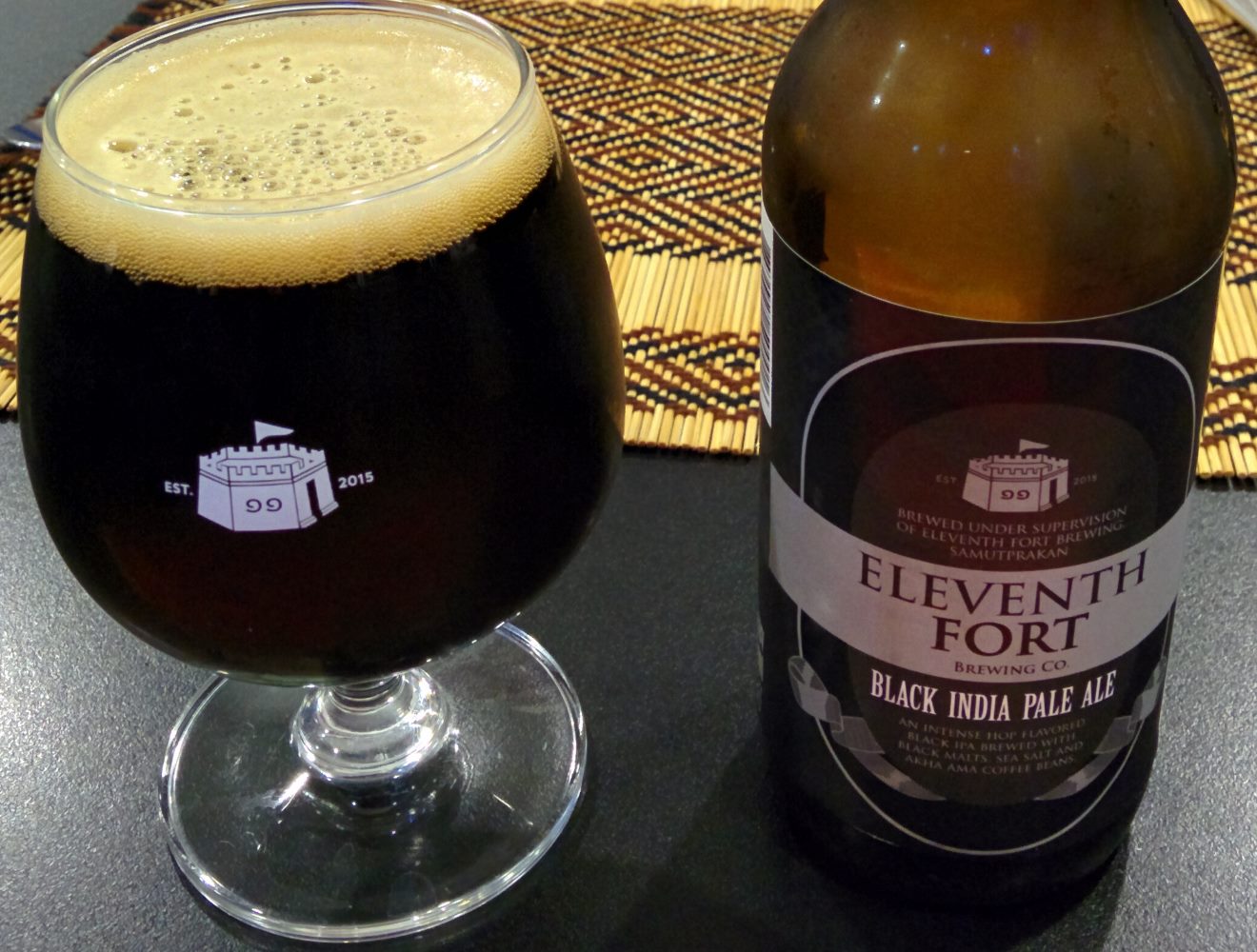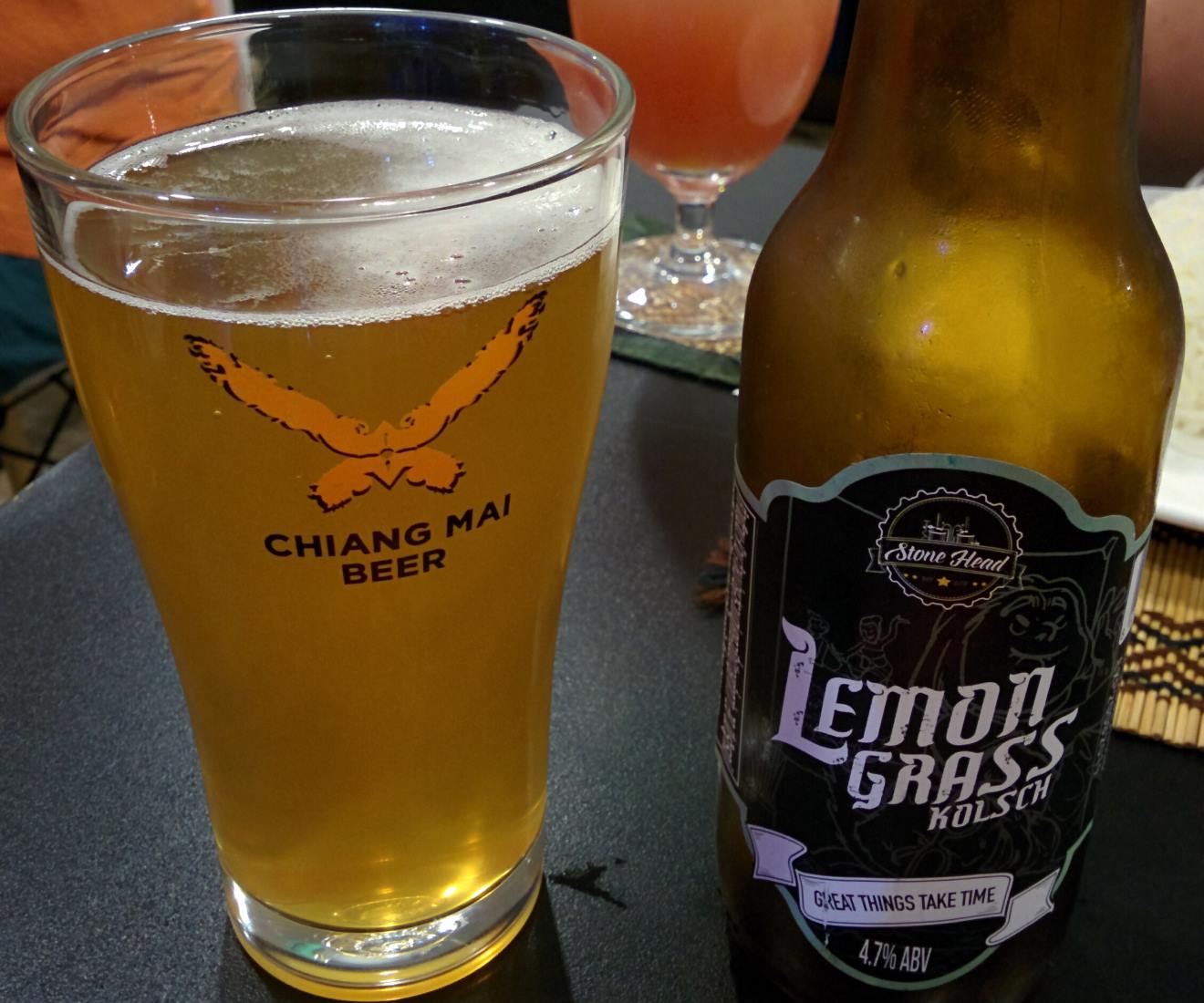 Cambodia
Lots of brewing occurs in Cambodia, much of it for export to the rest of South East Asia. The craft scene is pretty new here but there are some gems to be found and it is very reasonably priced.
Siem Reap
There are many big contrasts in Siem Reap and the brew pubs are no different. They range from fine dining to backyard brewing.
Siem Reap Brewpub
Siem Reap Brewpub is quite fancy and does a range of beer based food. The beer itself is quite good too but not exceptional.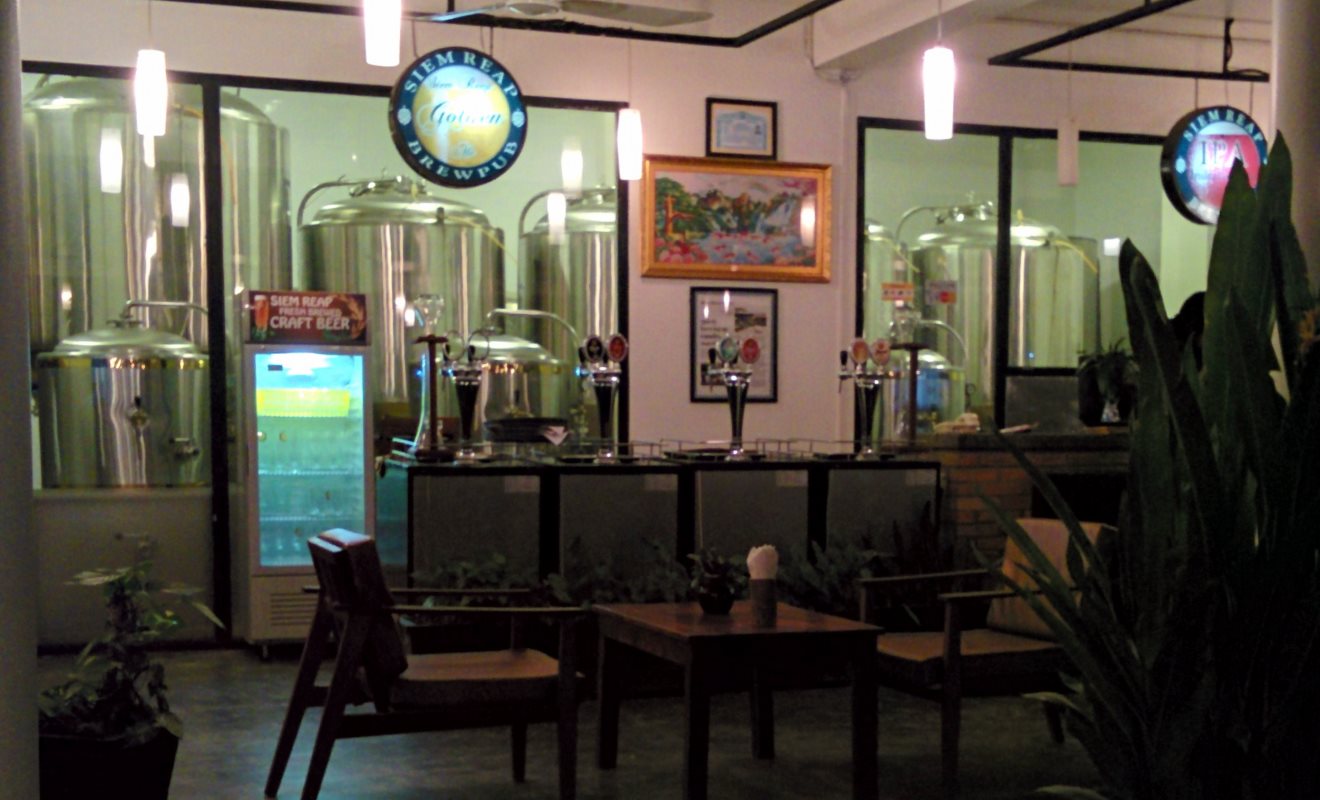 The Local
Head over the river for the other end of the spectrum. The Local offers basic pub food, such as pulled pork sandwiches etc. It's run by some ex-pat Americans with home made brew kit and they are more than happy to talk about it. They use a special Norwegian yeast that handles the high temperatures well with no air-con needed for fermentation.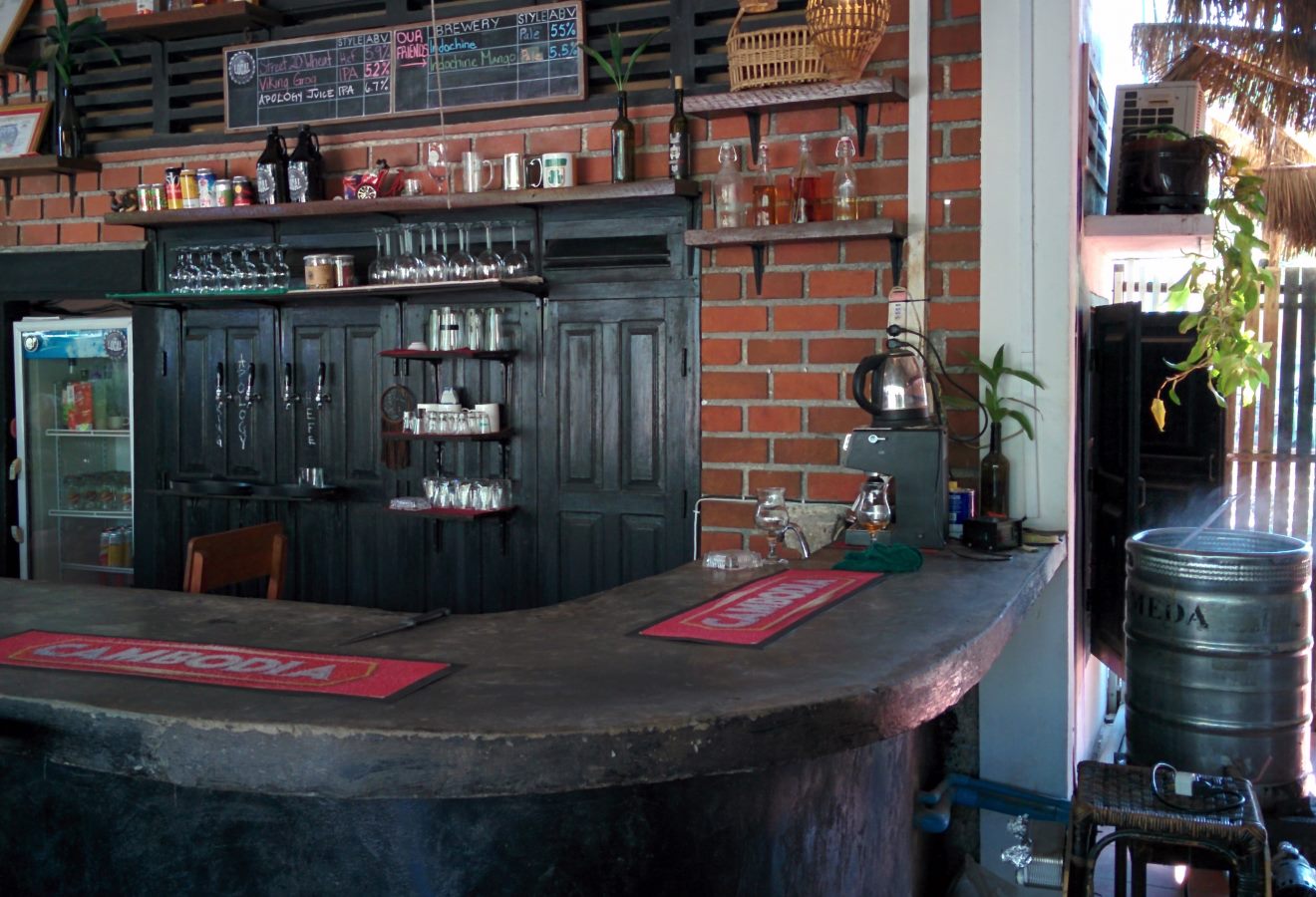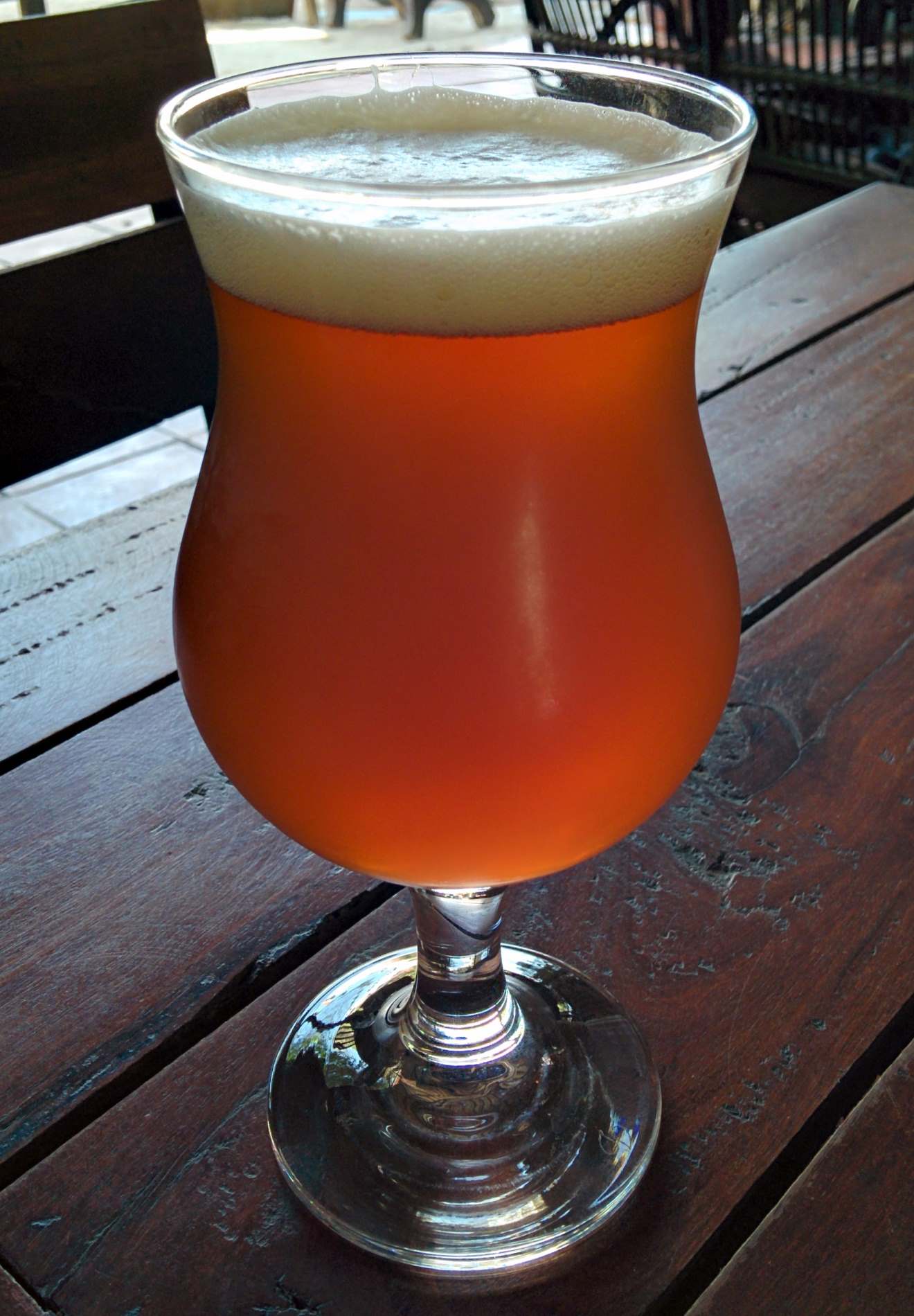 Phnom Penh
Phnom Penh has a fair few options for good drinking. Some only serve their own range so if you're short on time then it's best to head to a free house for more range. People don't typically spend long in Phnom Penh as there aren't that many tourist attractions.
Himawari
Himawari is based in a fancy riverside hotel and it's a little weird walking through to it from the road. You can also approach from the river walk. The beer was OK (they only serve their own brews) but it's a nice location.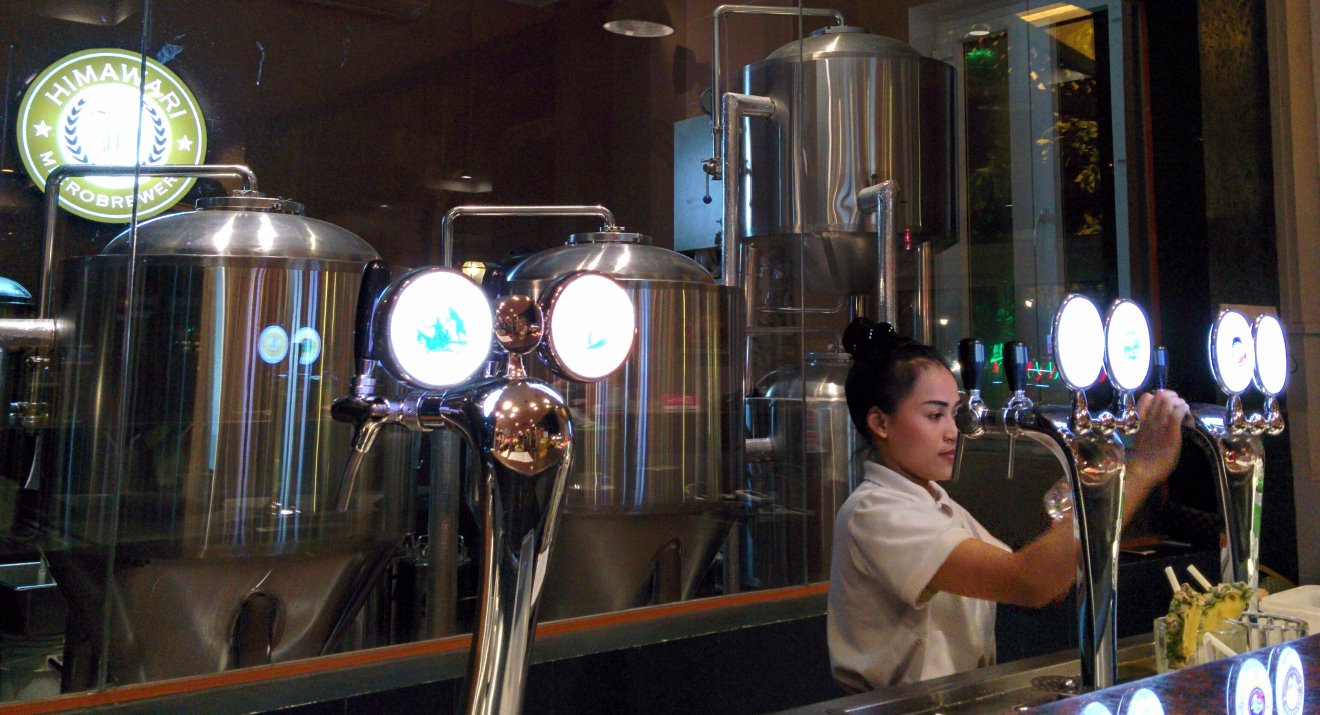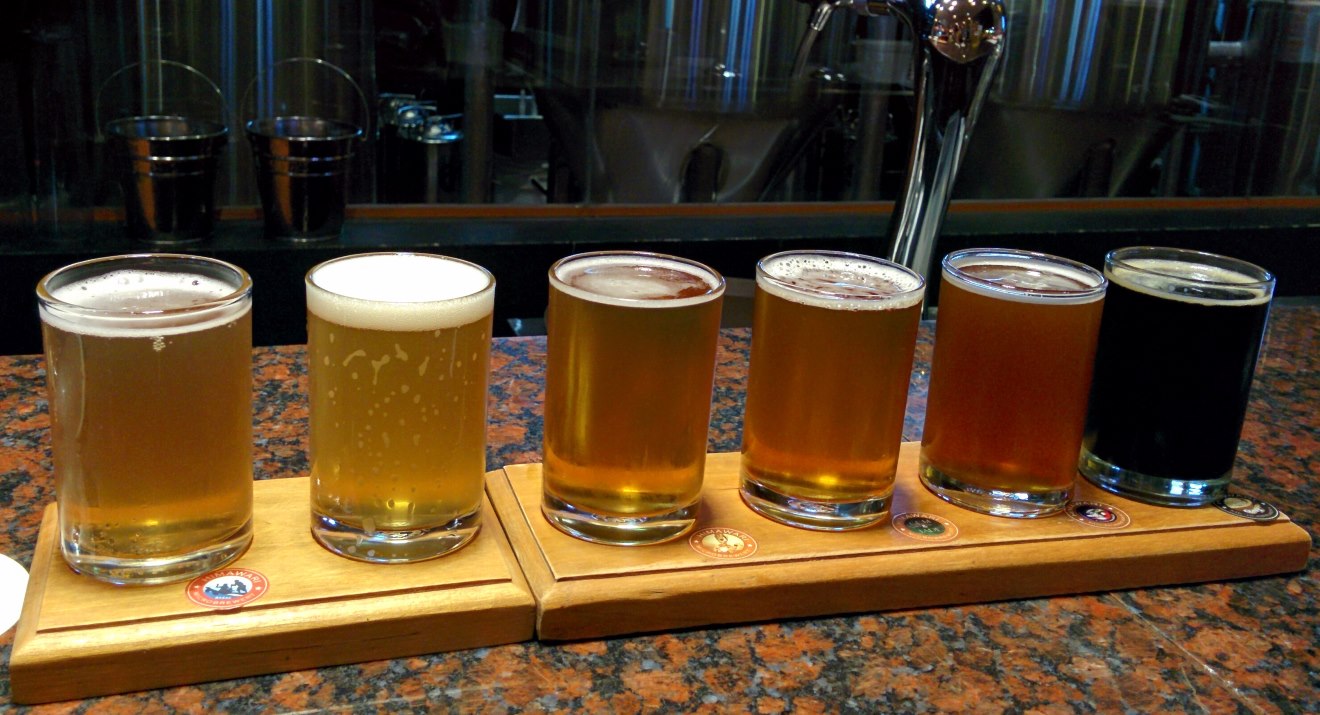 Botanico
Botanico is a chill free house bar and as such has a good selection on offer. It is mainly outdoor seating in a little courtyard area and is definitely worth a visit if you're into your beer and in the city.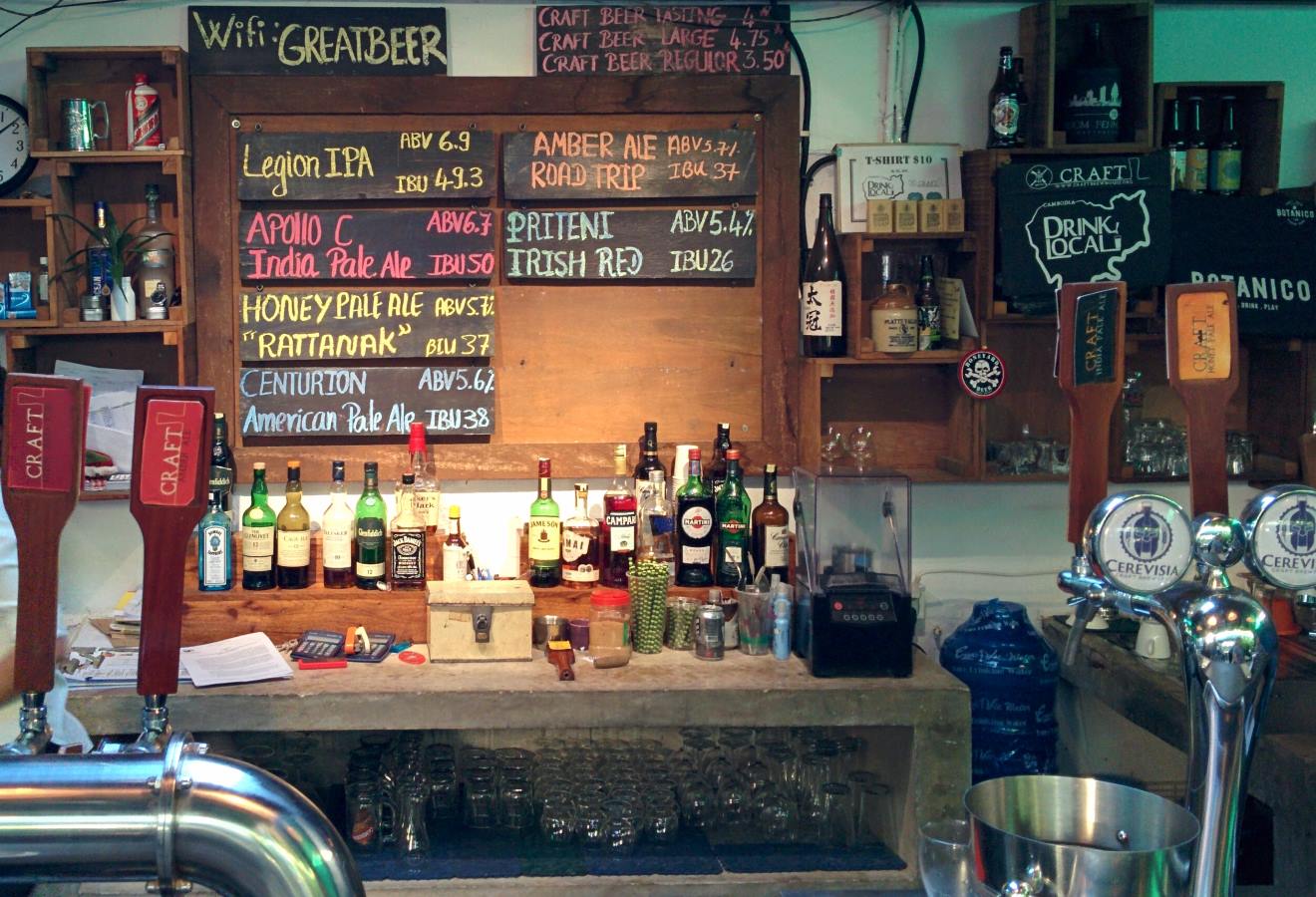 Hops
Hops is an up-market brew pub that serves their own range. They have pool tables charged by the hour and an outdoor area with barbecue. However, it has the feel that it was designed by someone who had the scene explained to them but doesn't truly get it. Apart from the cargo-cult aesthetics the beer was fine.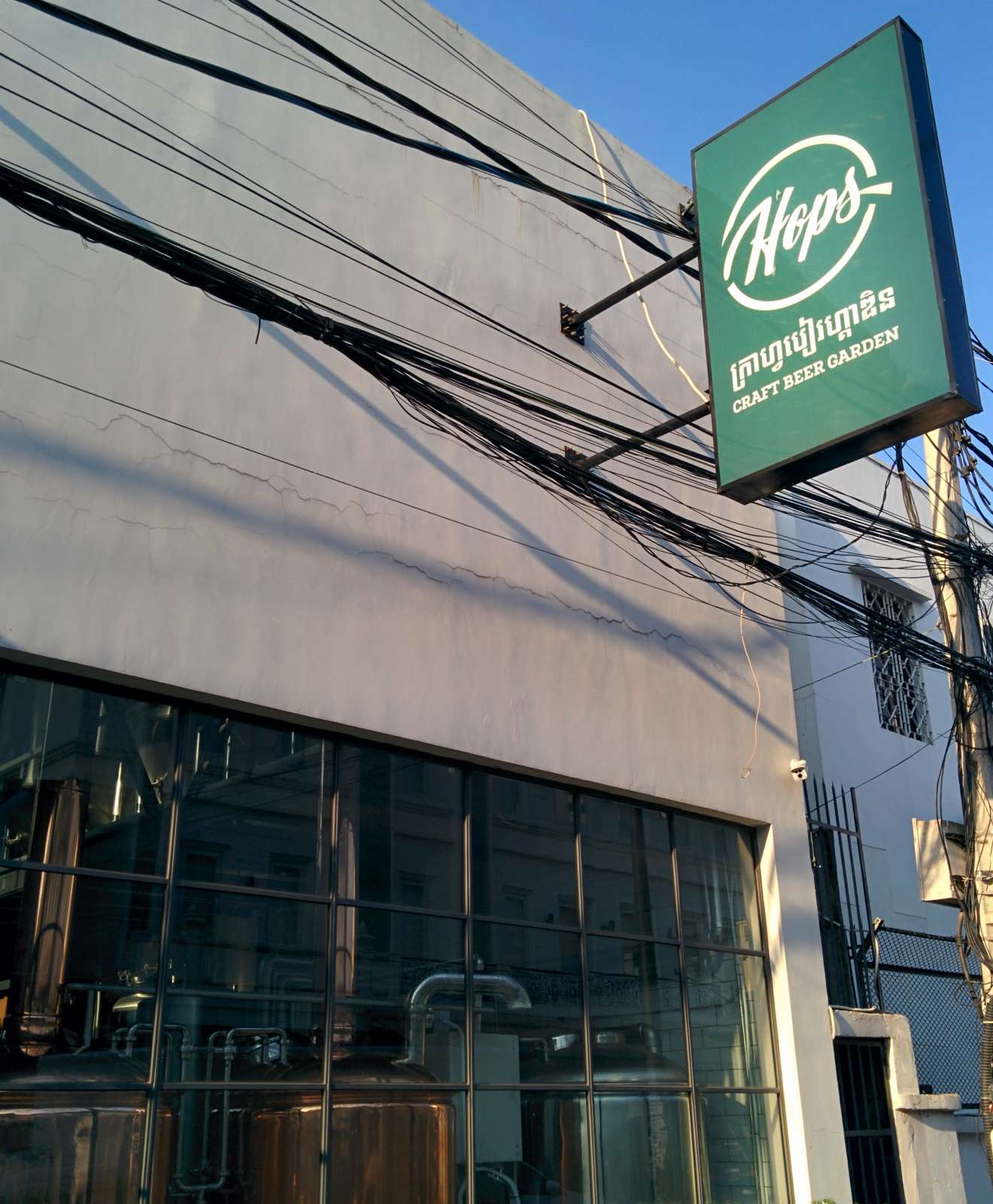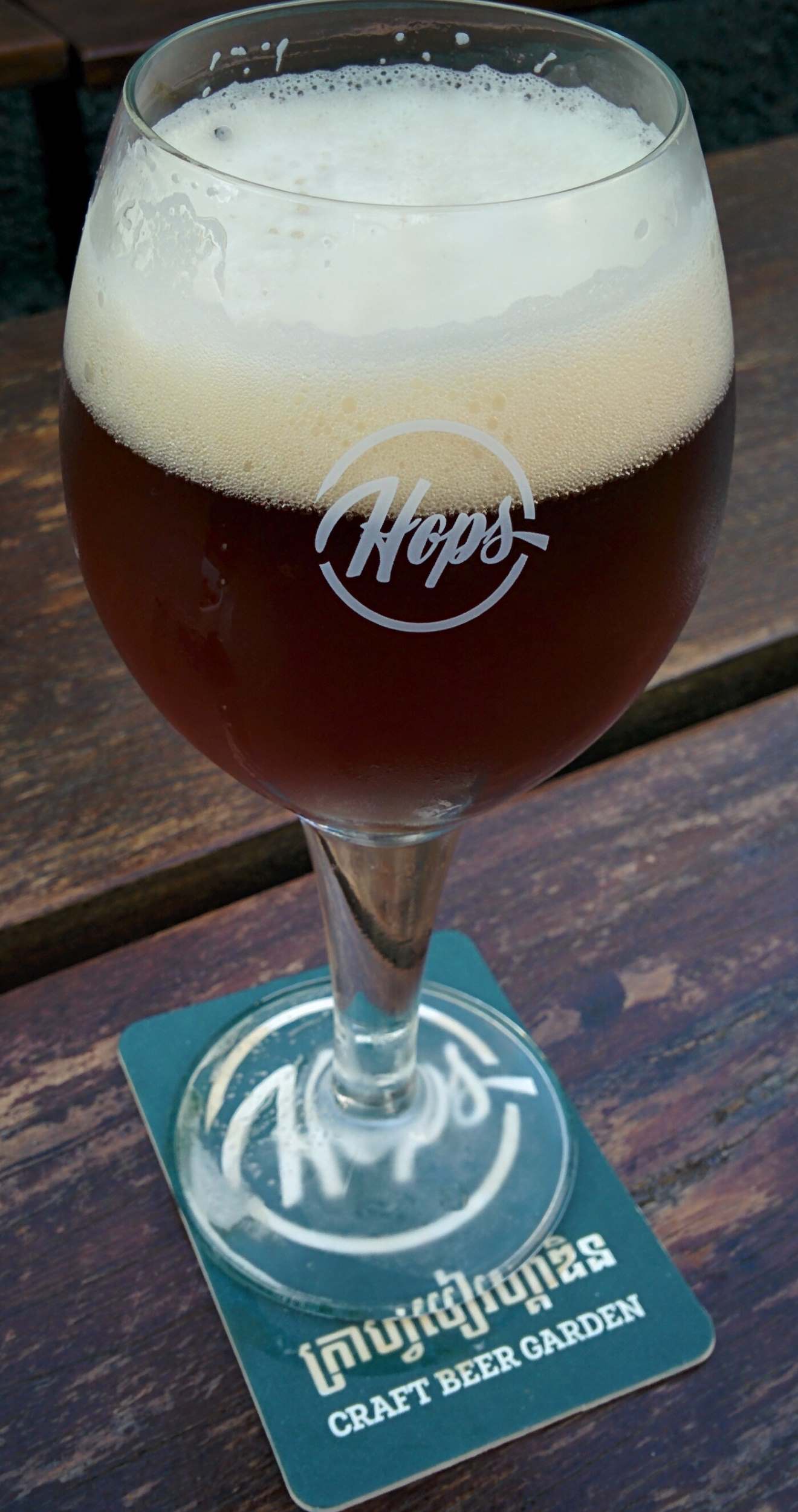 Kingdom
We didn't go to Kingdom brewery, as it shuts at 17:00 and it's a bit out of town. However, we tried their beer elsewhere and it was lovely.
5 Drunk Guys
5 Drunk Guys is a good bar in a fairly tall building near the river. It has an extensive drinks selection and electronic darts boards too. You get a good view from the top but the entrance is a little hard to find down an alley behind a huge bud can (not indicative of the beer quality thankfully). It's not open early so you'll have to wait until evening.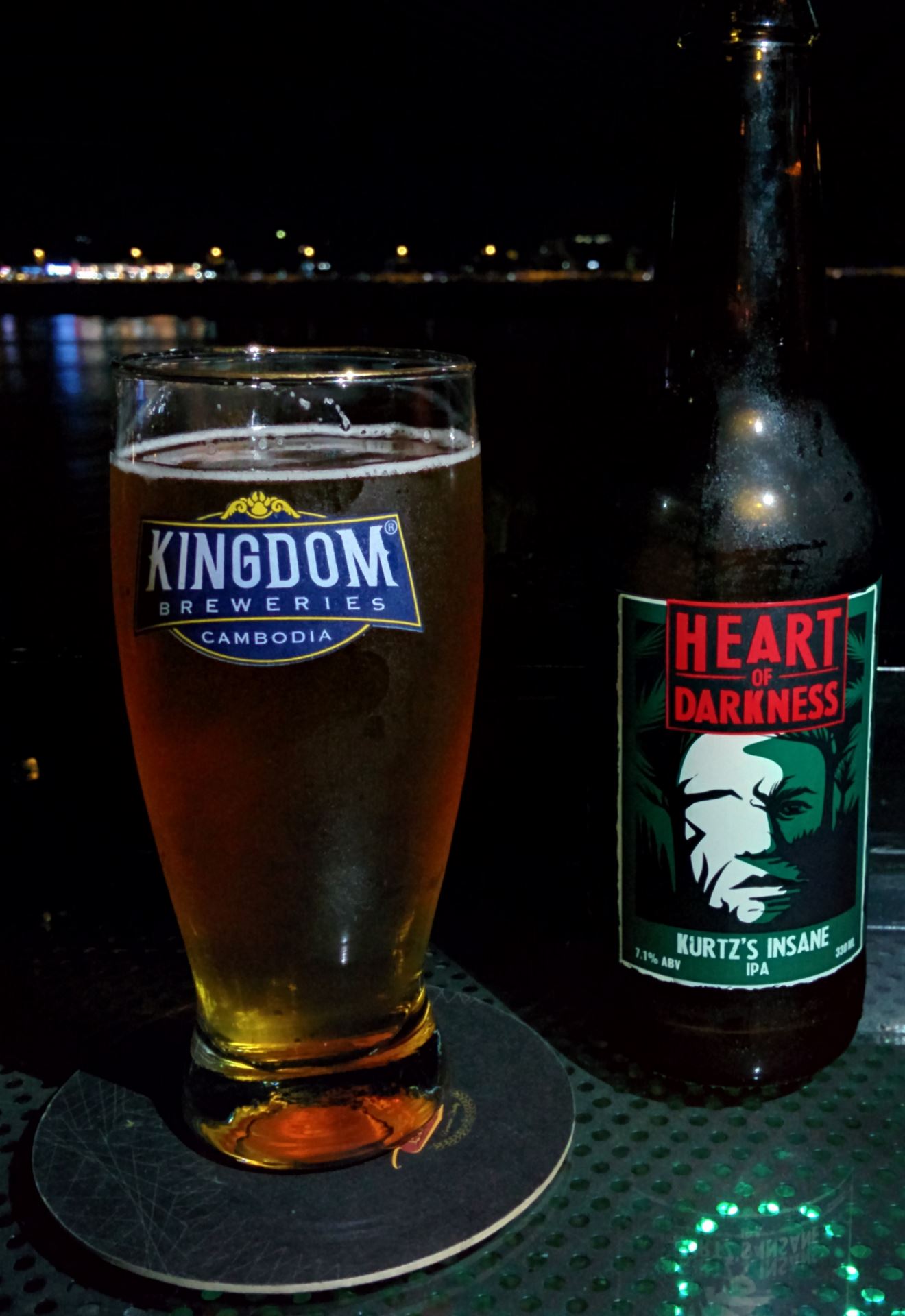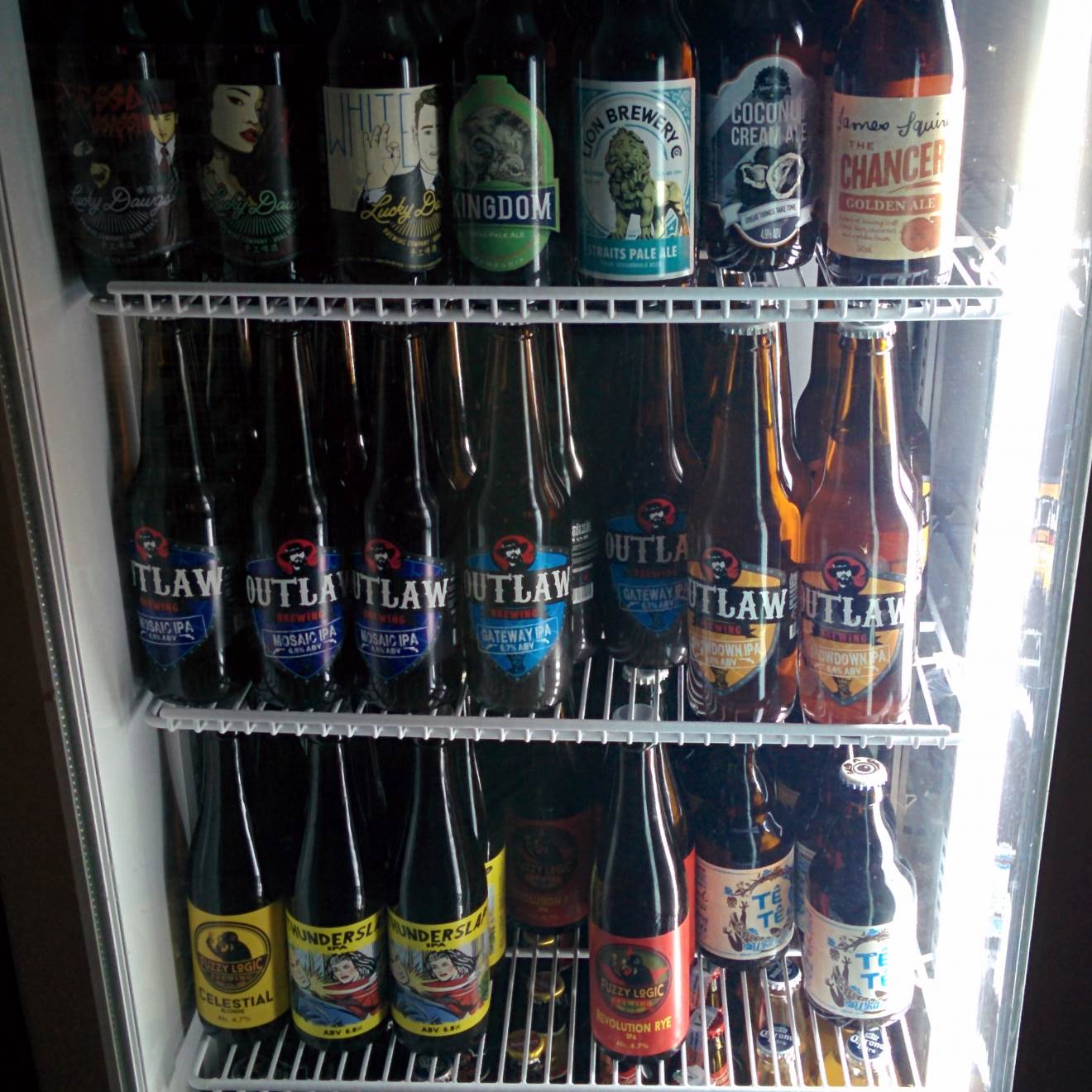 Kampot
There are a few good bars in Kampot, including a video game one called Levels that is a little out of the way. The other bars are nearer the main area by the river. These included the Stumble Inn, which had a decent range but would be more aptly called the Stumble Out.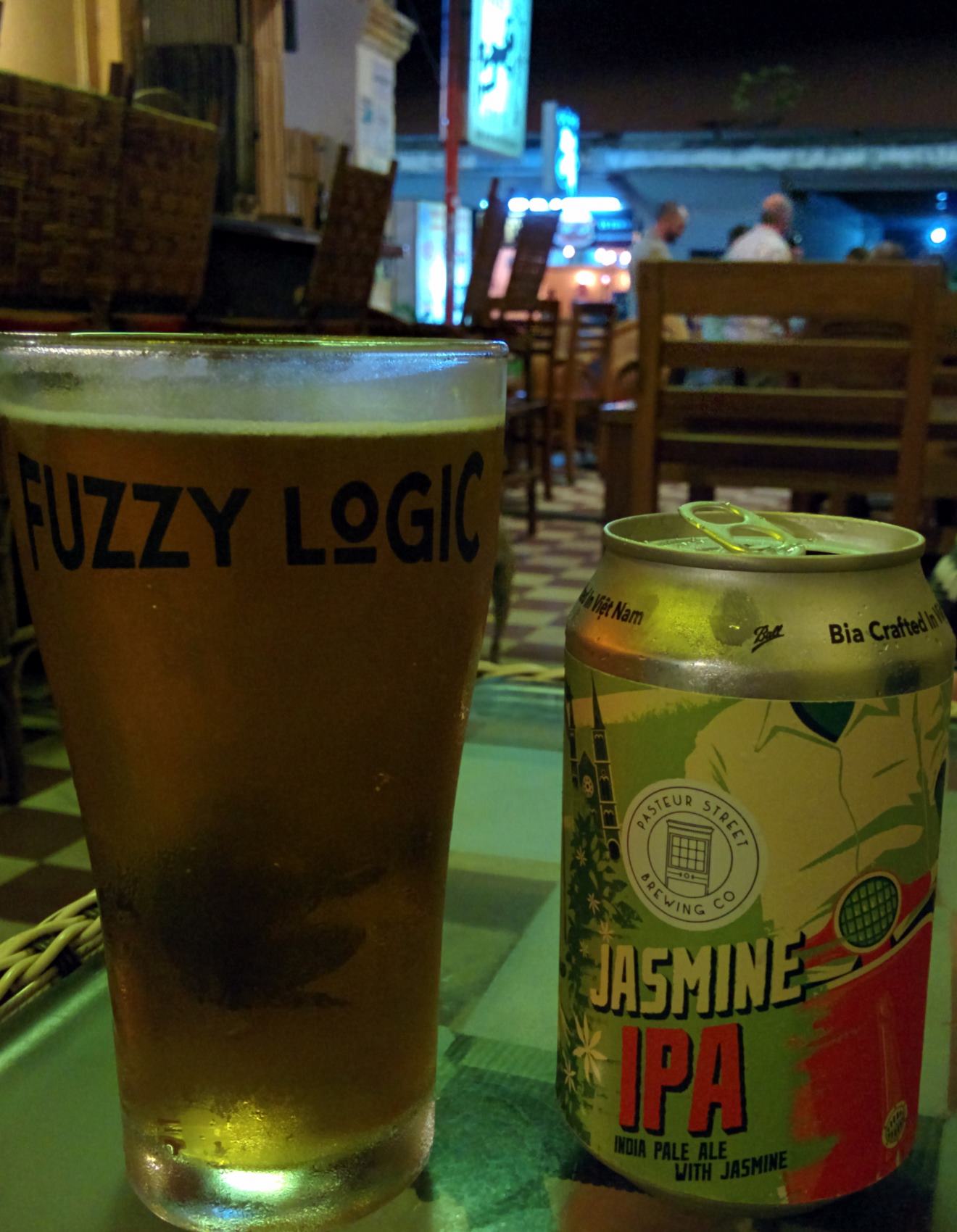 Vietnam
Vietnam has a big brew scene, which is relatively recent and appears to have been ignited by various ex-pats. There is a wide choice of styles but they usually like their beer strong, so watch the ABV and keep the measures small.
Phú Quốc
Not a lot of brewing occurs on Phú Quốc, as it is closer to Cambodia than mainland Vietnam but there are no direct links. However, you can get hold of some decent drinks. For example, we found an East West IPA in the Cassia Cottage Spice House restaurant, although it was just listed as "India Pale Ale" on the menu. There were also a couple of places near the night market, including a bar and a Mr. Po cheesy chips stall with draft craft.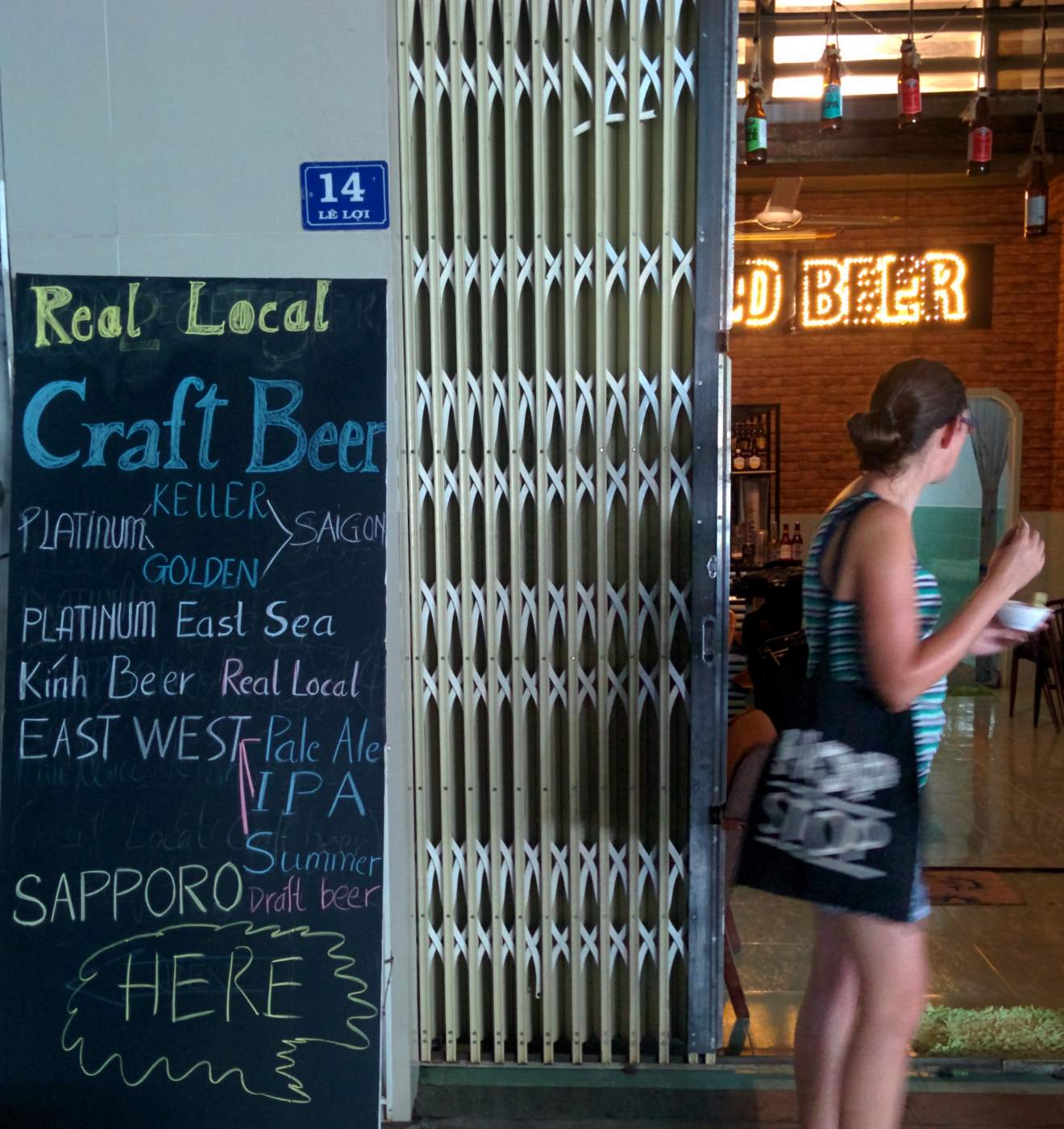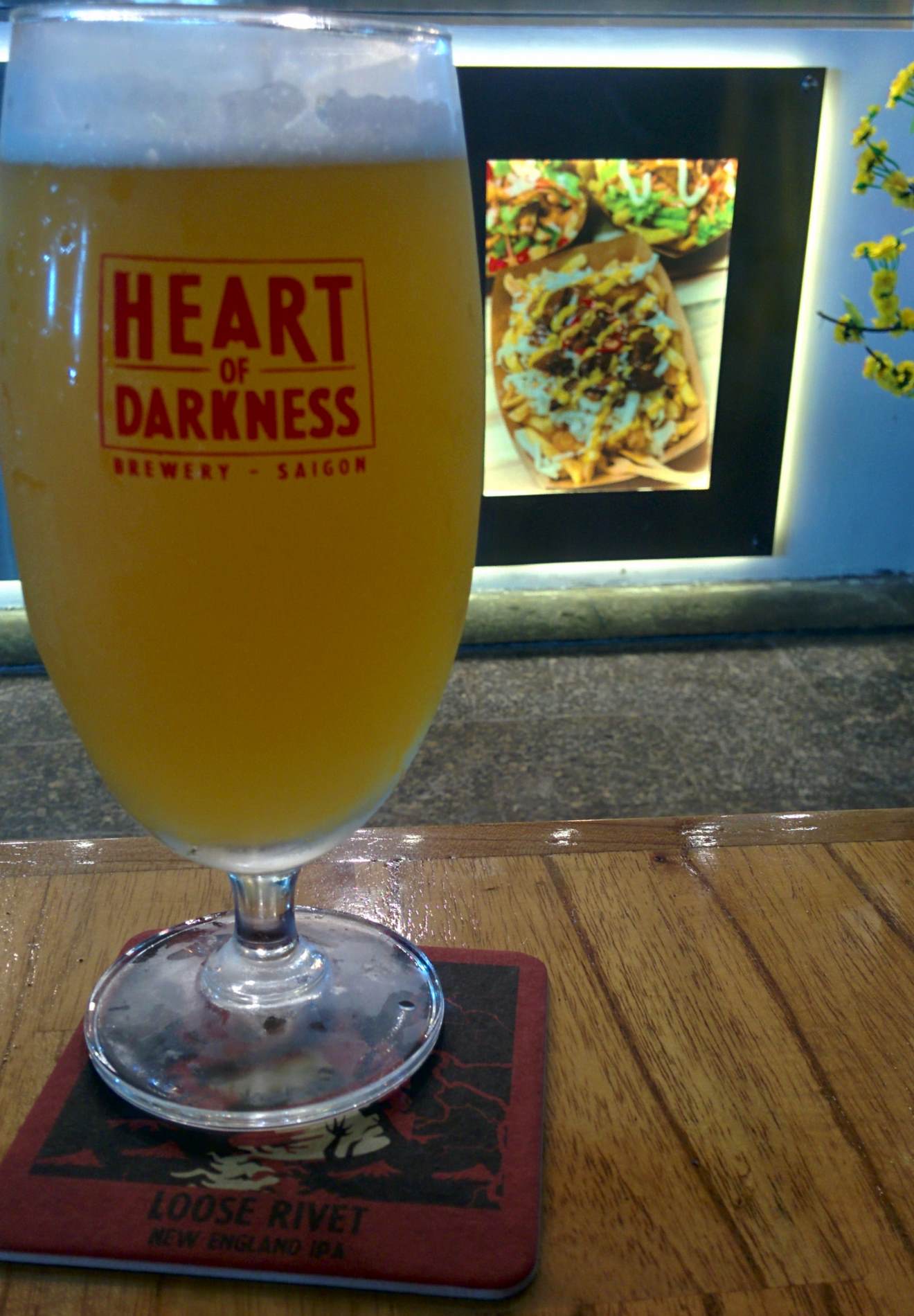 Saigon / HCMC
Saigon (aka Ho Chi Minh City) is the economic capital of Vietnam and the biggest city. Like many large conurbations, there are plenty of places to quench your thirst and chill out from the heat.
Heart of Darkness
The Heart of Darkness brewery takes its title from the novel of the same name, which is what the Vietnam War film Apocalypse Now was based on. However, the novel was actually set in Africa.
Despite this, they run with the theme and brew beers including Kurtz's Insane IPA. The beers are excellent and the tap room is definitely worth a visit.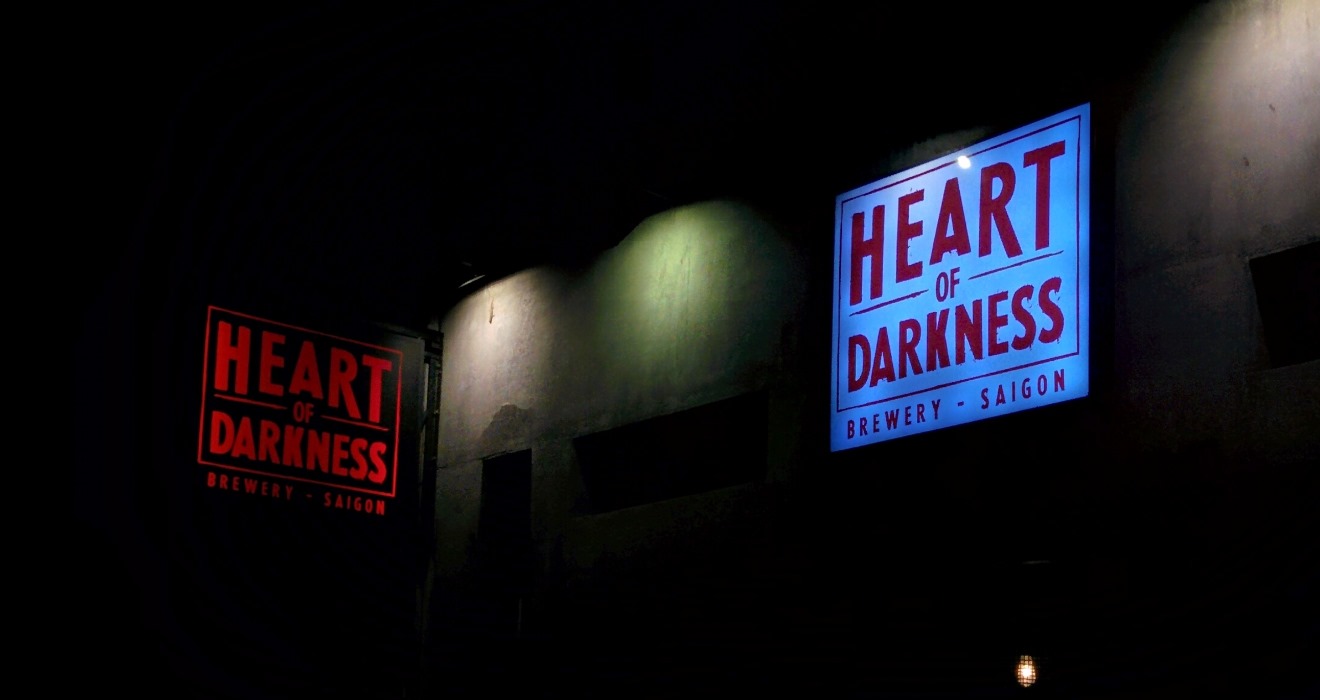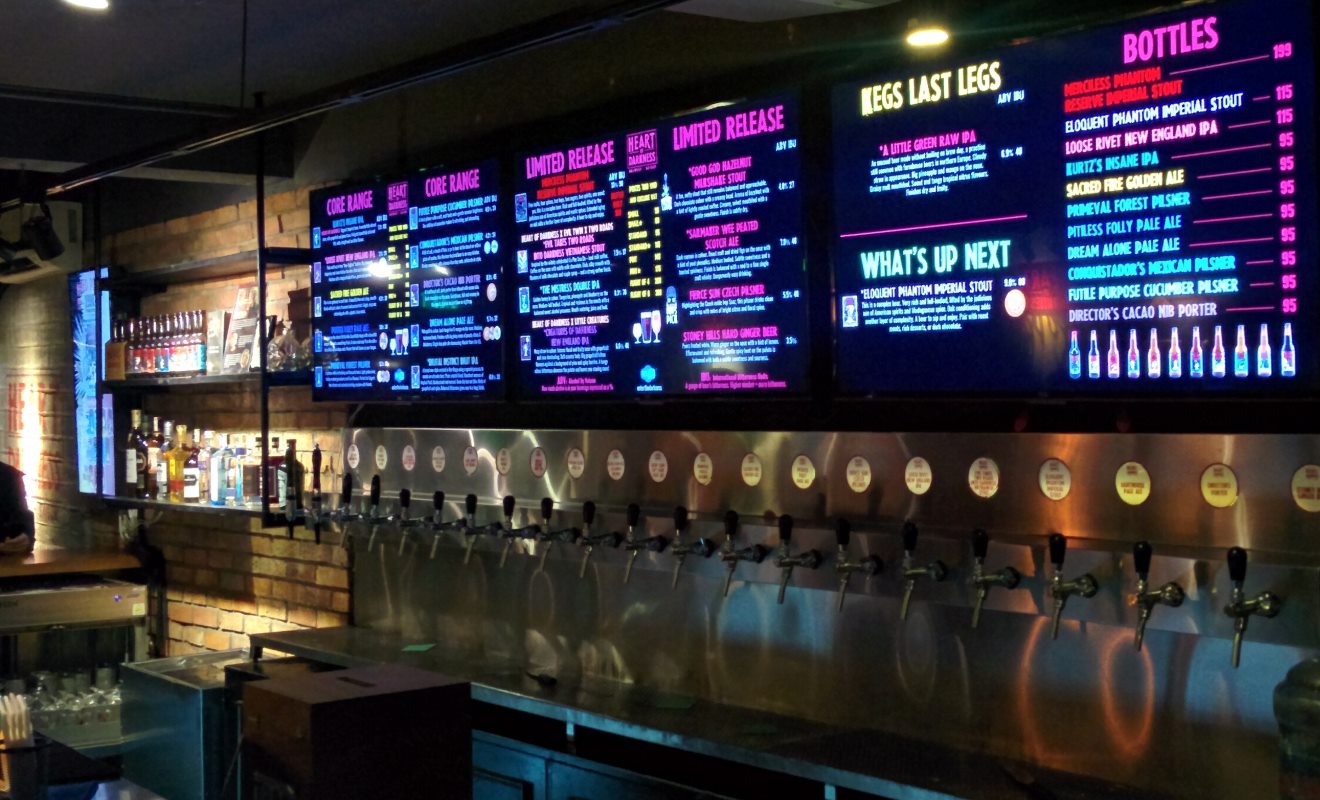 Winking Seal
The Winking Seal brewery and bar served a tasty range and had interesting glasses to boot. The food menu looked good too but we didn't eat there.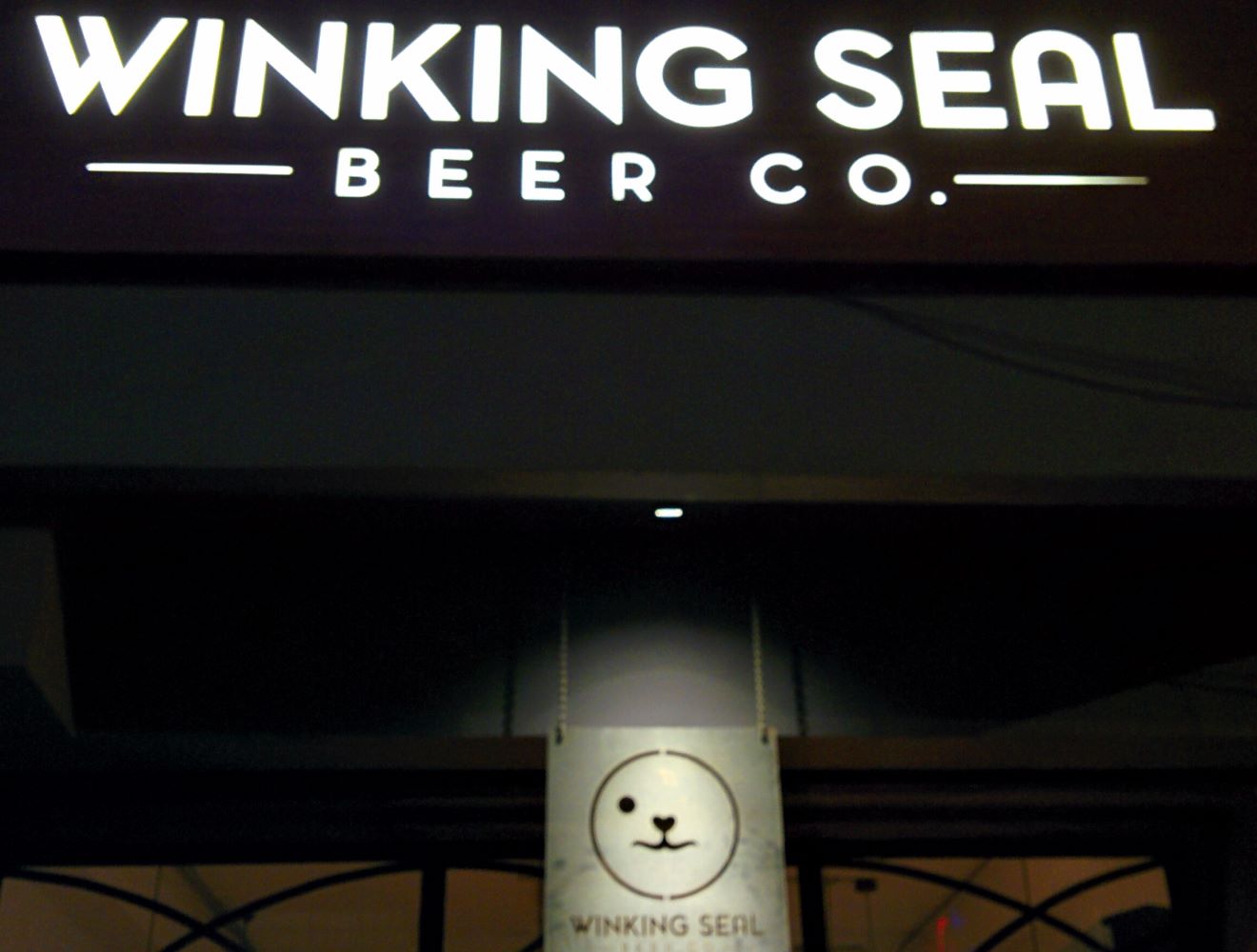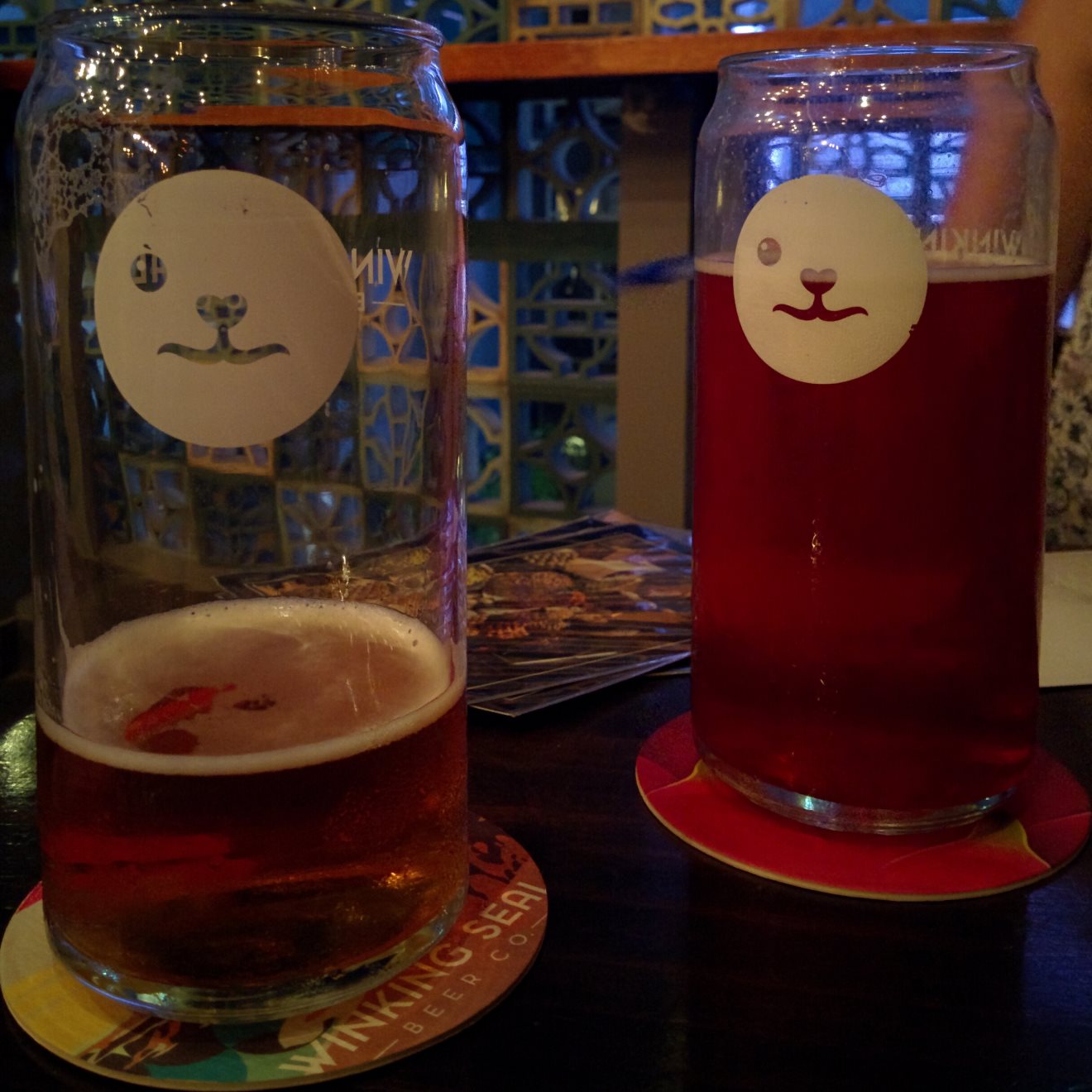 Pasteur Street
Pasteur Street brewing is the main player here and the beer range is fantastic, with something for everyone. They are based (unsurprisingly) on Pasteur Street, where they have two tap rooms that serve delicious food. They also have another two in the city.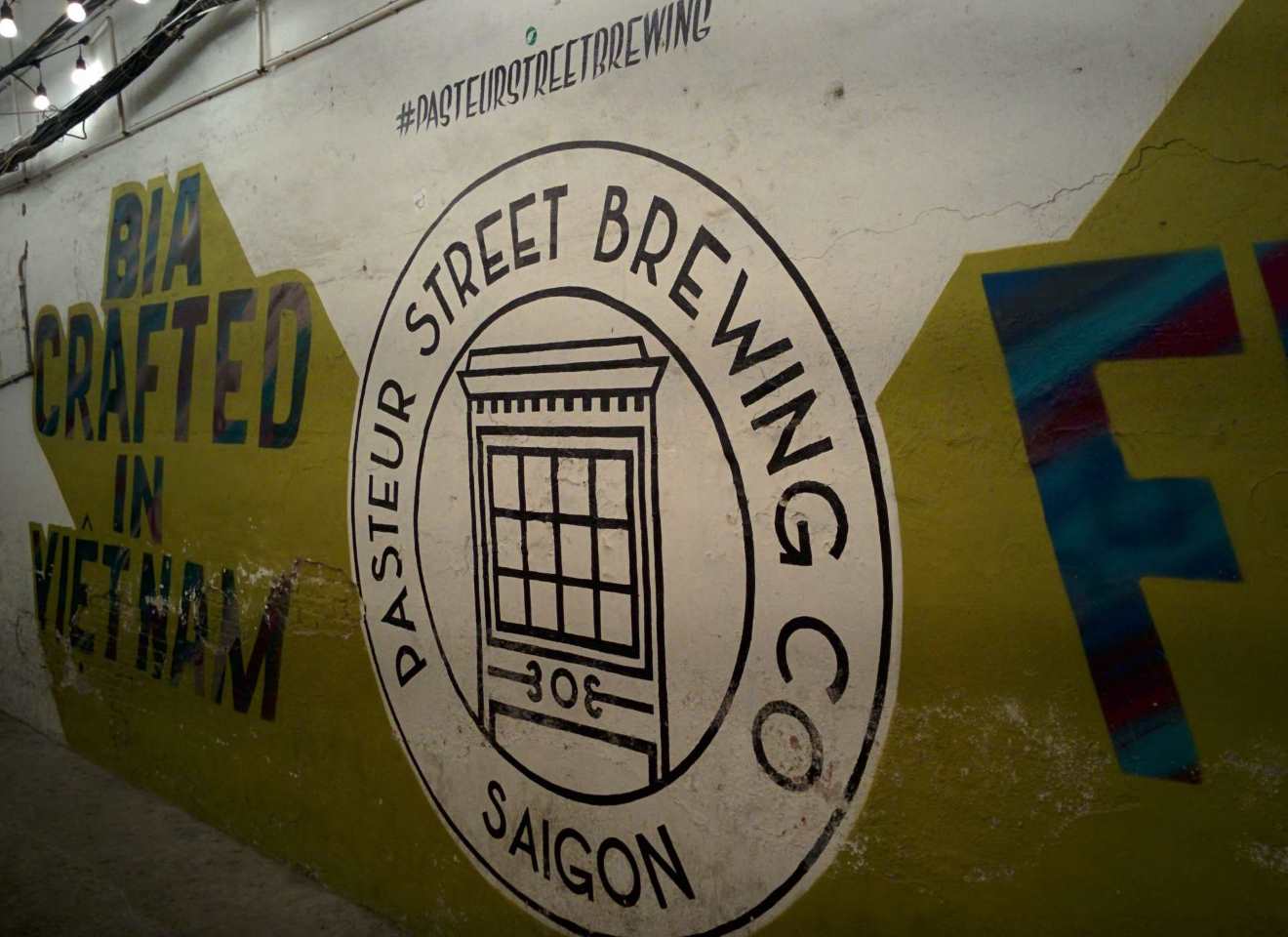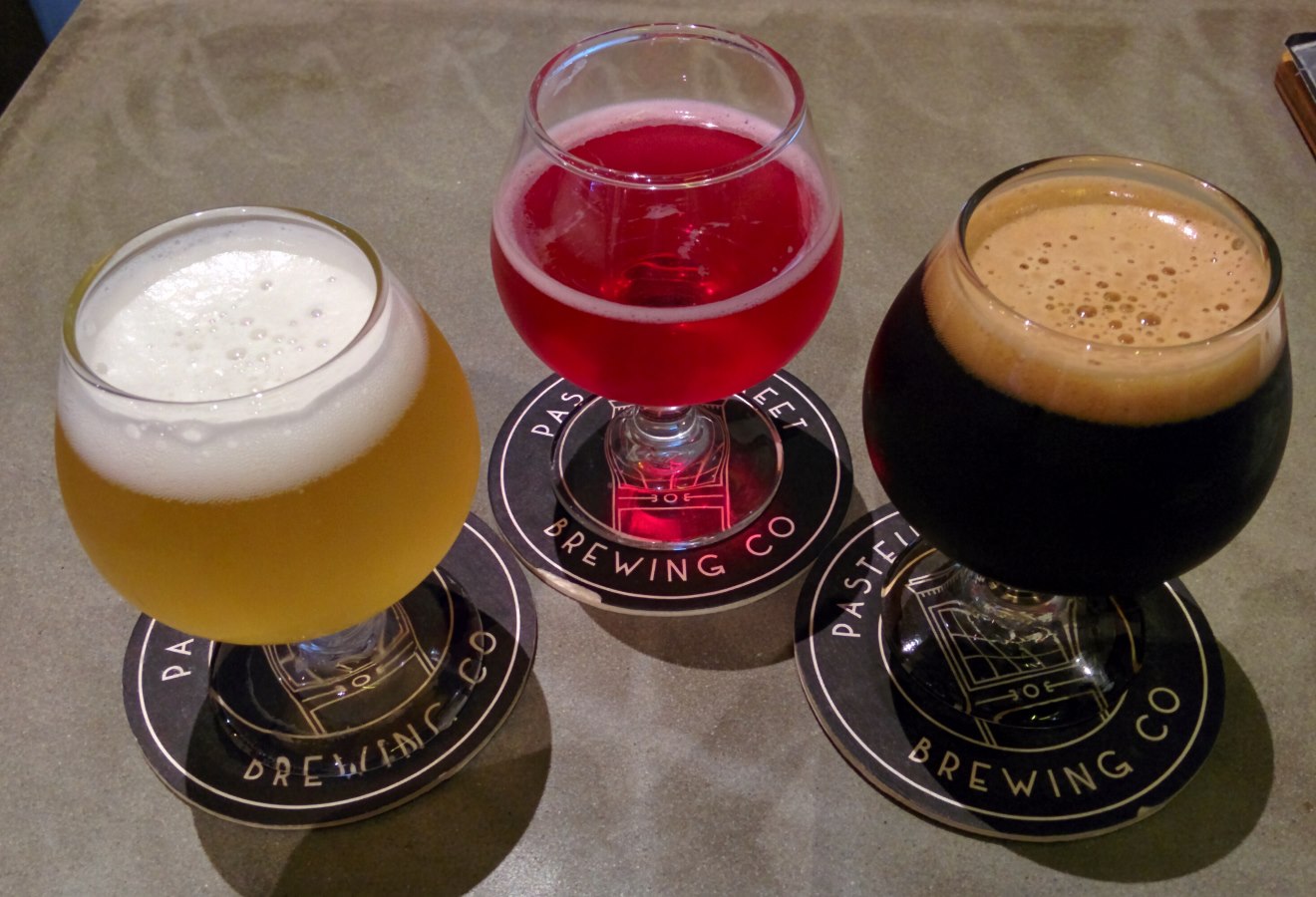 Malt
Malt is a cosy watering hole in the centre of Saigon offering a selection from various different breweries. They also have bar games such as darts, shuffle board and swing ring.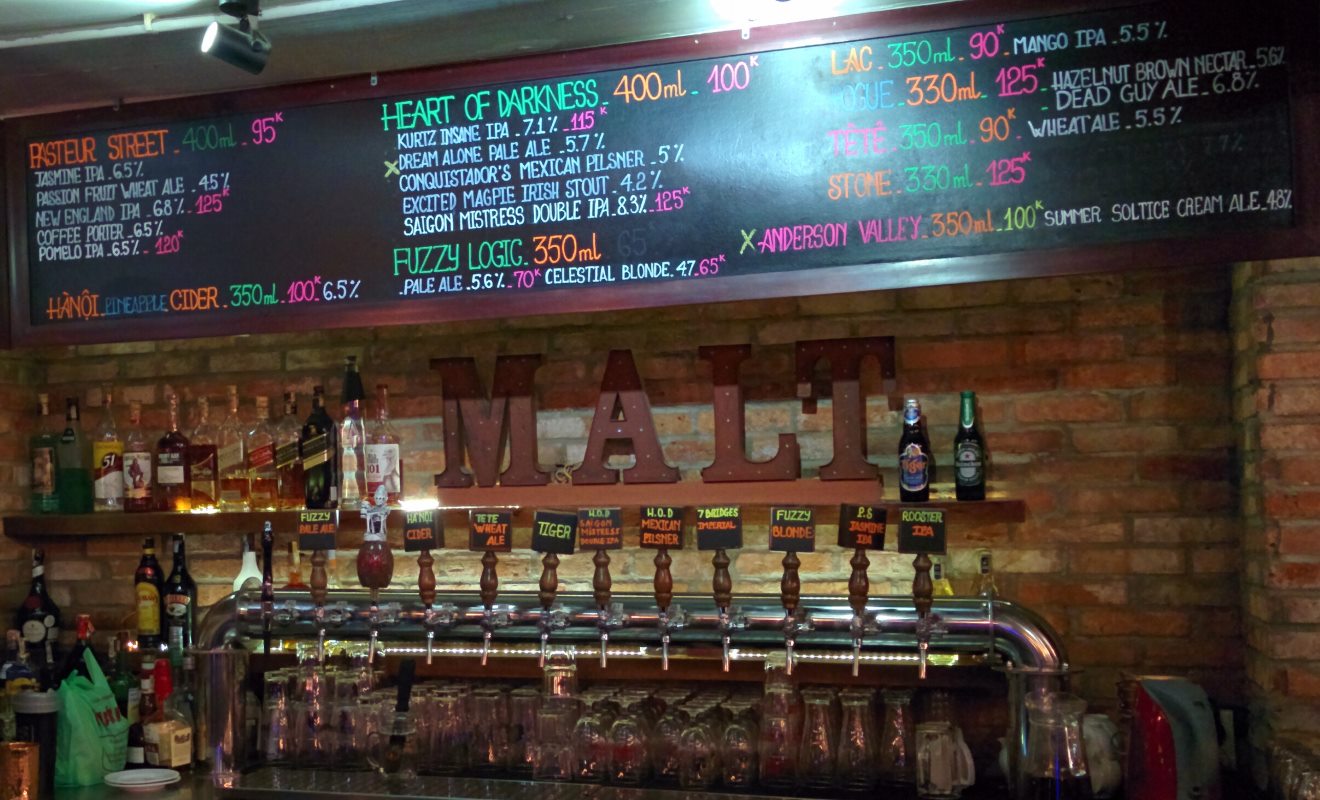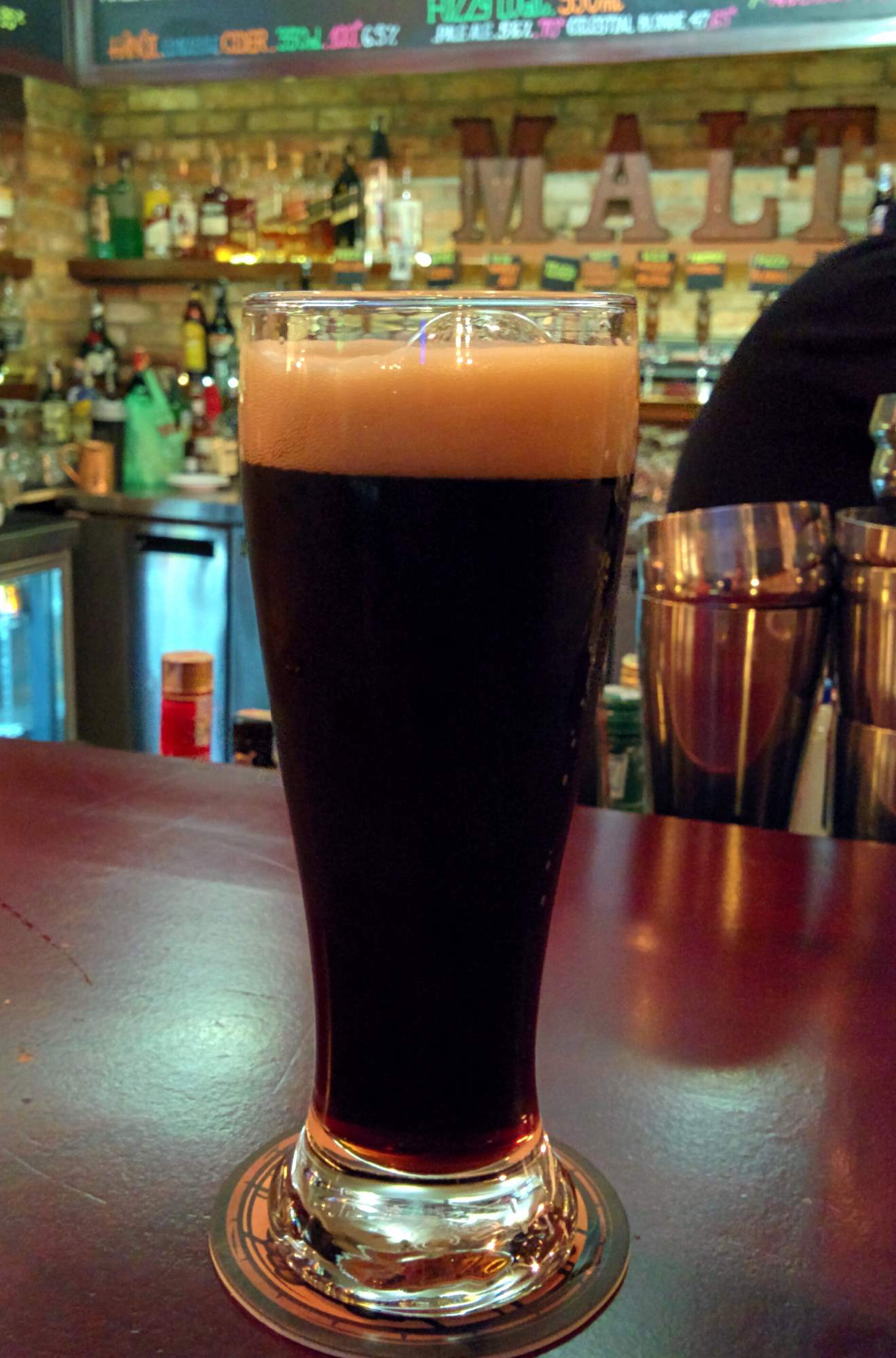 Hoi An
Hoi An is a touristy town and so despite its small size, it caters for an international audience. There are a few bars here worth checking out.
Hoi An Artisan Brewery
Hoi An Artisan Brewery is a restaurant and bar that serves their own range of beer. They also serve drinks from other brewing companies such as Pasteur Street, Heart of Darkness and East West.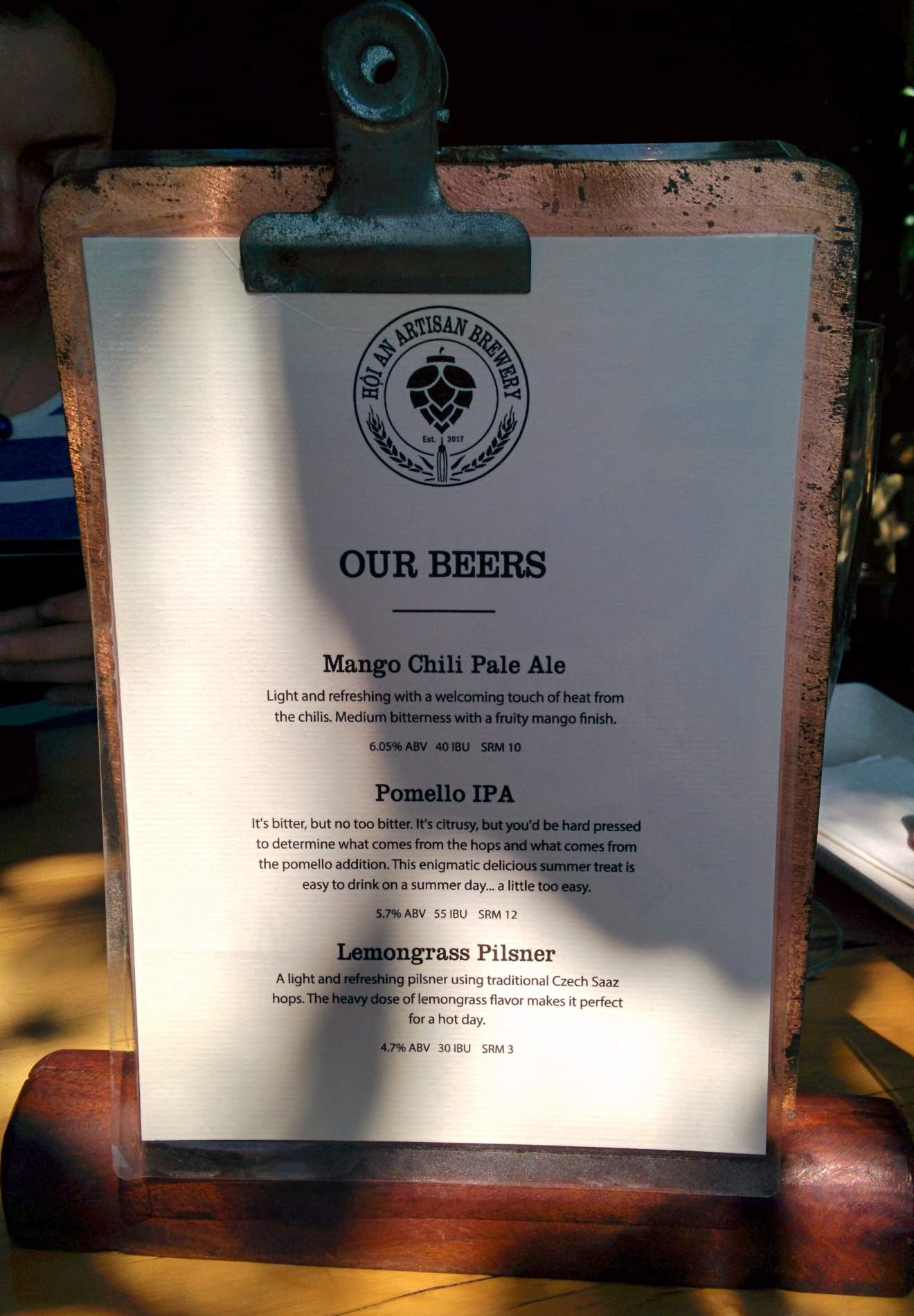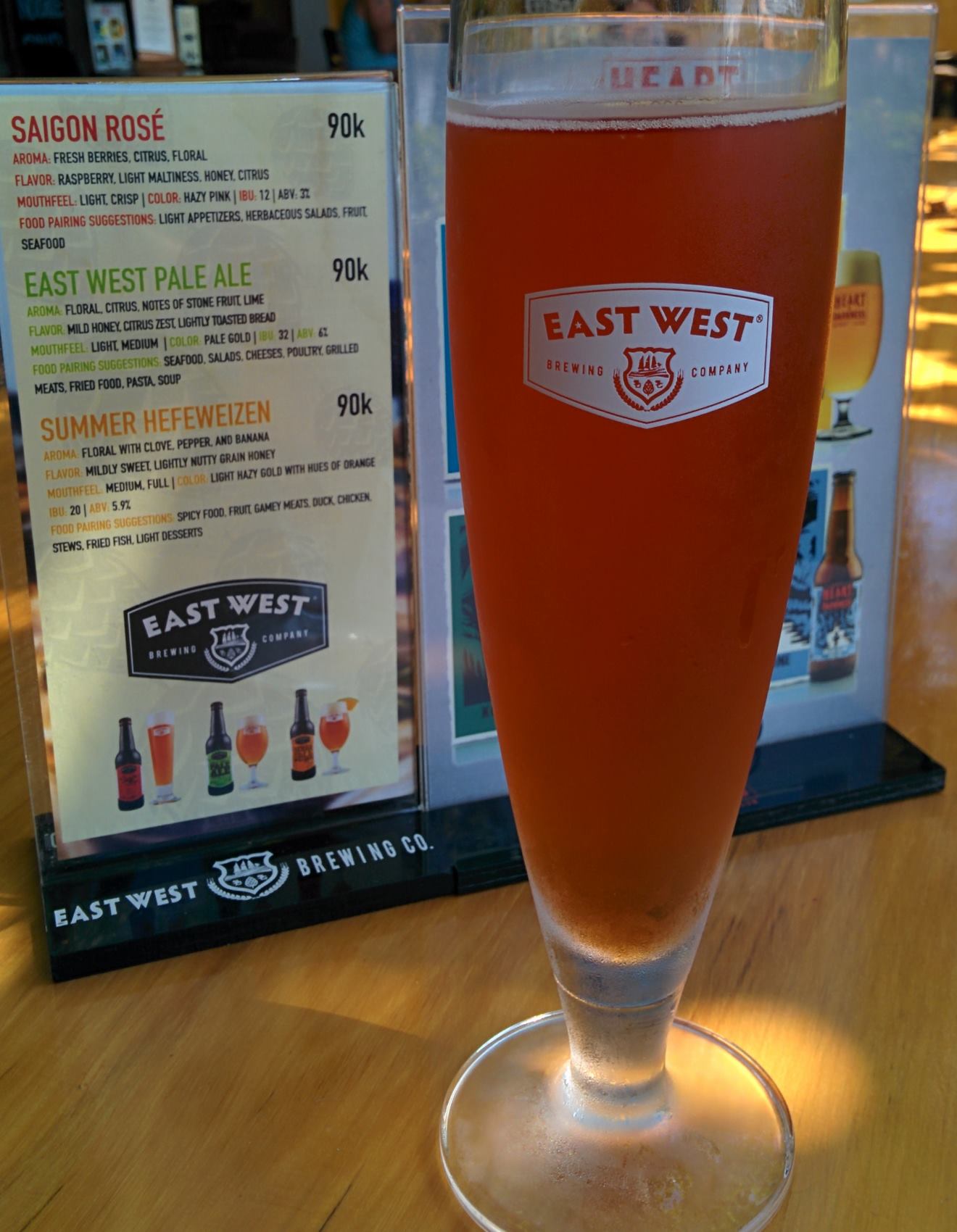 The Hill Station Hoi An
We didn't visit The Hill Station Hoi An but we did go to the other branches in Northern Vietnam. If it lives up to the same standards then it's worth stopping by.
Hanoi
Hanoi has a whole street devoted to beer in the old quarter near to where we stayed, aptly known as beer street (Ta Hien). Most of this isn't of a particularly high calibre but there are some gems around.
Beer Temple
Beer Temple is a smoky little bottle shop. We didn't hang around as it was hard to breathe and the range was small. Probably not worth a visit.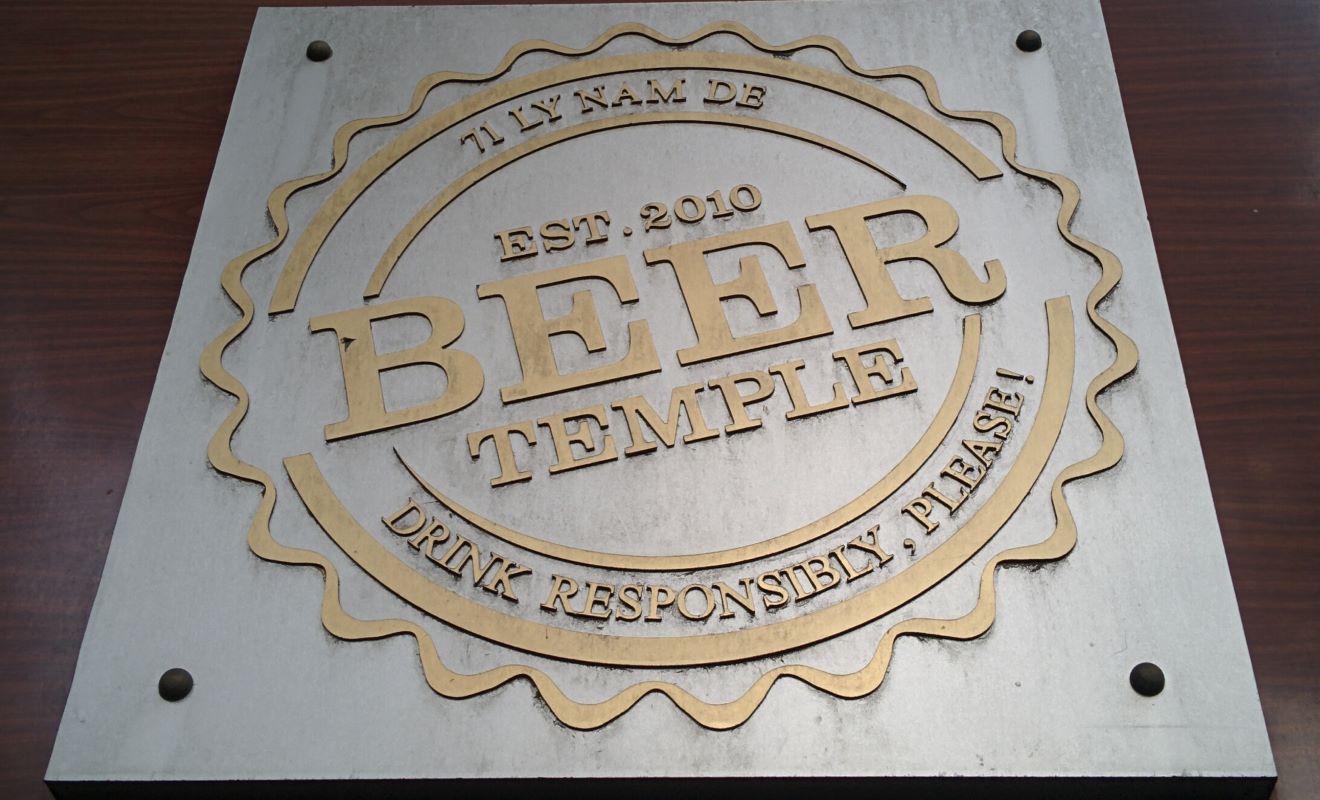 Pasteur Street Hanoi
Pasteur Street's Hanoi tap room is same same but different. It's much the same range as in the South but smaller. Don't let the free keg slip past your eyes.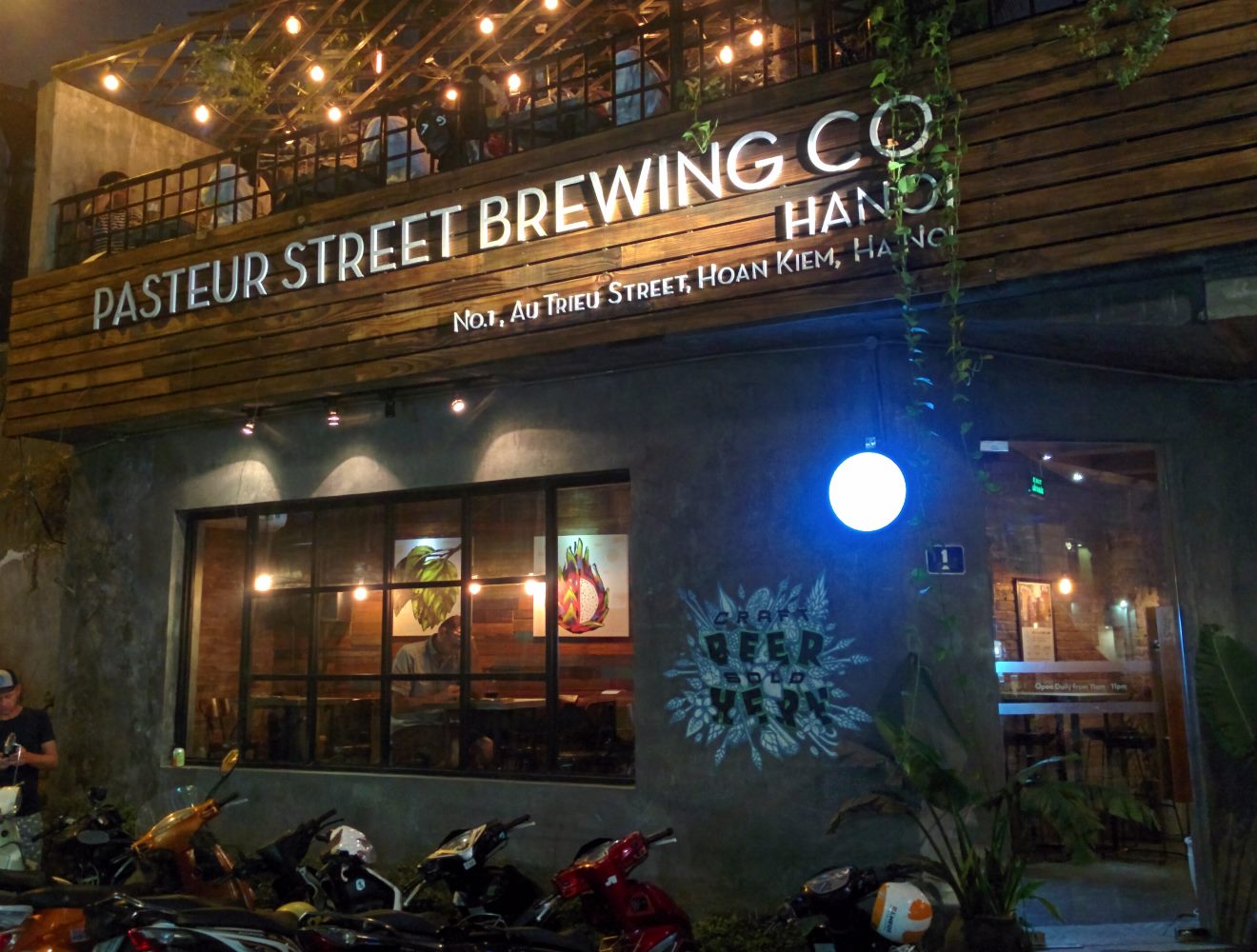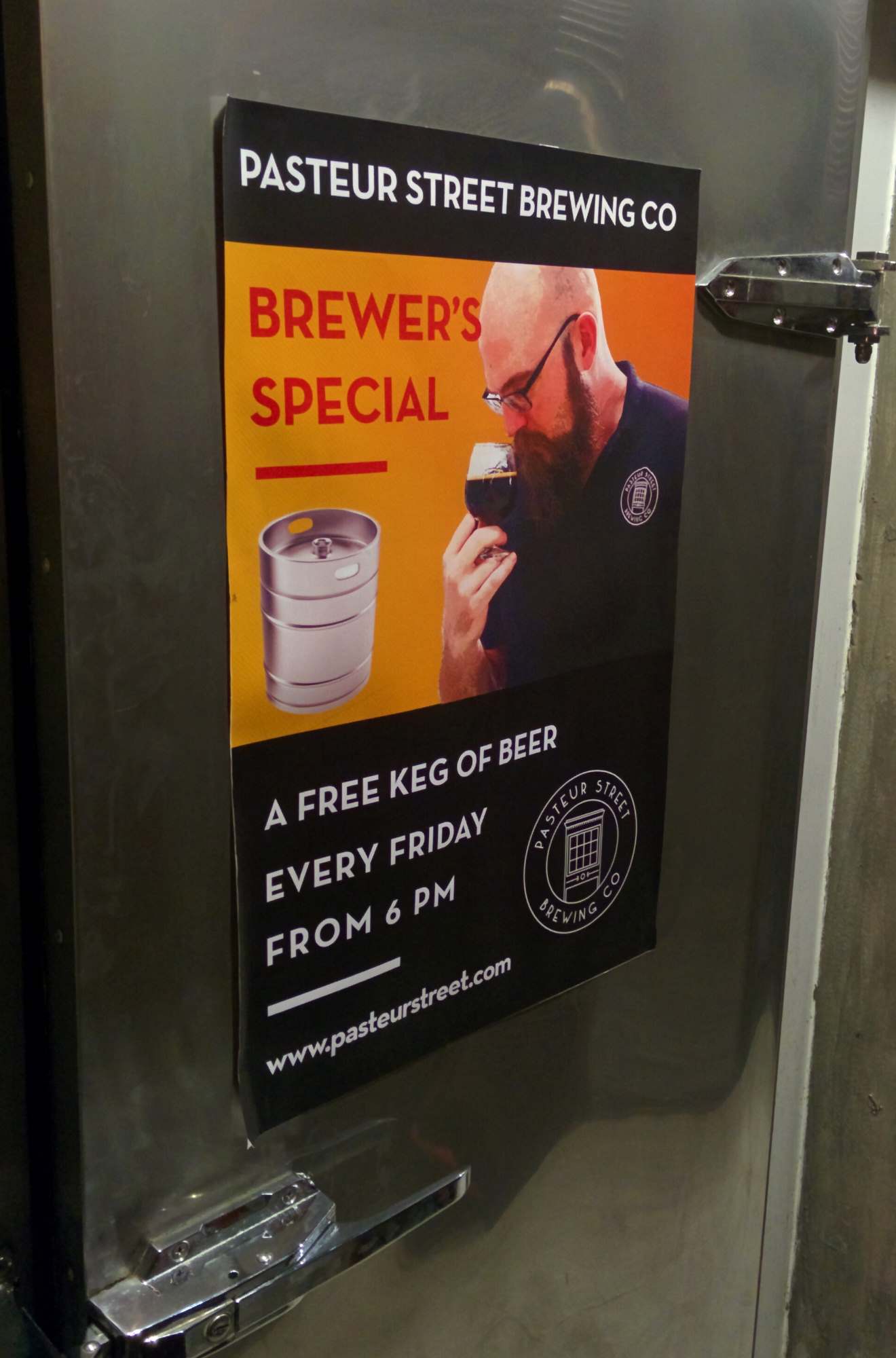 Ibiero Craft Beer Station
Ibiero Craft Beer Station is opposite the main train station in Hanoi. We didn't imbibe as it was a bit early but the menu looked good.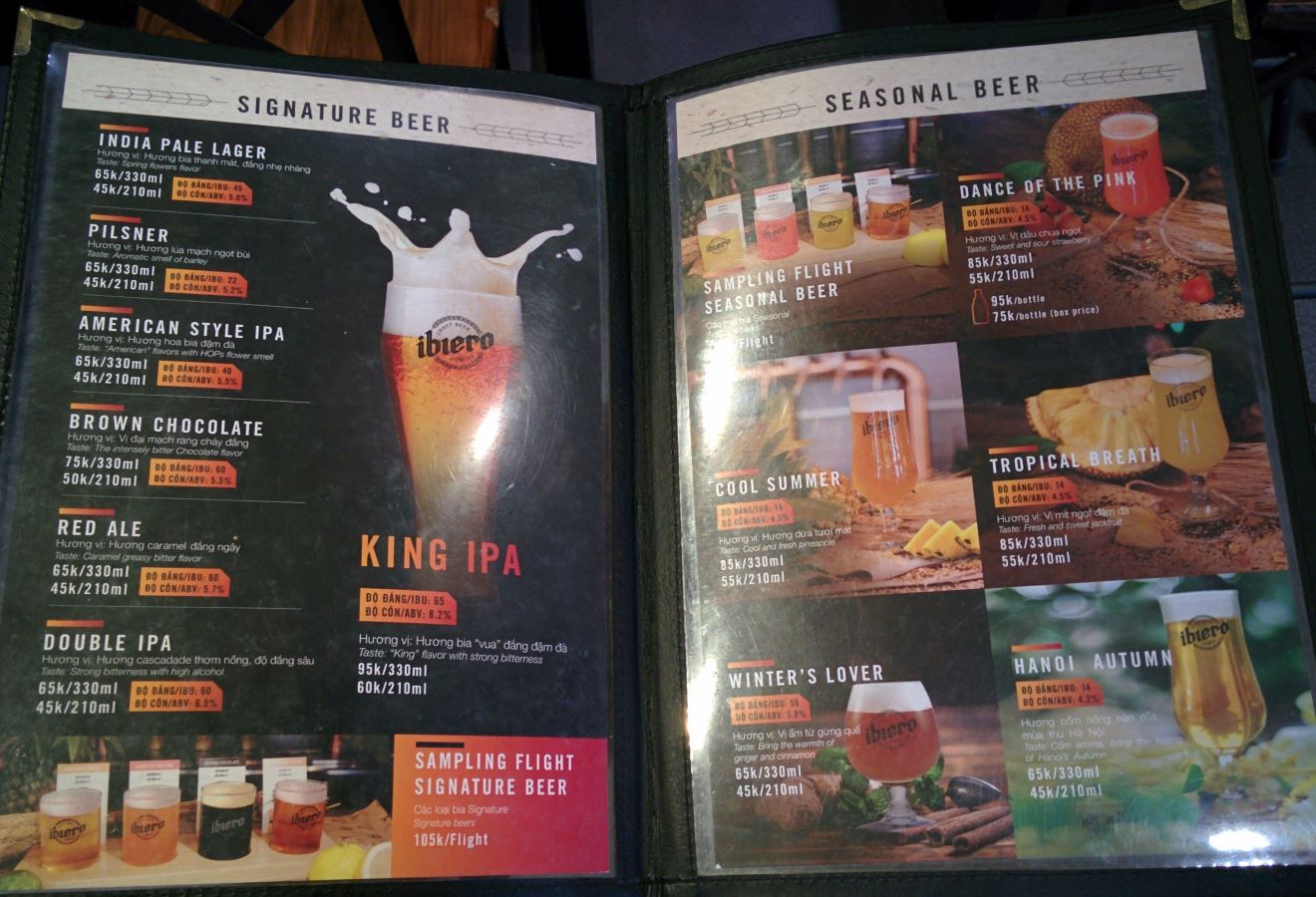 Craft Beer Pub
The inventively named Craft Beer Pub is off beer street and has a good selection. However, it's a sports bar with matches on the TVs (e.g. college basketball) so not somewhere for a quiet distraction-free drink, unlike other nearby venues.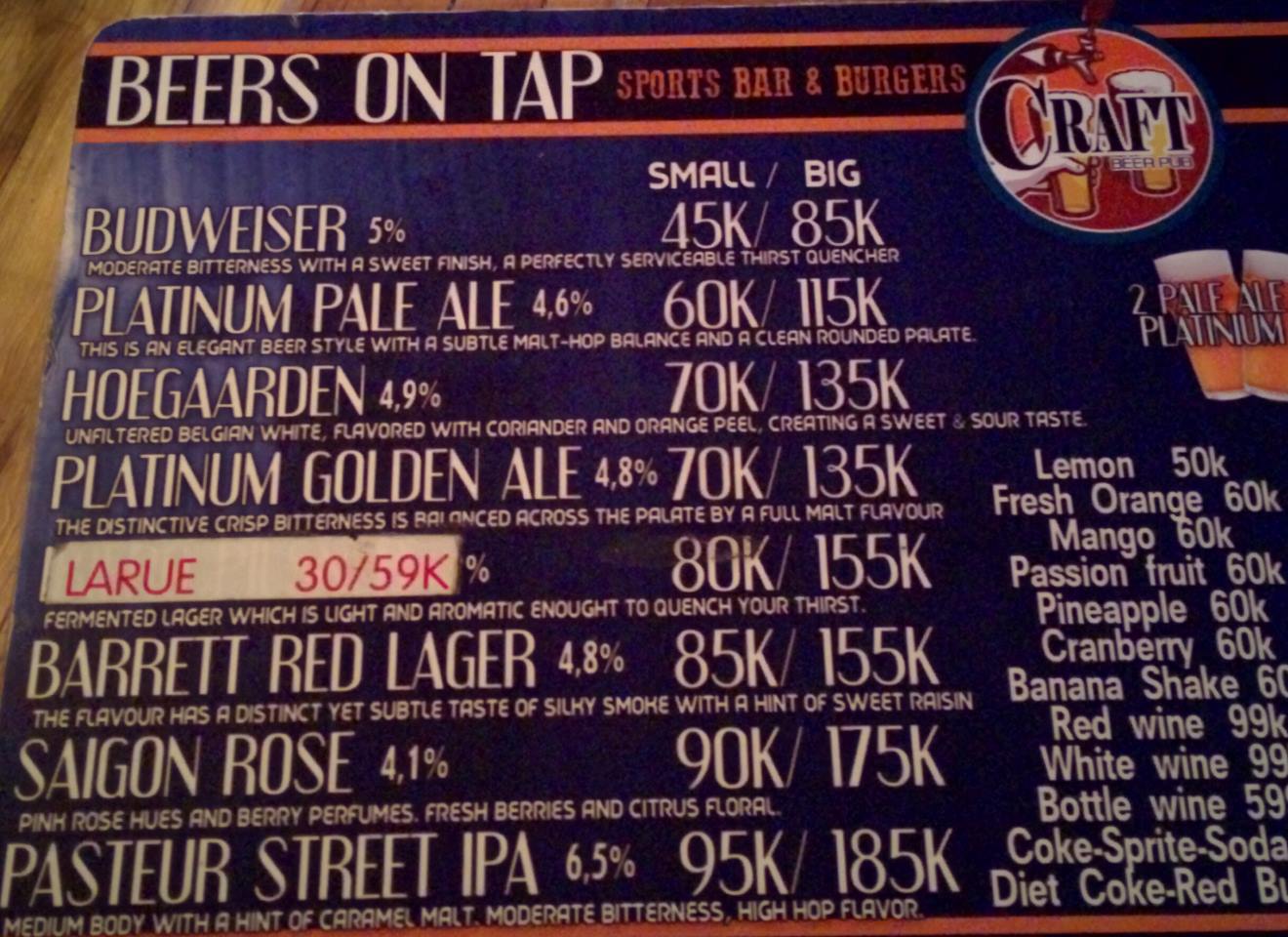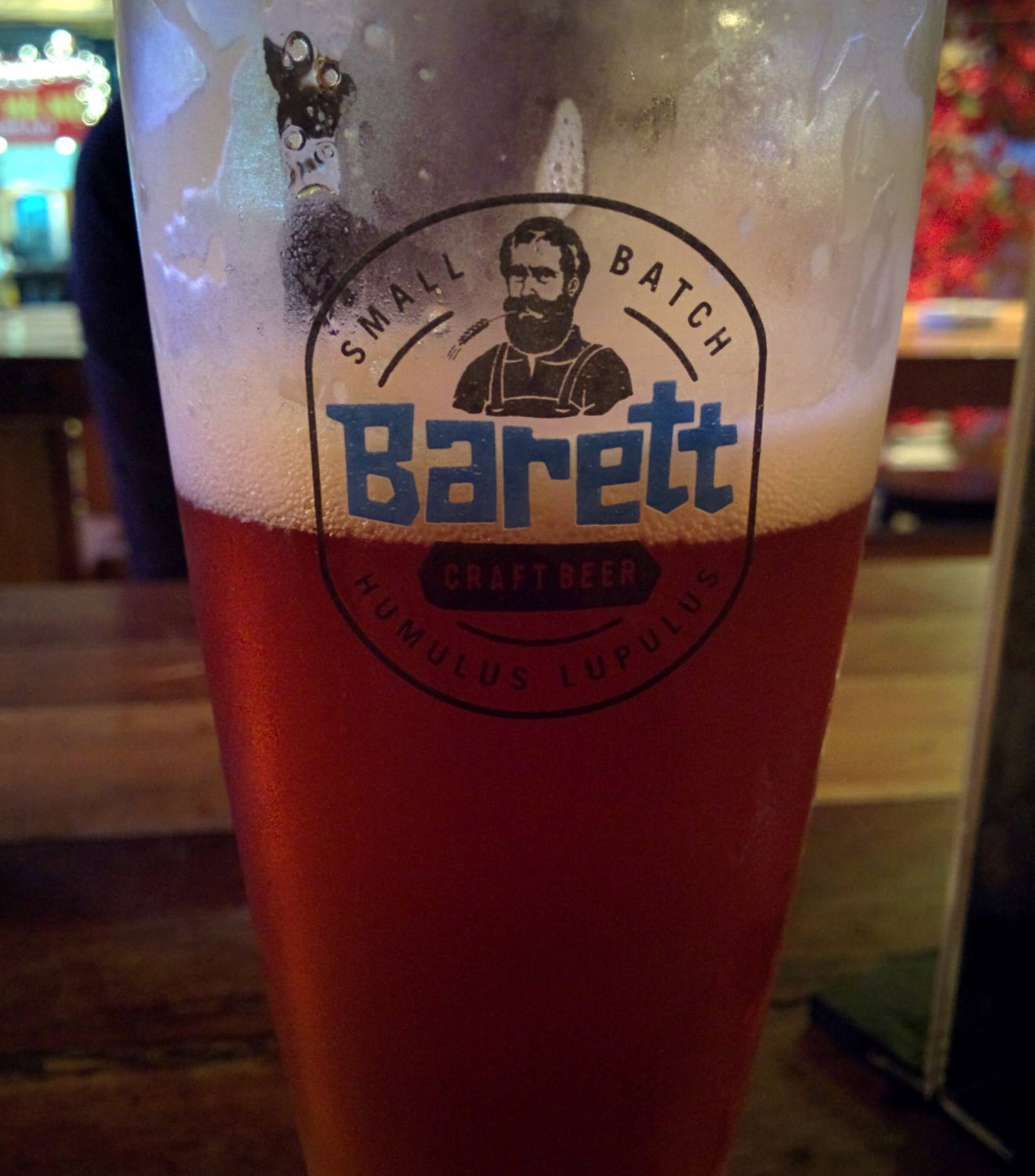 The Hill Station Hanoi
The Hill Station Hanoi is also off beer street but is a quiet and chill spot for a relaxing tipple. It's somewhere for a slow drink and imports the calm vibe from the Northern mountain pace of life.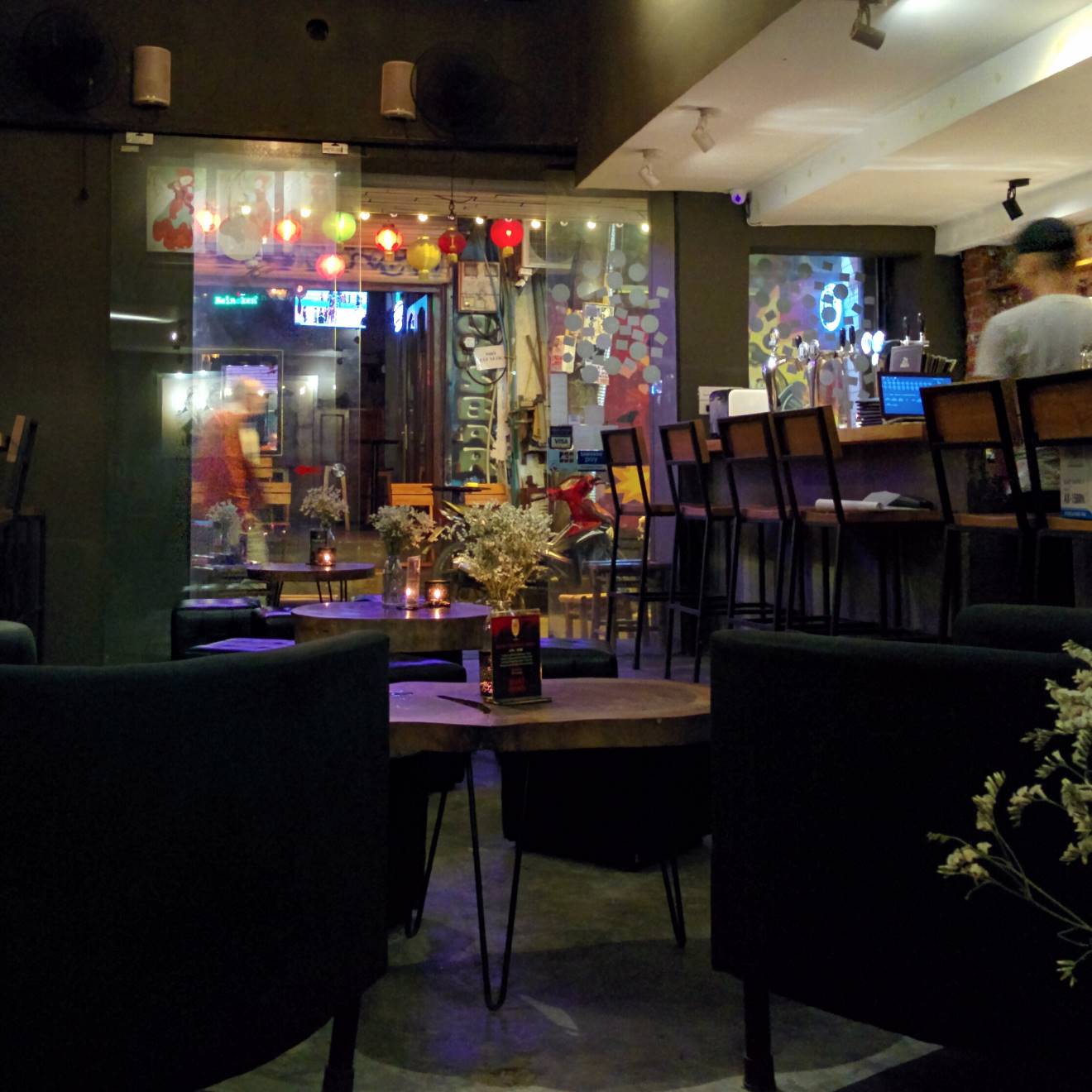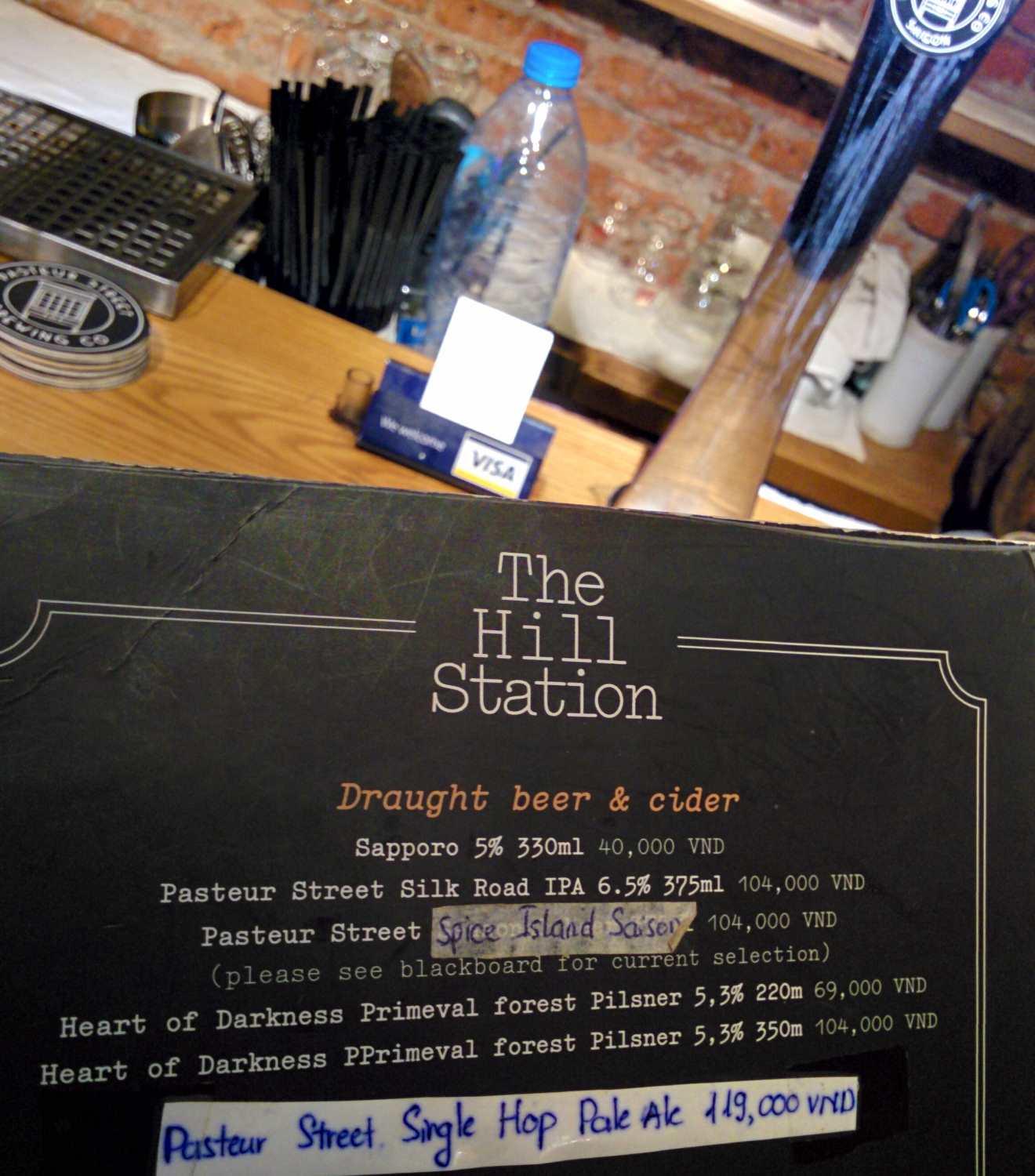 Chops
Chops is a burger bar that also has a great range of beers. Due to the DPRK and US love-in there were a duo of special summit burgers, which we had to try. Our friends had The Durty Donald, which is topped with chicken floss and comes with a Russian dressing. I had The Kim Jong Yum, which is centred around pork belly and includes fried kimchi.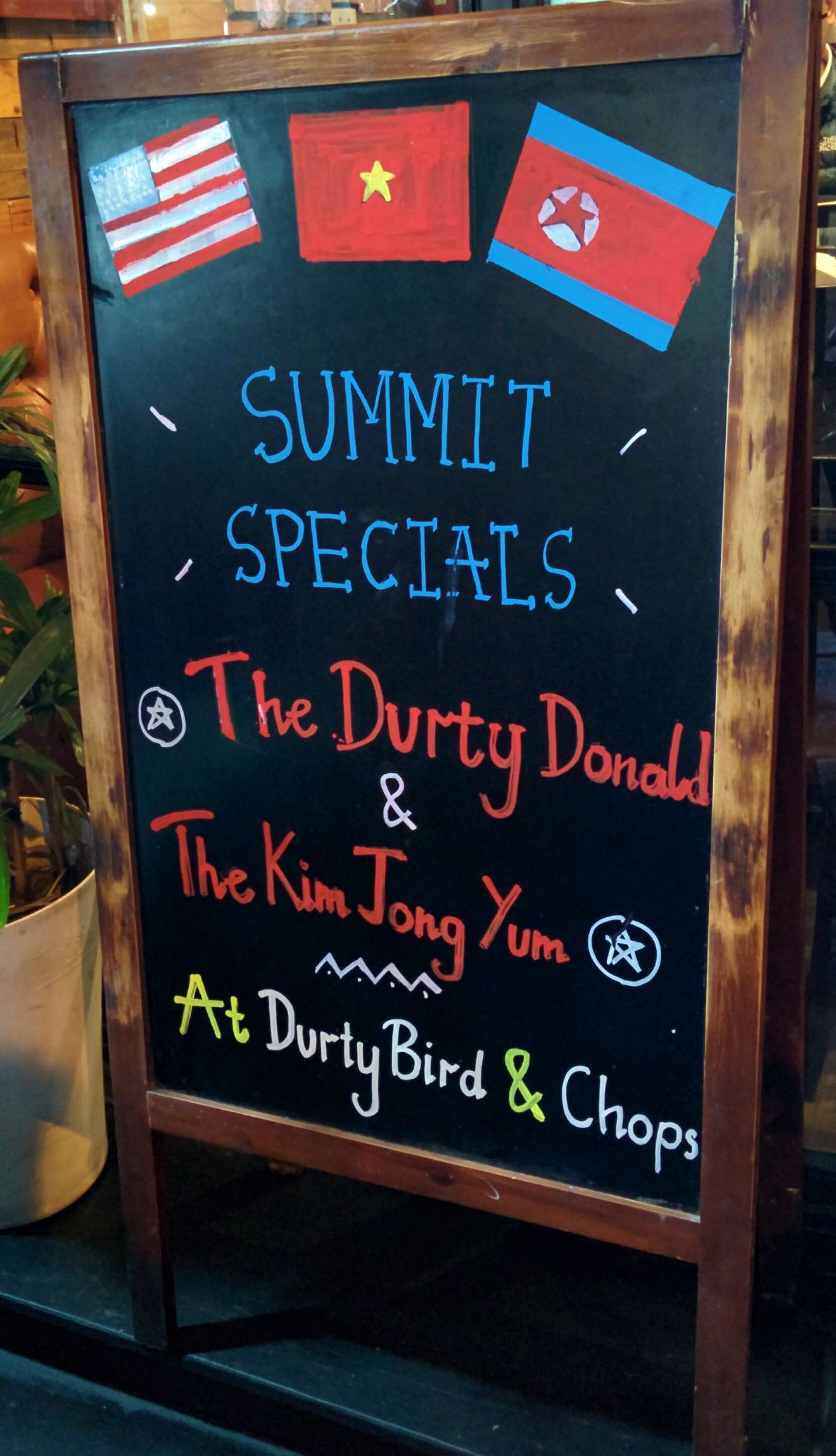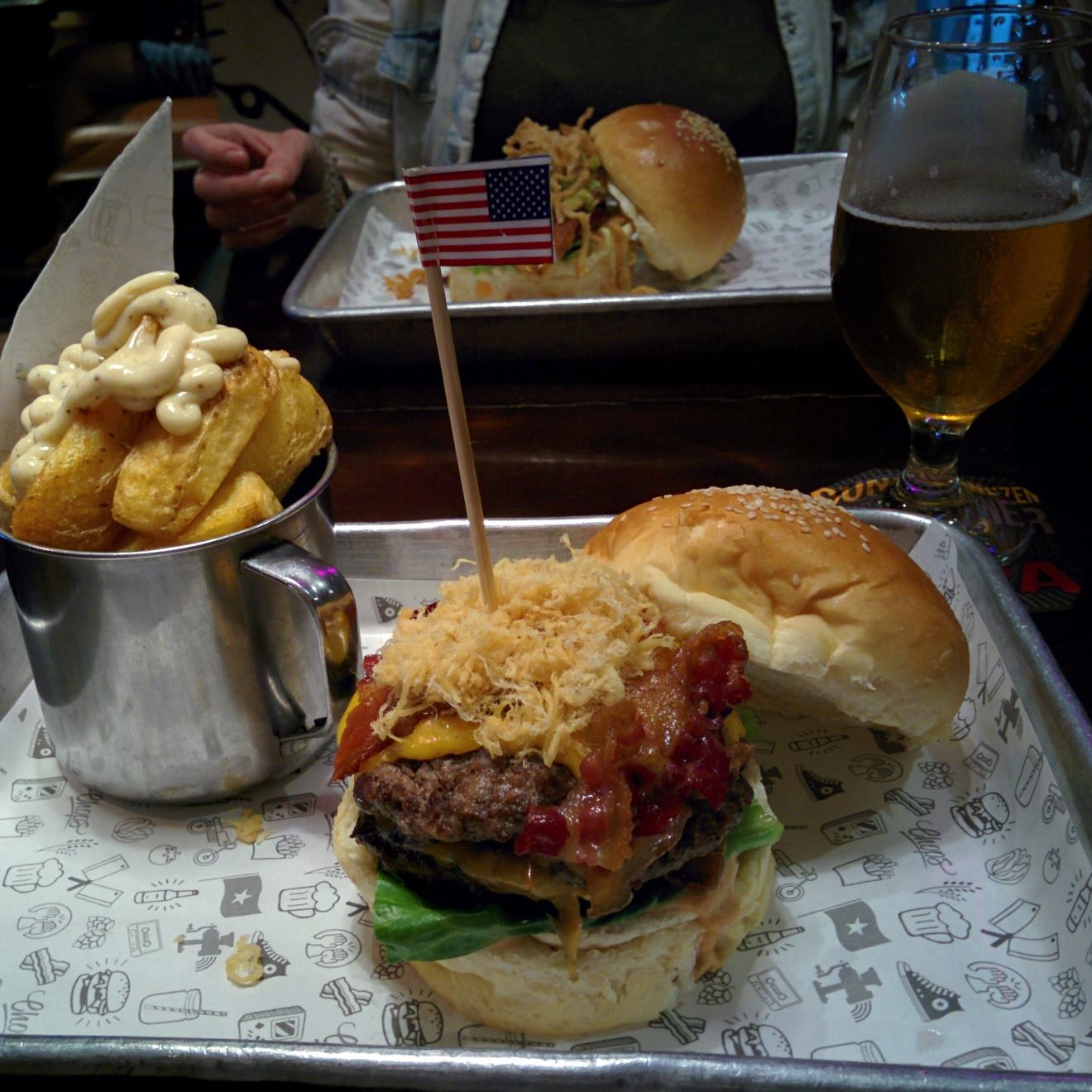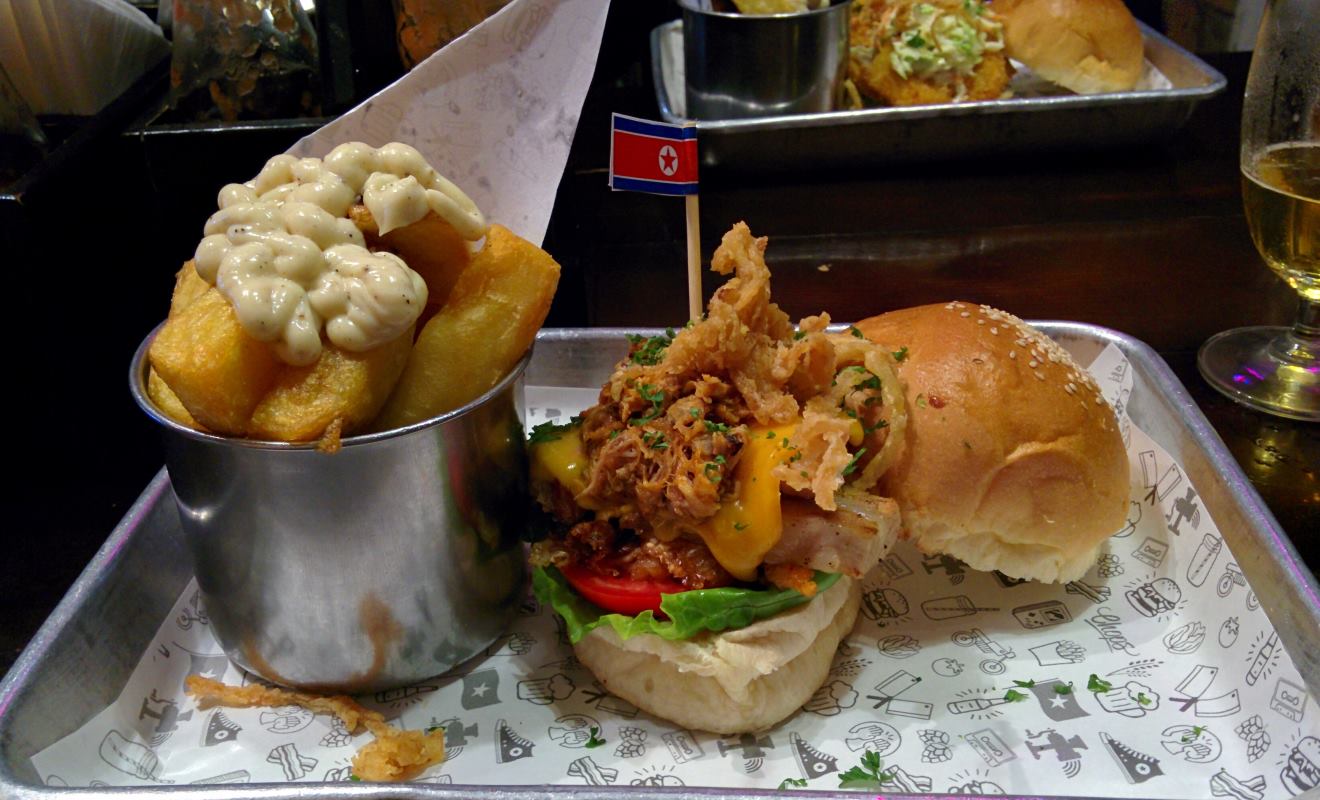 Although perhaps it should have been based on fried chicken going by this sticker I spotted.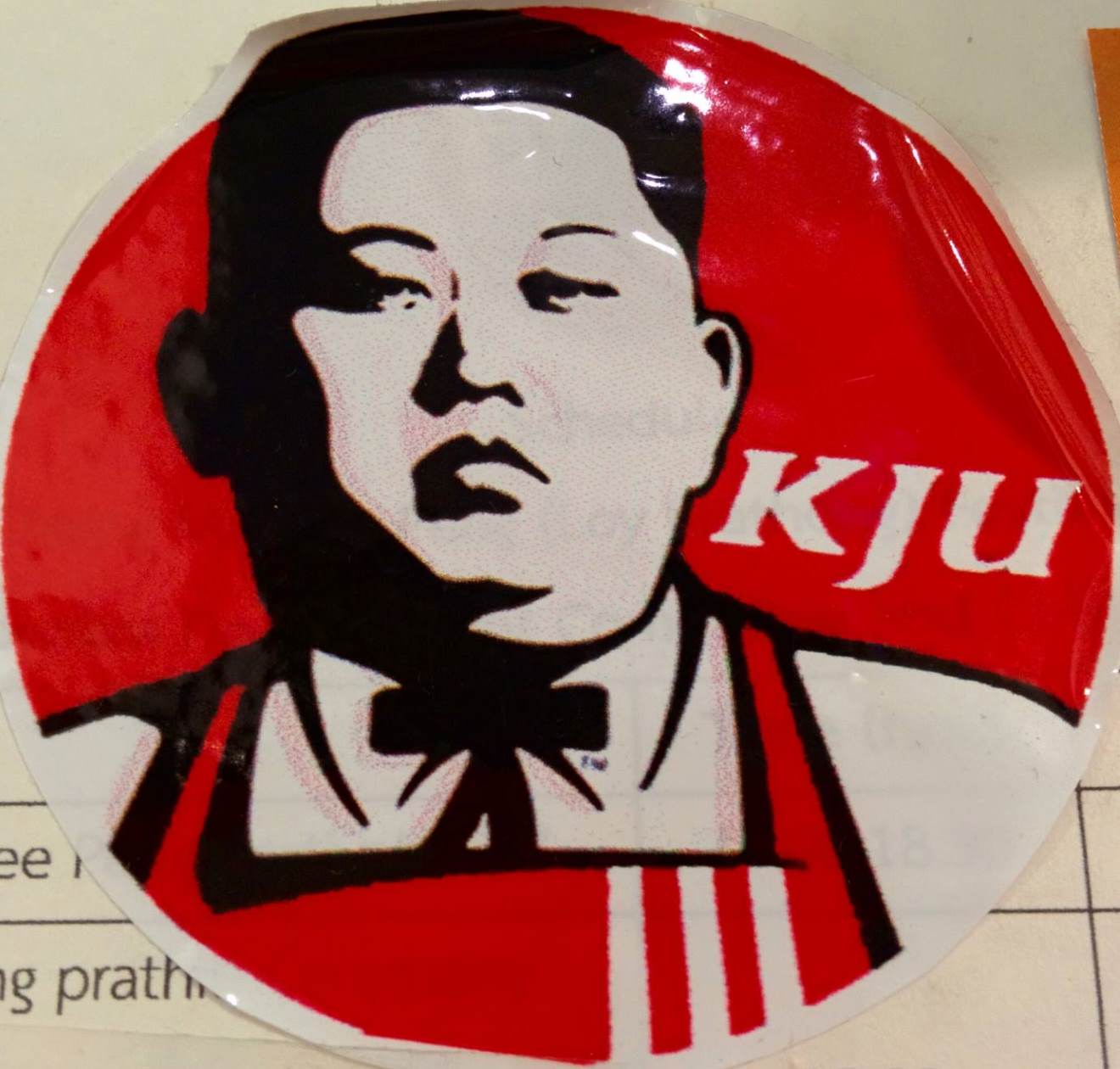 My first choice of the red ale was off so I had to settle for an imperial IPA (tough life). They stock drinks from Pasteur Street, East West, 7 Bridges, Barett, C-Brewmaster, Fuzzy Logic (not on that day) and the Hanoi Cider Co. among others.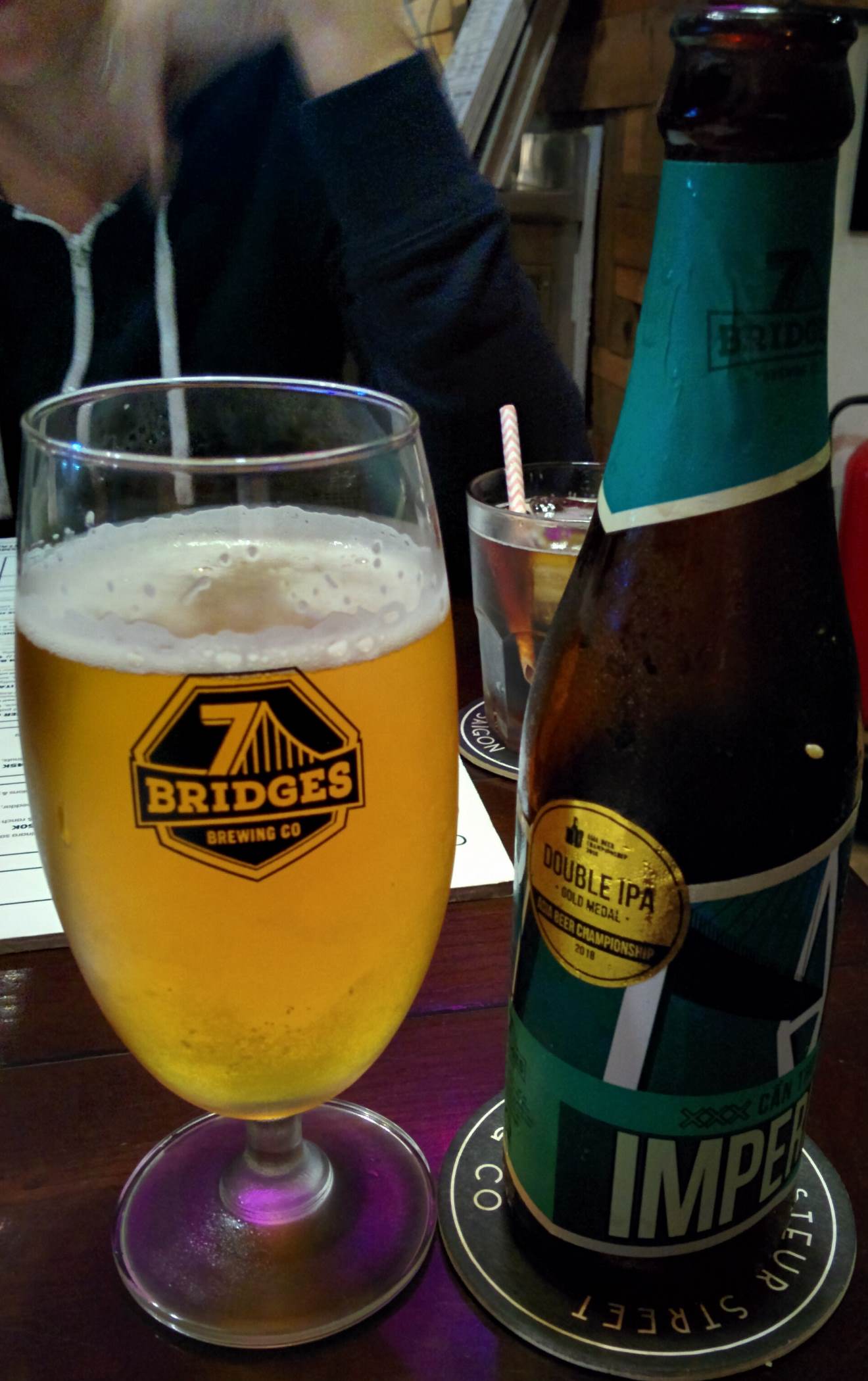 Sapa
Sapa is a small hill town in the far North of Vietnam, near the border with China. While not as nice as Pokhara in Nepal it has a better beer scene.
The Hill Station
The Hill Station originates in Sapa and has a couple of outlets there. There is a restaurant (that we didn't try) and a less-formal deli where we chilled out with some pleasant drinks after a trek. They have a great range from various Vietnamese breweries and also from the Hanoi Cider Co.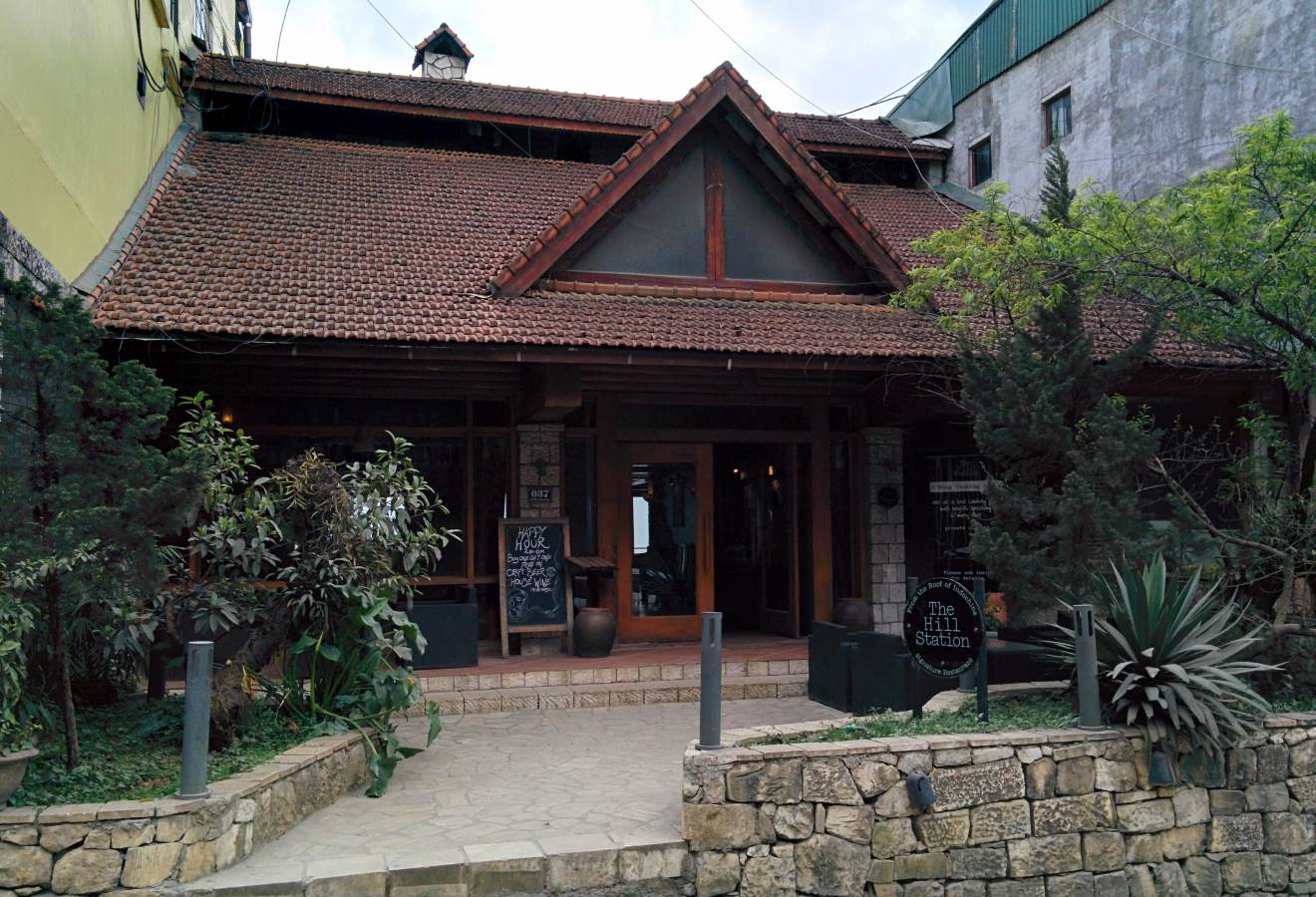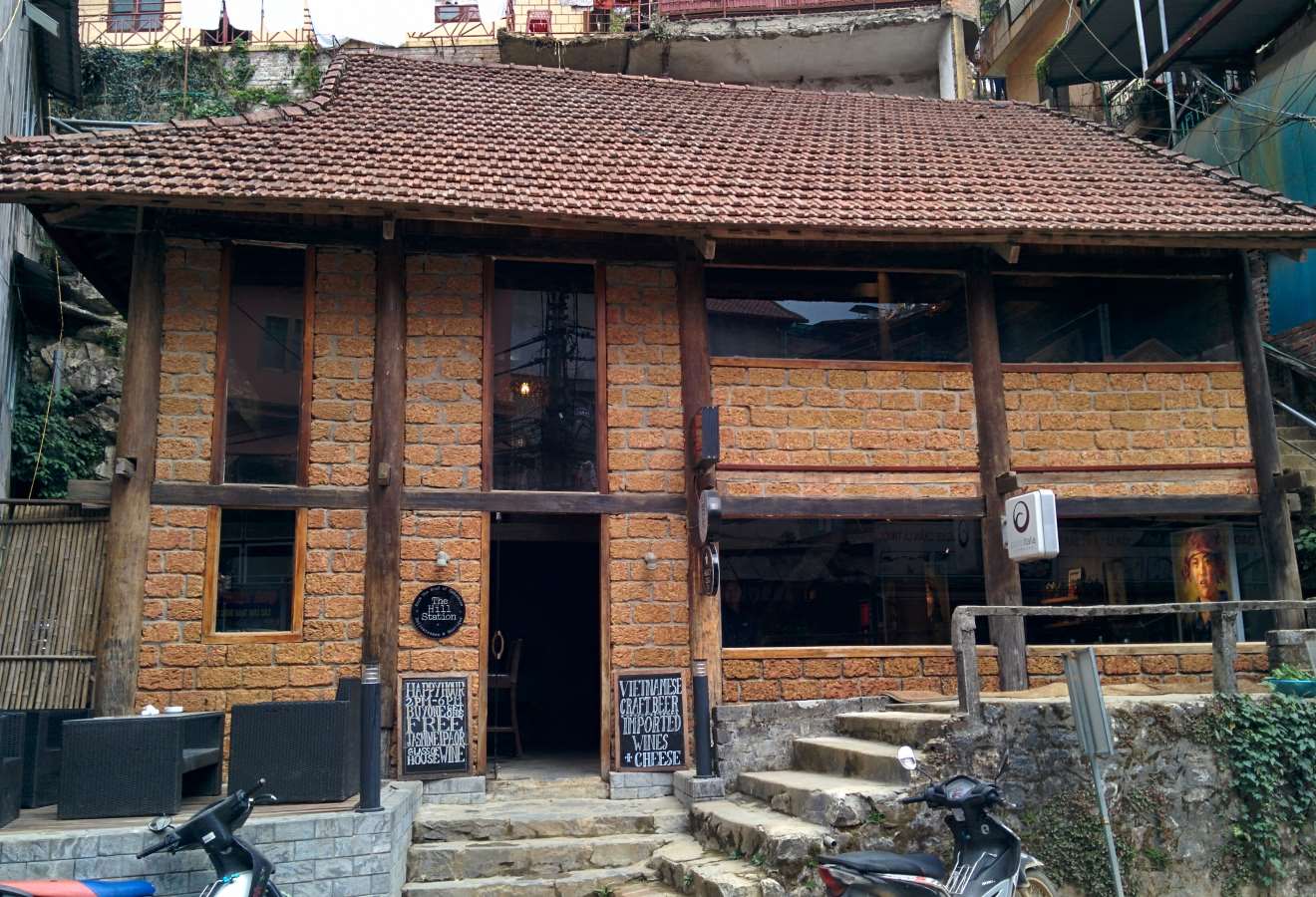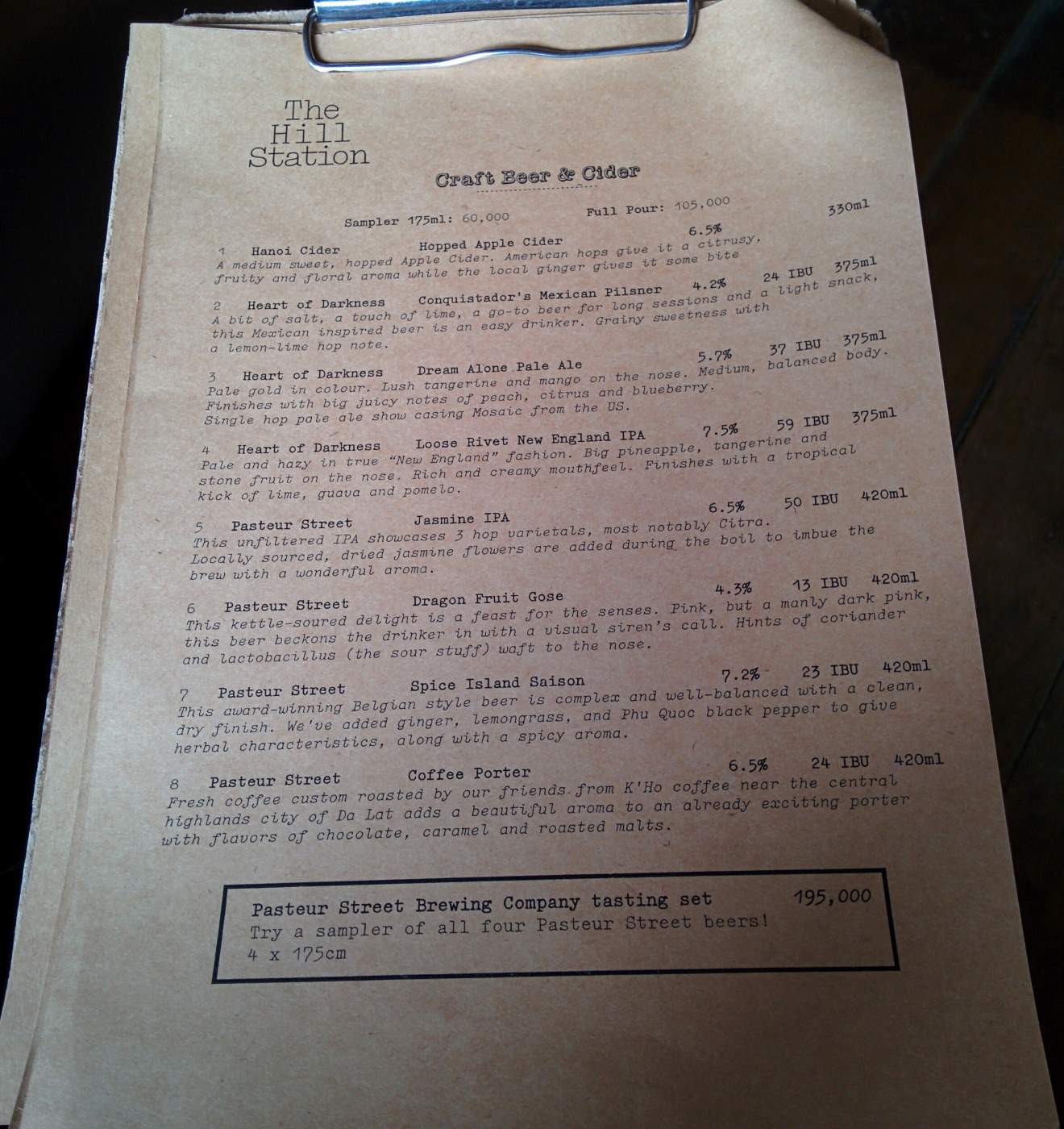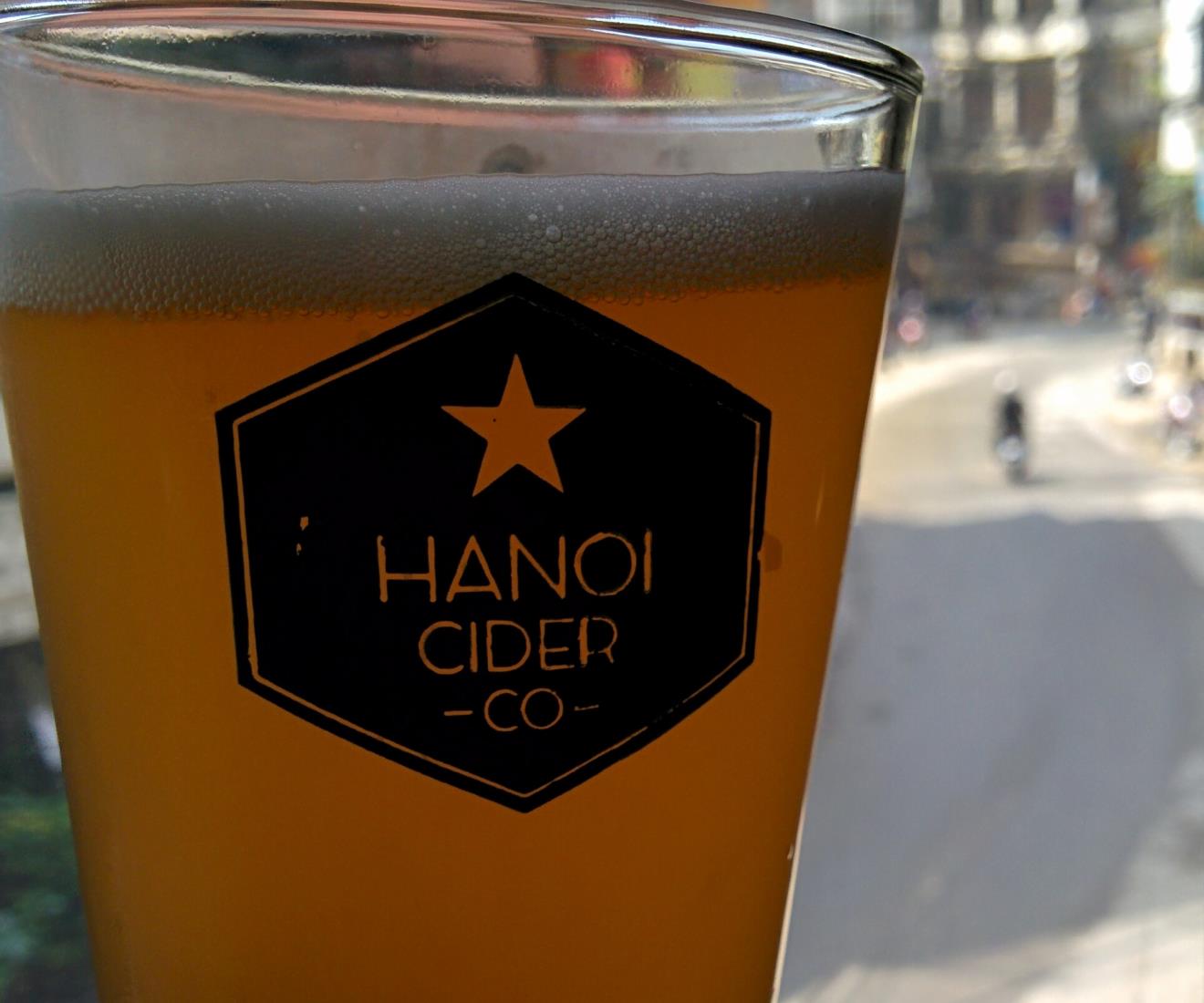 Myanmar
Like many things in Burma, the beer scene is less advanced. Yet there are lots of normal beers, which can be very strong and large.
Myanmar Beer (the brand) is pretty standard and had a bottle top promotion. I seemed to win a disproportionate amount of free beers and money off. By the end I was sick of drinking it.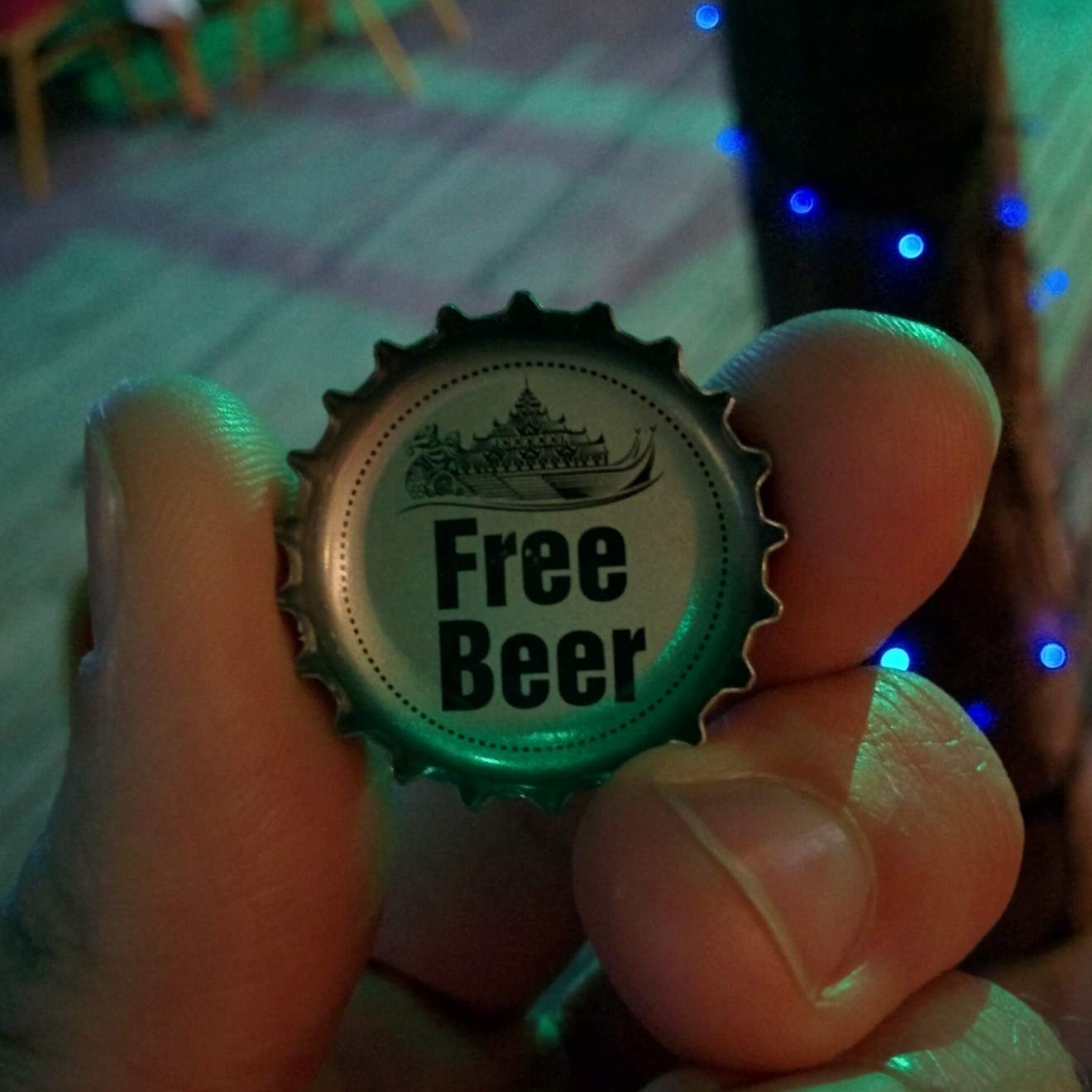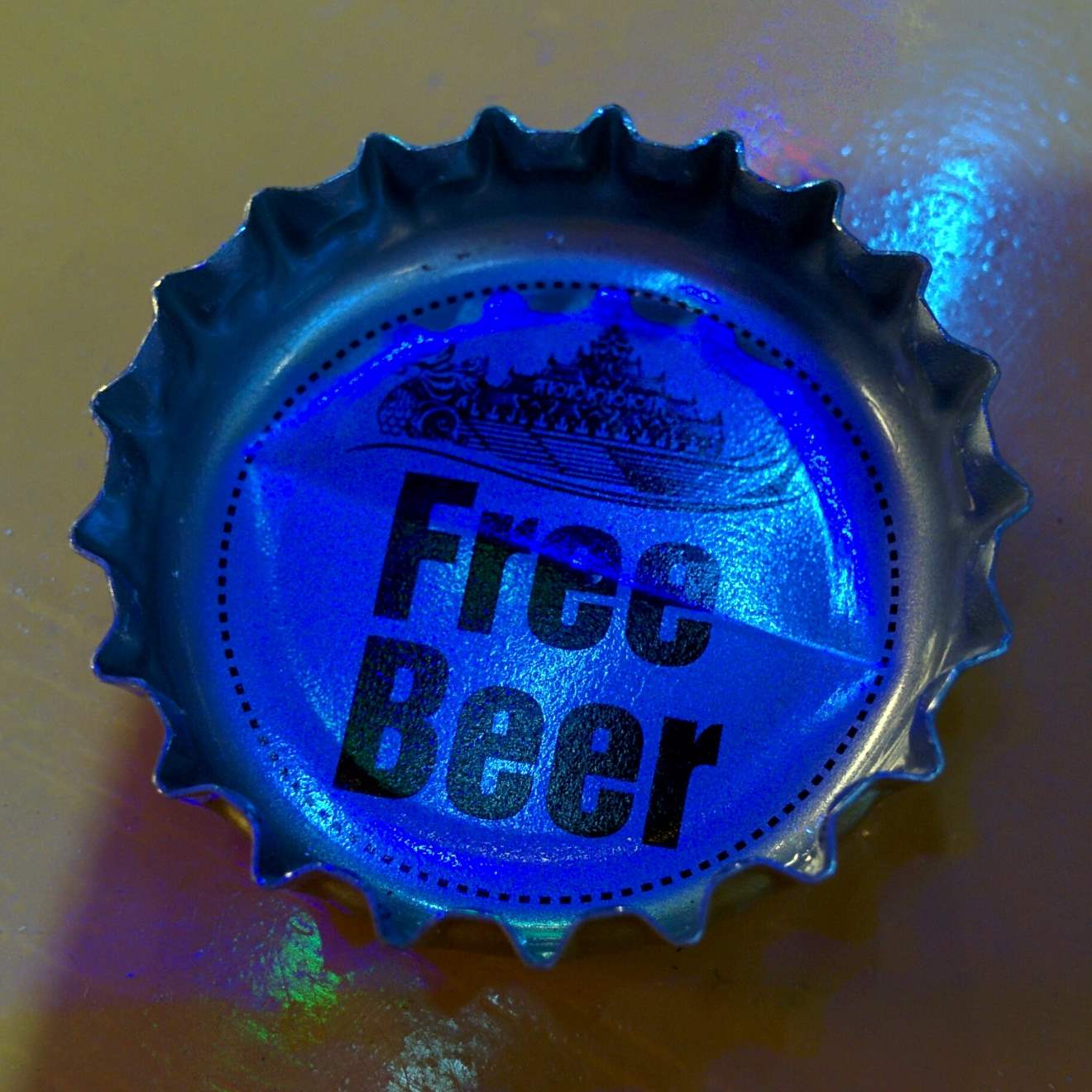 Yangon
Yangon (Rangoon) is the only place of note with decent drinks but there isn't much craft beer choice. However, it's the most developed city in Burma and there are plenty of great places to eat and drink.
Burbrit
Burbrit is the only craft brewery we found in the country and as the name suggests it is a collaboration between Burmese and British. Their beers are available at the Rangoon Tea House in bottles but they also have a tap room outside the city centre.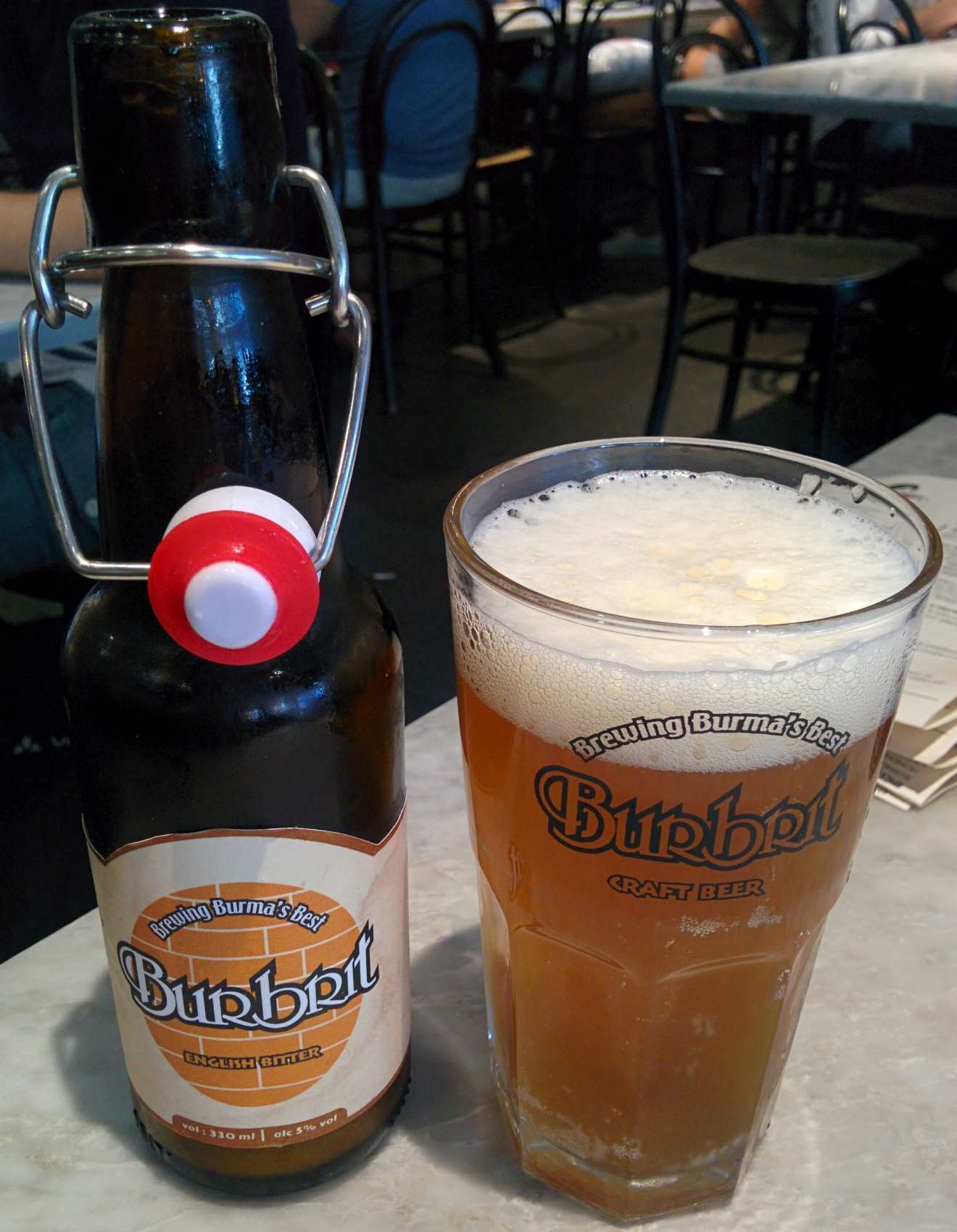 The tap room has a big English Premier League focus with matches on the TVs. There are also lots of bar games such as table football and darts. The beer is a bit hit and miss. There were a couple of pleasing pints but much of the range was pretty average. The food was not bad though.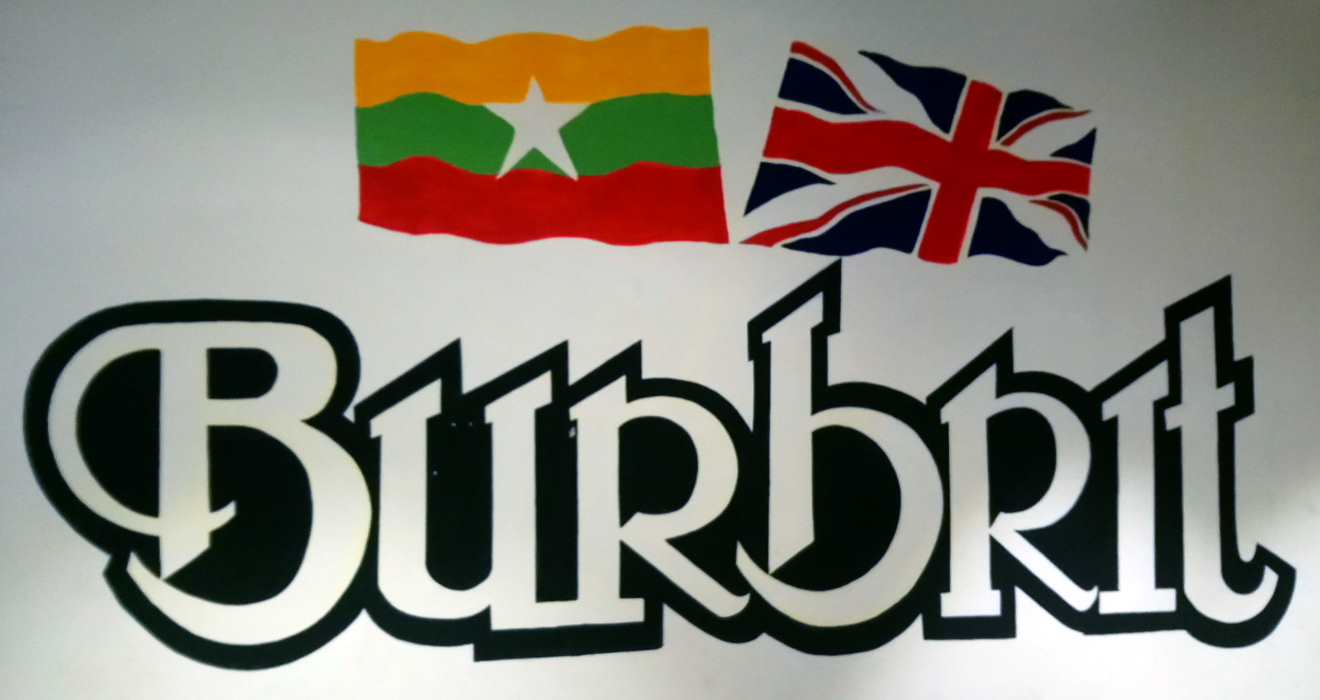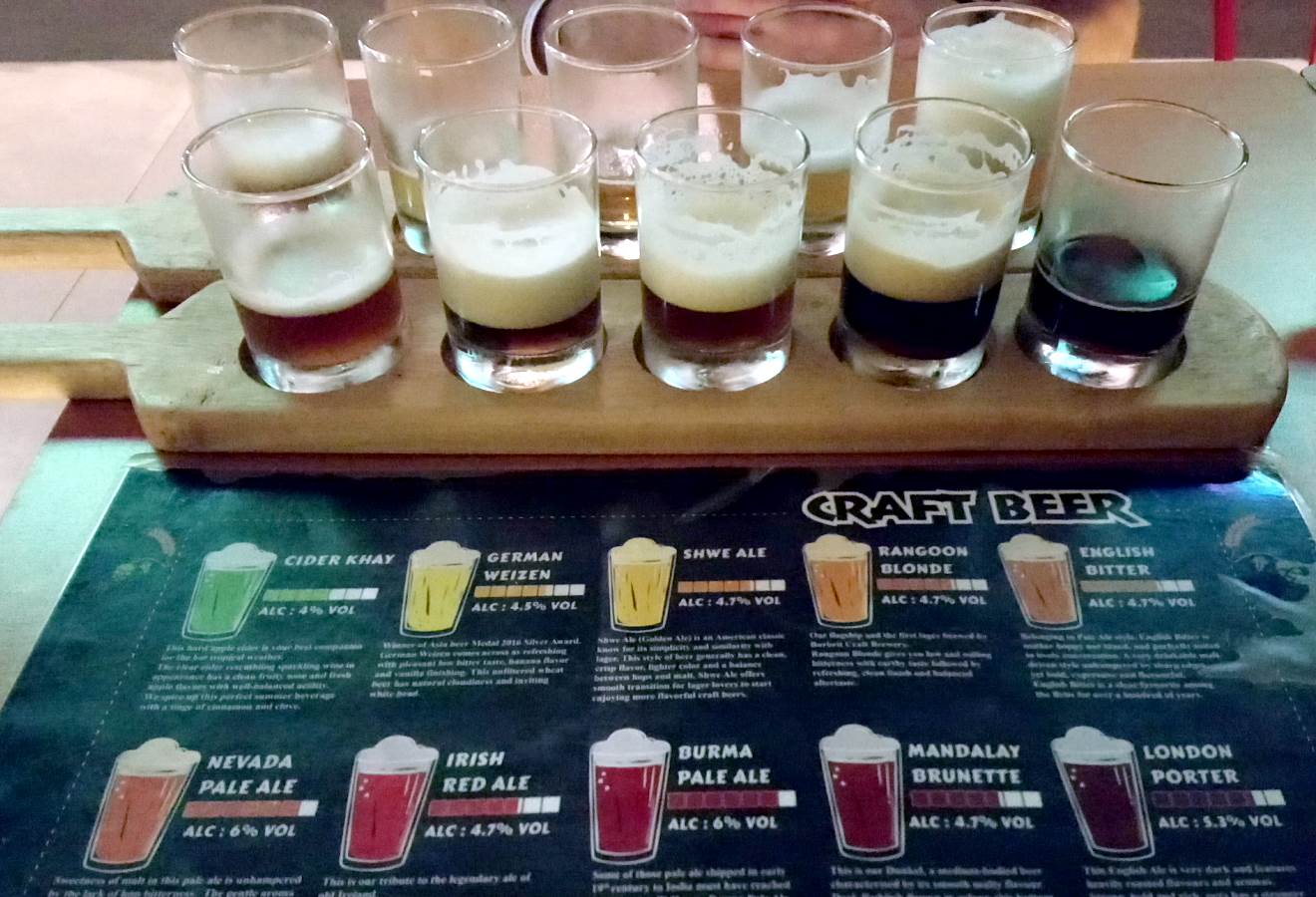 Nepal
Nepal isn't really SEA but it's not too far away and deserves an honourable mention.
Kathmandu
We didn't spend long in Kathmandu. We heard the Momo House does decent beer but we didn't go.
Pokhara
Sherpa Beer appears to be the main craft brew in Nepal and we were able to source it at a couple of places in Pokhara. They do cans of the Khumbu Kölsch in Sherpa Kitchen, which also does good momos. You can get both the Kölsch and Himalayan Red ale on draft at the Olive Cafe restaurant on the main street in the lakeside area.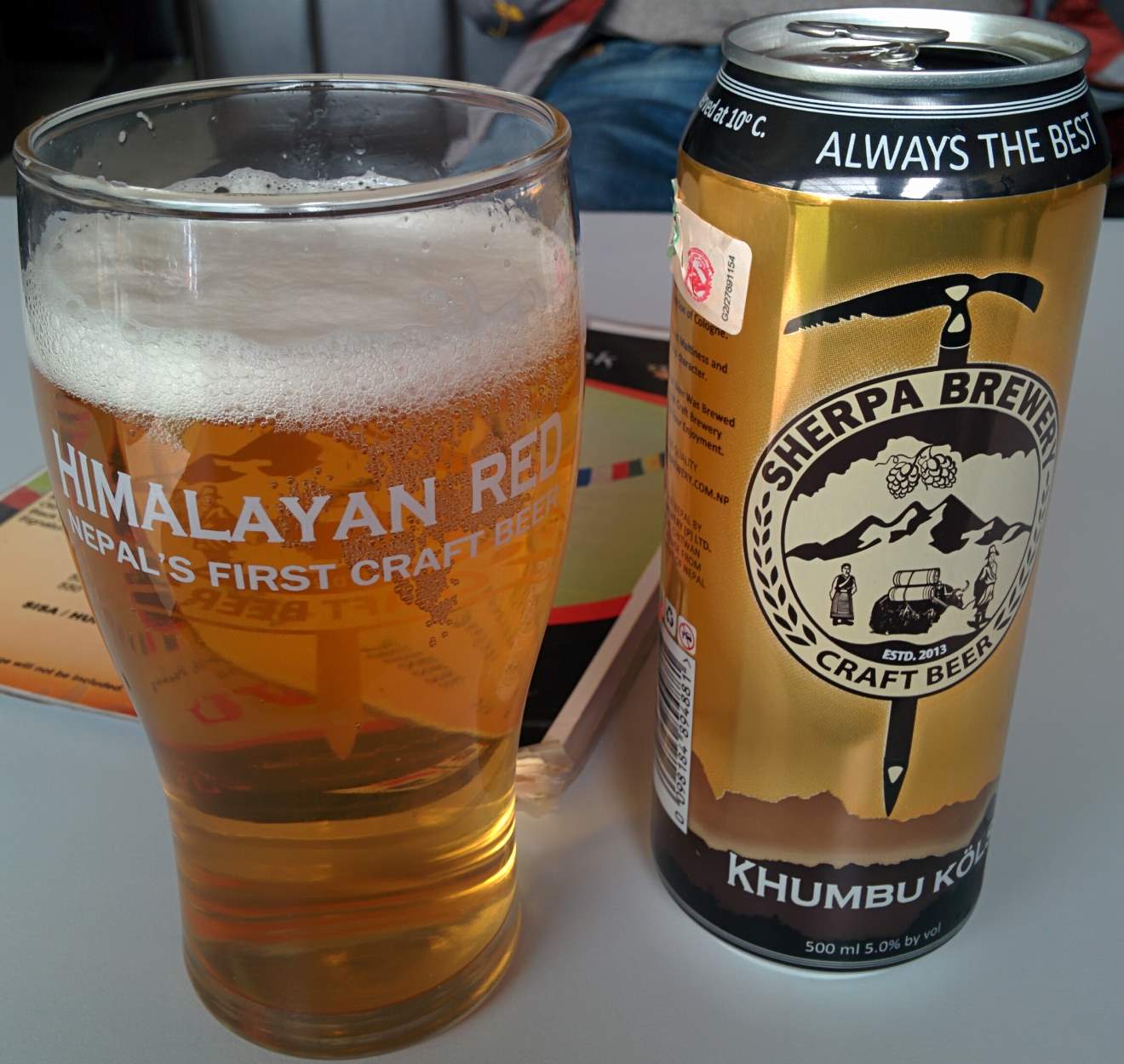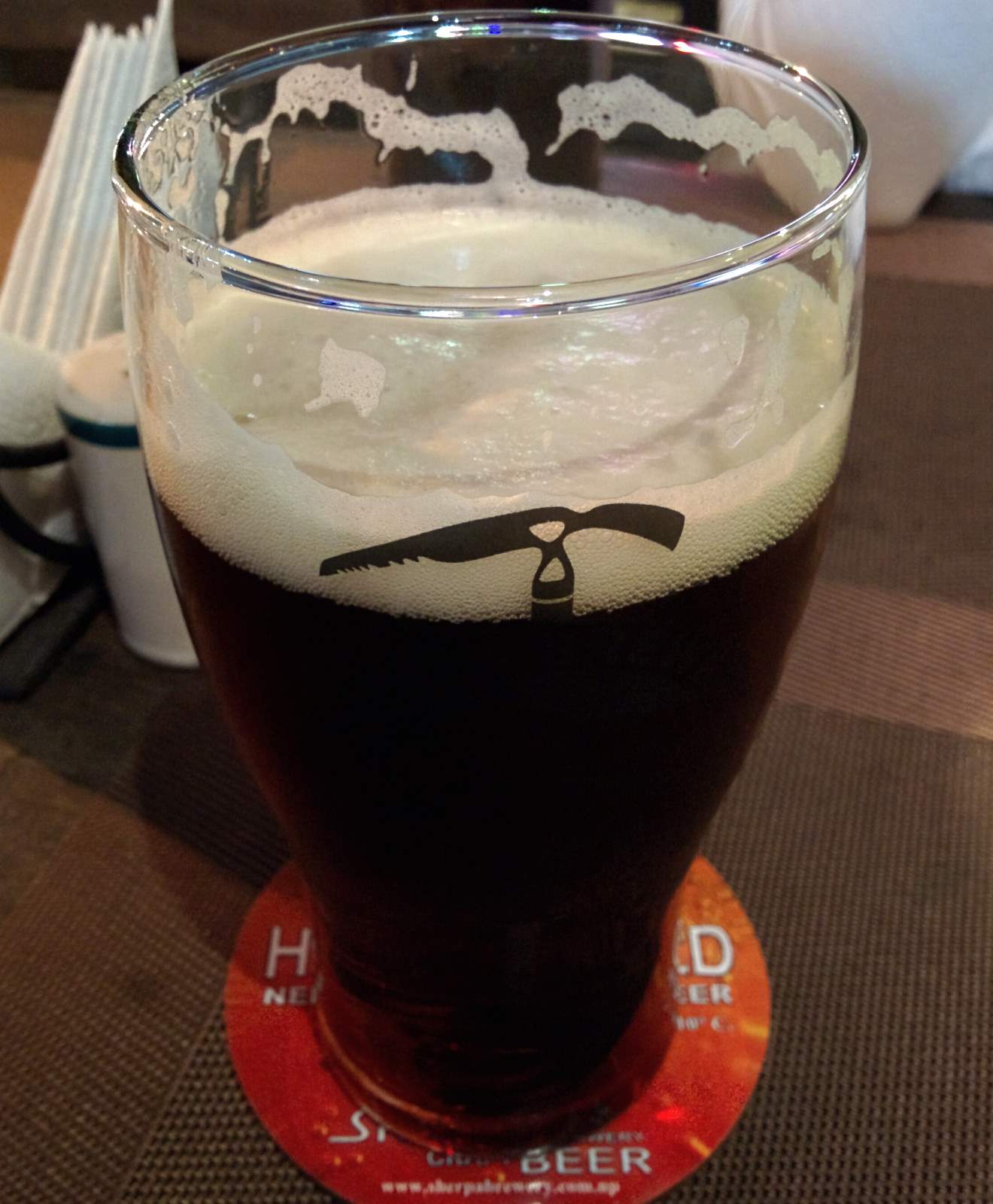 Summary
South East Asia is a fantastic place to visit if you're into your beer, particularly Cambodia and Vietnam. In some places, craft is also much more reasonably priced than in the West, although it's not cheap (like the standard brews are).
This is a long post but hopefully it's informative. I certainly enjoyed researching it.